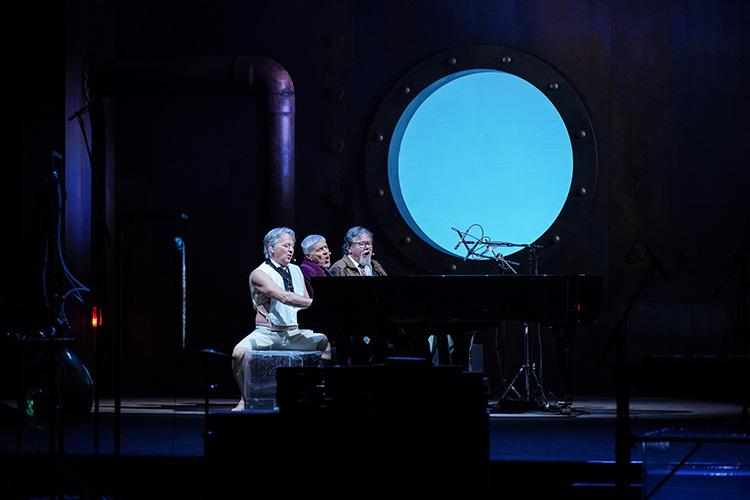 Performances of the Biennale Theatre / Dance / Music now on sale
Tickets for the awarded artists at the Theatre (15 June > 1 July), Dance (13 > 29 July), and Music festivals (16 > 29 October) are available online.
Biennale Teatro 2023
On Thursday 15 June at the Teatro alle Tese the Golden Lion for Lifetime Achievement Armando Punzo will premiere Naturae, the elaboration and end-product of a cycle that lasted four years, following a practice important to the director who develops his creations to full maturity through preliminary studies, workshops, research phases and productions.
On Saturday 17 June FC Bergman will present the Italian premiere of Het Land Nod (The Land of Nod), an "out-of-scale" production, which defies the traditional space of theatre inspired by a place, the Royal Fine Arts Museum of Antwerp: on stage, it reproduces the entire room known as the Rubens Gallery, with the majestic paintings by the Flemish painter, to tell the thrilling story of this space, of the works it contains and above all the people who seek comfort and shelter there.
Emerald is the title of the 51st International Theatre Festival which will be held from 15 June to 1 July 2023. 
Biennale Danza 2023
TAO Dance Theater will be at the Biennale Danza 2023 on 28 and 29 July with three new works in their European premiere performance at the Teatro Malibran, three choreographic works that continue the sequence of the Numerical Series that launched them on the international scene, titled 11, 13, 14.
Altered States is the title of 17th International Festival of Contemporary Dance which will take place from 13 to 29 July 2023.
Biennale Musica 2023
This year for Biennale Musica, Brian Eno will present the world premiere of his project Ships at the Teatro La Fenice on October 21, in a performance featuring the Baltic Sea Philharmonic conducted by Kristjan Järvi, actor Peter Serafinowicz, and long-time collaborators, guitarist Leo Abrahams and software designer Peter Chilvers, interacting with the orchestral atmospheres diffused and processed for the theatre's particular acoustic space. There will be two performances of the concert: at 3 pm and at 8 pm.
Miller Puckette will be on stage at the Biennale Musica 2023 with the percussionist Irwin on October 18 at the Tese dei Soppalchi.
Micro-Music is the title of the 67th International Festival of Contemporary Music, which will take place from 16 to 29 October.
---
Share this page on