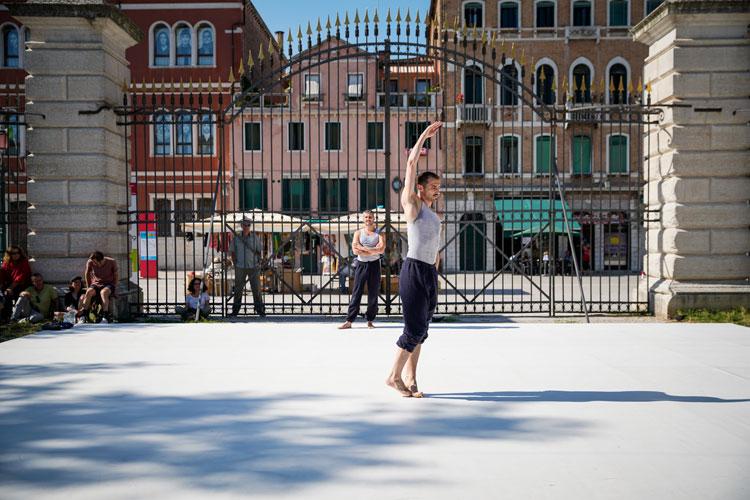 Le performance all'aperto della Biennale Danza
Tra il 22 e il 30 giugno, danza a cielo aperto in via Garibaldi a Venezia per passanti, turisti e curiosi.
Il calendario delle performance
Danza a cielo aperto in via Garibaldi a Venezia con le performance ideate dai coreografi del 13. Festival Internazionale di Danza Contemporanea, diretto da Marie Chouinard, e organizzato dalla Biennale di Venezia, presieduta da Paolo Baratta.
Nei giorni del Festival, tra il 21 e il 30 giugno, la danza sorprenderà passanti, turisti, cittadini e curiosi che si troveranno in via Garibaldi a Venezia. Una semplice pedana, le luci naturali della mattina o quelle del crepuscolo, performance pensate nella dimensione site specific con artisti che adattano o reinventano il proprio lavoro nel palcoscenico naturale della città.
Le performance si svolgeranno secondo il seguente calendario:
22 giugno - ore 11.30 / And it burns, burns, burns (estratto) - Simona Bertozzi
23 giugno - ore 10.30 / Still Lives #5 (Gondola) - Luke George & Daniel Kok
23 giugno - ore 17.00 / Los Poyos (work in process)
24 giugno - ore 11.30 / Habiter – daylight study – Katia Marie Germain
24 giugno - ore 12.30 / Danser l'ombre - Nadia Vadori-Gauthier
25 giugno - ore 11.30 / Nuove Creazioni - Biennale College Danza - Coreografi
27 giugno - ore 11.30 / Flæði - Bára Sigfúsdóttir & Eivind Lønning
Gli artisti
Sono molti gli artisti impegnati nel festival che hanno risposto con entusiasmo all'invito di Marie Chouinard.
Simona Bertozzi, danzatrice e coreografa che coniuga rigore e fragilità, propone in forma di estratto site-specific alcune delle sezioni coreografiche più rappresentative da And it burns, burns, burns, tappa finale del progetto che ha dedicato al mito di Prometeo; Katia-Marie Germain declina alla luce del giorno il suo Habiter – daylight study: un tavolo apparecchiato per la colazione illuminato dalla luce del giorno fa da sfondo al lavoro che indaga la relazione con il tempo e le qualità di presenza e attenzione delle performer in scena; Nadia Vadori-Gauthier con Danser l'ombre oscilla tra il visibile e l'invisibile, il dicibile e l'indicibile; Nicola Gunn è autrice di The Interpreter, un esperimento tra una coreografa e una traduttrice sul confronto tra linguaggi – come quello verbale e quello del movimento - che sta alla base di tanti problemi che concernono gli esseri umani; Bára Sigfúsdóttir insieme al sassofonista Eivind Lønning esplora con Flæði (flusso) la relazione tra movimento e suono, immobilità e silenzio, "un'oasi temporanea di libertà in cui sperimentazione e celebrazione di "impulsi estemporanei" sono pietre fondanti per far emergere qualcosa di più grande e superiore".
Adriano Bolognino, Sofia Nappi e Rima Pipoyan, i tre vincitori del College Coreografi, condivideranno con la città, sempre in via Garibaldi, alcuni momenti del loro processo creativo, singolarmente oppure insieme ai danzatori professionisti con cui danno vita alle proprie nuove creazioni. Mentre il gruppo dei giovani partecipanti al College Danzatori presenterà il risultato finale del progetto Set and Reset/Reset, realizzato con i danzatori della Trisha Brown Dance Company seguendo un protocollo unico che Trisha Brown ha utilizzato durante la costruzione della coreografia originale del 1983. Una struttura coreografica "aperta", che offre il suo vocabolario a variazioni ogni volta diverse rendendo i danzatori partecipi del processo creativo.
E ancora: Hermes Gaido, Alfonso Barón, Luciano Rosso, più noti come Un Poyo Rojo, presentano il primo episodio di una futura creazione, Los Poyos. Procedendo per stadi, secondo un metodo a loro caro, e assemblando strati composti da materiali diversi - frasi coreografiche, oggetti, canzoni, immagini o quant'altro muova la loro ispirazione – i tre artisti utilizzano improvvisazione e ripetizione passando dalla parola al corpo e viceversa.
Infine il duo composto da Luke George e Daniel Kok aggiunge un tassello alla serie di installazioni intitolate Still Lives. Così nasce a Venezia e per la Biennale Still Lives #5 (Gondola) dei due artisti e performer che estendono le loro trame di corde e di nodi, cifra della loro ricerca, a imbrigliare una gondola originale al suo gondoliere. Un modo per scardinare le convenzioni, stravolgere le dinamiche umane attraverso la legatura mediante le corde alterando le gerarchie di soggettività e oggettività.
---
Share this page on