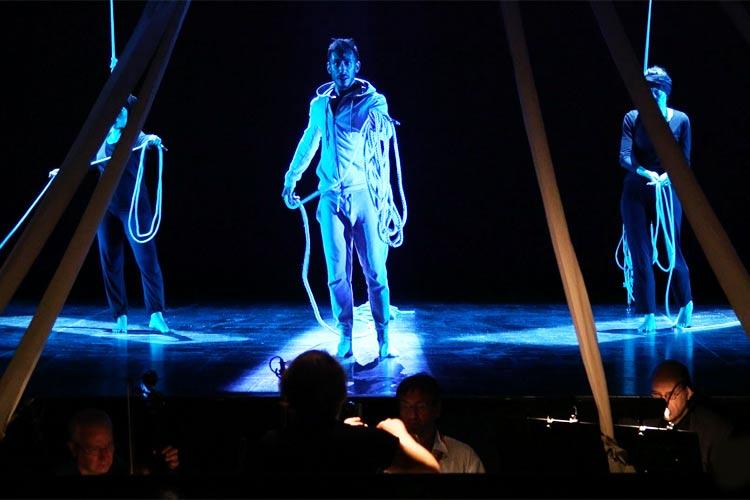 Three one-act operas of the Biennale College - Musica
Short micro-budget chamber operas selected via an international call. World premiere on Friday 6th October, Teatro Piccolo Arsenale.
The selected works are Orpheus Moments by Ole Hübner, Apnea by Leonardo Marino, and La stessa barca by Raffaele Sargenti.
2017: fourth edition
Now in its fourth edition, this year the Biennale College - Musica presents three single acts, short musical theatre micro-budget chamber works, selected by means of an international call. The three works, to be presented as a single event on October 6th at the Teatro Piccolo Arsenale, will be: Orpheus Moments by German composer Ole Hübner (1993) with libretto by Tassilo Tesche, video and sets by Jakob Boeckh, directed by Friederike Blum; Apnea by composer Leonardo Marino (1992) with libretto written by Alice Lutrario, who will also direct the work, and set design by Lucia Menegazzo; and La stessa barca by Raffaele Sargenti (1980) libretto composed with Antonello Pocetti, who is also the director, sets and video by Antonino Viola.
The music will be performed by the Ex Novo Ensemble conducted by Filippo Perocco. The cast of singers has been selected among the most promising young voices in Europe.
Ole Hübner, Leonardo Marino and Raffaele Sargenti, each with his own team – librettist, director, set designer, video artist – have been working since March through the various phases of tutoring and production that will culminate in the rehearsal period, scheduled from September 18th to October 6th, leading to the completion of their projects. They will be supervised through the different phases by: composer Alessandro Solbiati for the music; musician, poet and essayist Umberto Fiori for the dramaturgy; musical theatre director, and co-director for many years of Atem with Georges Aperghis, Antoine Gindt for the direction.
---
Share this page on