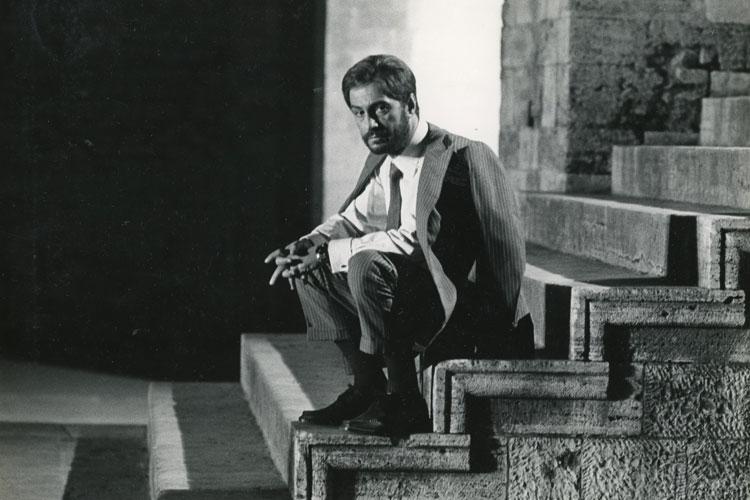 Tuesday 31 August, double preopening event of the 78th Venice Film Festival
Screening in the Sala Darsena, a diary in film by Andrea Segre (6:30 pm) and Per grazia ricevuta (1971) by Nino Manfredi (9 pm).
Preopening event of the 78th Venice Film Festival
An exceptional double programme is slated for the Preopening night at the 78th Venice International Film Festival of La Biennale di Venezia, to take place on Tuesday August 31stin the Sala Darsena at the Palazzo del Cinema (Lido di Venezia).
The double programme for the Preopening of the 78th Venice Film Festival will feature the screening of:
6:30 pm: La Biennale di Venezia: il cinema al tempo del Covid, a diary in film by Andrea Segre, produced by La Biennale di Venezia with Rai Cinema and Istituto Luce Cinecittà, looking "behind the scenes" of the 2020 edition of the Venice International Film Festival, which was held with the restrictions imposed by the safety protocols established for the Covid-19 pandemic. "Last year La Biennale asked me to document a unique and perhaps even historic edition (the question remains open) of the Venice Film Festival, the edition organized in the heart of a global pandemic, explains Andrea Segre. I was working on another film and had only a few days available, but it was a significant challenge and I accepted. The result is a short diary in film. I can't really call it a film, these are notes taken live of an unexpected part of the history of the Venice Film Festival and of cinema itself, these are simply men and women whom I met at the heart of the Film Festival, who reflect upon what they and we are experiencing".
9:00 pm: Per grazia ricevuta (Between Miracles, 1971), written, directed and starring Nino Manfredi (photo: Archivio fotografico Cineteca Nazionale - CSC - photographer Angelo Pennoni), a tribute to the actor and director on the 100th anniversary of his birth. The film, to be screened from a newly-restored copy, is Manfredi's debut feature-length film as a director, which he was determined to make at the time against all advice and which unexpectedly was widely acclaimed by the public. The restoration was completed in 2021 by the Centro Sperimentale di Cinematografia – Cineteca Nazionale and by Istituto Luce – Cinecittà based on the original 35mm negative provided by RTI-Mediaset in collaboration with Infinity+. The soundtrack was derived from an optical positive from the Cineteca Nazionale. Laboratory: Istituto Luce – Cinecittà.
The 78th Venice International Film Festival of La Biennale di Venezia will take place on the Lido from 1 to 11 September 2021, directed by Alberto Barbera.
Per grazia ricevuta
Synopsis
Benedetto Parisi is in serious condition in the hospital after attempting suicide. While he is being operated on to save his life, a series of flashbacks reconstructs his life. As a child, he was orphaned, and lived with an unmarried aunt who used religion to make an impression on him and conceal her clandestine relationships. On the day of his First Communion, feeling himself to be sinful, he jumped off a precipice, but when he emerged unscathed, the villagers believed he had been saved by miracle. He was sent to live in a convent of friars who educated him, but he was sent away from there and went to live with an atheist pharmacist, whose daughter he fell in love with, reciprocated. Benedetto increasingly began to share his ideas, but when he saw the pharmacist on his deathbed kissing the cross, hurt and confused, he jumped off a cliff. But once again, he was miraculously saved.
"Per grazia ricevuta is a simple story, one that has affected many people, with which I wanted to address a difficult theme that is very significant to me: the religious crisis. Today's world seems more than ever ready to grapple with this theme; our technical achievements and the constant progress of civilisation have made us forget what each and every one of us carries within. Let's be clear, I am not interested in making an intellectualist film because I know my audiences like to laugh; to address an important theme with humour seems to me the best way to say something, and I hope I am able to do that." (Nino Manfredi).
Cast & credits
Nino Manfredi (Benedetto Parisi)
Delia Boccardo (Giovanna Micheli)
Lionel Stander (Oreste Micheli)
Paola Borboni (Immacolata)
Mario Scaccia (the Prior)
Fausto Tozzi (the professor)
Mariangela Melato (the teacher)
Subject: Nino Manfredi
Screenplay: Leo Benvenuti, Piero De Bernardi, Nino Manfredi
Cinematography: Armando Nannuzzi
Editor: Alberto Gallitti
Music: Guido e Maurizio De Angelis
Set and costume design: Danilo Donati
Biographical Notes
Andrea Segre (Dolo, Italy, 1976) is a film and documentary director. Il pianeta in mare (A Planet in the Sea, 2019) was presented Out of Competition at the Venice International Film Festival 2019. His first fiction feature film, Io sono Li (Li and the Poet, 2011), was presented in Venice at the Giornate degli Autori – Venice Days, La prima neve (First Snowfall, 2013) participated in the competitive Orizzonti section of the Venice Film Festival, L'ordine delle cose (The Order of Things, 2017) was presented at the Festival as a Special Screening. His documentaries include Lo sterminio dei popoli zingari (1998, debut film) Marghera Canale Nord (2003, Special Screening in Venice), Come un uomo sulla terra (2008), Il sangue verde (2010, presented at Venice Days), Mare Chiuso (co-directed with Stefano Liberti, 2012, Collateral Event of the European Council in Venice) and I sogni del lago salato (2015, Special Project at Venice Days). In 2020 he made the documentary Molecole (68'), filmed in Venice as it was locked down for the coronavirus, and presented as the Preopening event of the 77th Venice International Film Festival.
Nino Manfredi (22 March 1921 – 4 June 2004). Originally from the Ciociaria area, he moved to Rome as a child with his family. He graduated with a degree in Law in 1945 and two years later earned his diploma at the National Academy of the Dramatic Arts. He began his career as an actor in prose drama soon after his diploma, but abandoned it in 1951 to dedicate himself to revue theatre, forming a trio with Gianni Bonagura and Paolo Ferrari. In 1949 he made his debut in cinema and several years later in television. By the 1970s he would be one of the leading actors in Italian comedy, but his career also included many dramatic performances. In the 1960s he began to work as a director in both cinema and theatre.
Filmography as a director:
1962 L'avventura di un soldato (segment of the film L'amore difficile)
1971 Per grazia ricevuta (Between Miracles)
1981 Nudo di donna
---
Share this page on