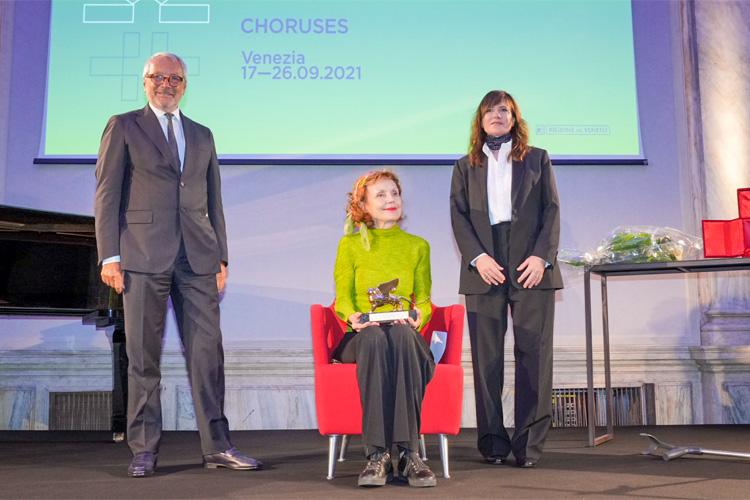 The 2021 Lion awards for Music
The Golden Lion for Lifetime Achievement goes to Finnish composer Kaija Saariaho. The Silver Lion goes to the vocal ensemble Neue Vocalsolisten.
The Awards
Finnish composer Kaija Saariaho is the Golden Lion for Lifetime Achievement "for the remarkable technical and expressive level she has achieved in her choral scores and for her original use of the voice".
The vocal ensemble Neue Vocalsolisten from Stuttgart is the winner of the Silver Lion "for its creative collaboration with some of the greatest living composers and for its development of a vocal a cappella repertoire within the field of contemporary composition".
Both acknowledgments were recommended by the Director of the Music Department, Lucia Ronchetti, and approved by the Board of Directors of La Biennale di Venezia.
The 65th International Festival of Contemporary Music, titled Choruses and dedicated to vocal dramaturgies in contemporary composition, will take place in Venice from September 17th to 26th.
Kaija Saariaho
Inauguration day on September 17th will be dedicated to Kaija Saariaho, featuring the Award ceremony for the Golden Lion for Lifetime Achievement (Ca' Giustinian, at 12 noon) and the opening concert performed by the Orchestra of the Teatro La Fenice conducted by Ernest Martinez-Isquierdo (Teatro La Fenice, at 8 pm). The programme includes the performance of Notes on Light, for cello and orchestra, composed by Kaija Saariaho in 2006, and the Italian premiere performance of an orchestral work by Hans Abrahamsen written in 2011 and based on the orchestration of Claude Debussy's Children's Corner.
As the motivation reads: "One of the major living composers whose works are among the most widely performed in the world, Kaija Saariaho's music has the gift of power and immediacy and generates original acoustic tapestries and unprecedented sonic narrations".
Neue Vocalsolisten
The Award ceremony for the Silver Lion to the Neue Vocalsolisten, one of the most representative vocal ensembles dedicated to contemporary music, will take place on September 20th in the Sala delle Colonne at Ca' Giustinian, the headquarters of La Biennale (at 12 noon).
"Its seven exceptional soloist members – Johanna Vargas, Susanne Leitz-Lorey, Truike van der Poel, Daniel Gloger, Martin Nagy, Guillermo Anzorena, Andreas Fischer – have formed an ensemble which is also an experimental laboratory for vocal dramaturgy, an open discussion group on contemporary vocal techniques and the meaning of singing together from a historic perspective and as future potential. For great composers such as Salvatore Sciarrino and Georges Aperghis, the Neue Vocalsolisten are a living laboratory for the voice and for the more ample and diversified vocal techniques, a remarkable training ground that leads to operatic composition" (from the motivation).
On September 19th, at the Teatro alle Tese in the Arsenale (at 4 pm), the Neue Vocalsolisten will present two world premiere performances: a work for voice and electronics by the American composer George Lewis, commissioned by Biennale Musica, and a work for vocal theatre in concert for six solo voices by Russian composer Sergej Newski. The electronics will be developed and performed by the CIMM (Centro for Computer Music and Multimedia of La Biennale di Venezia).
The Lions of previous editions
In the past the Golden Lion for Lifetime Achievement in Music has been awarded to Goffredo Petrassi (1994), Luciano Berio (1995), Friedrich Cerha (2006), Giacomo Manzoni (2007), Helmut Lachenmann (2008), György Kurtág (2009), Wolfgang Rihm (2010), Peter Eötvös (2011), Pierre Boulez (2012), Sofia Gubaidulina (2013), Steve Reich (2014), Georges Aperghis (2015), Salvatore Sciarrino (2016), Tan Dun (2017), Keith Jarrett (2018), George Benjamin (2019), and Luis De Pablo (2020).
The Silver Lion, dedicated to promising young artists in music, or to the institutions that have distinguished themselves for cultivating new talents, has been awarded to Vittorio Montalti and Francesca Verunelli (2010), RepertorioZero (2011), Quartetto Prometeo (2012), Fondazione Spinola Banna per l'Arte (2013), Ryo Murakami (2016), Dai Fujikura (2017), Sebastian Rivas (2018), Matteo Franceschini (2019), and Raphaël Cendo (2020).
Biographical notes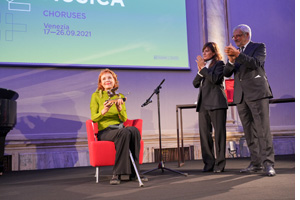 Kaija Saariaho (Helsinki, 1952) is a prominent member of a group of Finnish composers and performers who are now, in mid-career, making a worldwide impact. She studied composition in Helsinki, Freiburg and Paris, where she has lived since 1982. Her studies and research at IRCAM have had a major influence on her music and her characteristically luxuriant and mysterious textures are often created by combining live music and electronics.
Although much of her catalogue comprises chamber works, from the mid-nineties she has turned increasingly to larger forces and broader structures, such as the operas L'Amour de Loin, Adriana Mater and Emilie. Around the operas there have been other vocal works, notably the ravishing Château de l'âme (1996), Oltra mar (1999), Quatre instants (2002), True Fire (2014). The oratorio La Passion de Simone, portraying the life and death of the philosopher Simone Weil, formed part of Sellars's international festival 'New Crowned Hope' in 2006/07. The chamber version of the oratorio was premiered by La Chambre aux echos at the Bratislava Melos Ethos Festival in 2013.
Saariaho has claimed the major composing awards in the Grawemeyer Award, the Wihuri Prize, the Nemmers Prize, the Sonning Prize and the Polar Music Prize. In 2018 she was honoured with the BBVA Foundation's Frontiers of Knowledge Award. In 2015 she was the judge of the Toru Takemitsu Composition Award. Always keen on strong educational programmes, Kaija Saariaho was the music mentor of the 2014-15 Rolex Mentor and Protégé Arts Initiative and was in residence at U.C. Berkeley Music Department in 2015.
Saariaho continues to collaborate for the stage. Only The Sound Remains, her most recent opera collaboration with Peter Sellars, was premiered in Amsterdam in 2016. In the same year her first opera L'Amour de Loin was presented in its New York premiere by the Metropolitan Opera in a new production by Robert Le Page. The Park Avenue Armory and New York Philharmonic presented a celebration of her orchestral music with visual accompaniment. February 2017 saw Paris come alive with her work when she was the featured composer of Radio France Festival Présences.
Her new opera, Innocence, was premiered in July 2021 at Festival International d'Art Lyrique d'Aix-en-Provence.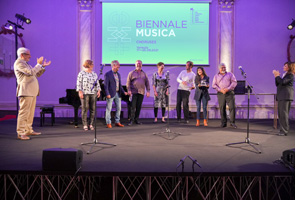 Neue Vocalsolisten. The seven singers – Johanna Vargas, Susanne Leitz-Lorey, Truike van der Poel, Daniel Gloger, Martin Nagy, Guillermo Anzorena, Andreas Fischer –  see themselves as explorers and discoverers who are constantly searching for new forms of vocal expression in their exchange with composers. One focus is their work with artists who virtuously exploit the possibilities of digital media, with a desire for networking, playing with genres, dissolving space, perspectives and functions. The ensemble's projects are characterised by idiosyncratic interdisciplinary formats between music theatre, performance, installation and concert staging. With more than 30 premieres a year, the ensemble's work is regarded worldwide as leading and unique in the field of contemporary vocal music. The ensemble's partners are always top-class specialist ensembles and orchestras, international opera houses, the independent theatre scene, electronic studios and numerous organisers of festivals and concert series of new music all over the world.
Against this background, the Neue Vocalsolisten have shaped the genre of vocal chamber music theatre, which contemplates works by Georges Aperghis, Carola Bauckholt, Luciano Berio, Francesco FiIidei, Luca Francesconi, Gordon Kampe, Mischa Käser, Sarah Nemtsov, Sergej Newski, Lucia Ronchetti, Katharina Rosenberger, Oscar Strasnoy, and Claude Vivier.
The Neue Vocalsolisten work regularly with artists from non-European musical cultures and genres. In VOICE AFFAIRS, the Neue Vocalsolisten 2021 initiate artistic border crossings in which contemporary music is crosspollinated through the diversity of Lebanon's experimental music scenes. The project connects the singers with eight artists from Lebanon, Egypt, Palestine and Israel who, from the perspective of composition, electronic music, sound art, improvisation and avant-pop, speak of the diversity, contradictions, explosiveness and poetry of this cultural space.
In its new "Magical Spaces" series, the ensemble, together with three young web designers, explores future performance formats between analogue and digital perception, and exploits all the possibilities of digital media.
Numerous world premieres are slated for 2021, by Cynthia Zaven, Raed Yassin, Dániel Péter Biró, Aya Metwalli, Samir Odeh-Tamimi, Youmna Saba, Manolis Manousakis, Christian Mason, Alessandro Bosetti, Juliana Hodkinson, Sergej Newski and George Lewis, among others. Despite the pandemic, the Neue Vocalsolisten are giving concerts in Stuttgart, Berlin, Marseille, Lisbon, Darmstadt, Salzburg, Beirut and Venice.
---
Share this page on