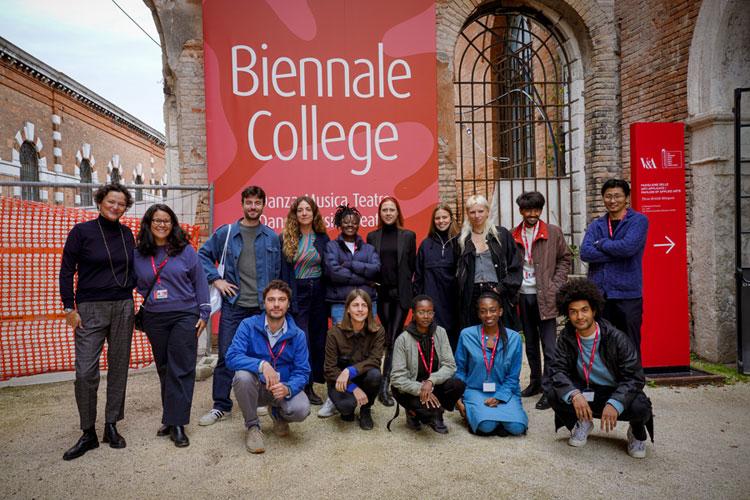 Biennale College Arte: selection announced for the 12 artists of the 1st edition 2021-22
A workshop will be held from October 1-10, 2021.
The artists come from Afghanistan, Belgium, Brazil, France, Georgia, Italy, Mongolia, Nigeria, South Africa, and Zimbabwe.
Biennale College Arte
On the occasion of the 59th International Art Exhibition of La Biennale di Venezia, open to the public from April 23rd to November 27th 2022, 12 artists have been selected for the 1st edition of Biennale College Arte 2021/22. They will participate in the first 10-day workshop which will be held from October 1-10, 2021.
Over 250 young emerging artists under 30 from 58 countries around the world have joined the call for participation. More than half are women.
The 12 artists selected for this first phase of Biennale College Arte are:
Bolatito Aderemi-Ibitola (born in Lagos, Nigeria; lives in Lagos, Nigeria)
Baqer Ahmadi (born in Ghazni, Afghanistan)
Jacopo Belloni (born in Ancona, Italy; lives between Geneva and Rome)
Simnikiwe Buhlungu (born in Johanensburg, South Africa ; lives in Amsterdam, Netherlands)
Ambra Castagnetti (born in Genoa, Italy; lives in Milan, Italy)
Salomé Chatriot (born in Suresnes,  France; lives in Paris, France)
Andro Eradze (born in Tbilisi, Georgia; lives in Tbilisi, Georgia)
Jantsankhorol Erdenebayar (born in Mongolia; lives in Ulaanbaatar, Mongolia)
Beatrice Favaretto (born in Venice, Italy; lives in Rome, Italy)
Kudzanai-Violet Hwami (born in Gutu, Zimbabwe; lives in London, UK)
Eva L'Hoest (born in Liege, Belgium; lives in Brussels, Belgium)
Antonio Tarsis (born in Salvador, Brazil; lives between London and Salvador
The workshop, alternating individual and group sessions, will be coordinated by the Director of the Visual Arts Department, Cecilia Alemani, together with tutors working directly with the participants on the development of the projects.
After the workshop, up to 4 of these artists will be selected to receive a grant of 25,000 euro for the realization of the final work. The artworks will be presented out of competition in the context of the 59th International Art Exhibition of La Biennale di Venezia, Il latte dei sogni / The Milk of Dreams, curated by Cecilia Alemani.
Biennale College
Biennale College is the project by La Biennale di Venezia dedicated to training and supporting young artists in all the artistic fields and in the specific activities of La Biennale's organizational structure. Already operating in the Cinema, Dance, Music, Theatre Departments and the Historic Archives, Biennale College was conceived with the ambition to promote young talents, offering them the opportunity to work closely with international mentors to develop "creations" that will become part of the programmes of the artistic Departments.
---
Share this page on