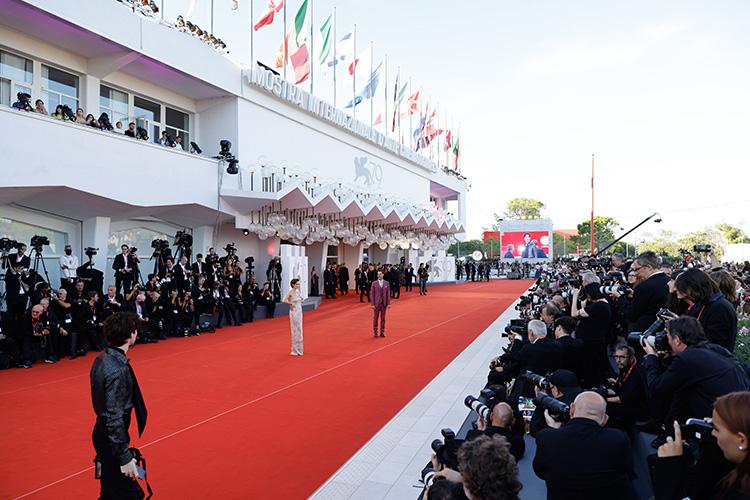 The 79th Venice International Film Festival in numbers
60,477 tickets sold (+6% on 2019)
The Biennale Cinema 2022 in numbers
The 79th Venice International Film Festival of La Biennale di Venezia reported the following figures:
Tickets sold to the public 60,477 (compared to 56,836 in 2019, +6%)
Accreditations issued 12,000 (compared to 12,800 in 2019)
including journalists 2,195
Italian press 1,328
foreign press 867
The number of accredited visitors attending the screenings rose by 11% compared to 2019.
Venice Immersive
The reservations for the Venice Immersive section on the island of Lazzaretto Vecchio numbered 6,537 (compared to 4,925 in 2019, +11%)
Sala Web
On the Biennale Cinema Channel in collaboration with MYmovies, the Sala Web theatre of the 79th Venice International Film Festival reported 12,000 viewers from all over Italy.
New logistical features of the 79th Venice International Film Festival
New Screening theatre on the third floor of the Casinò (Sala Casinò)
New Press conference room at the Casinò (Sala dei Mosaici)
New Theatre in Riva di Corinto (Sala Corinto)
Venice Immersive Island (island of Lazzaretto Vecchio)
Number of seats available in the theatres at the Venice Film Festival in 2022
Palazzo del Cinema
Sala Grande (1,032)
Sala Pasinetti (119)
Sala Zorzi (48)
Sala Darsena (1,401)
Palazzo del Casinò
Sala Perla (590)
Sala Casinò (340)
Sala Volpi (149)
Sala Giardino (568)
PalaBiennale (1,760)
Sala Corinto (340)
Total number of seats in the theatres 6,347 (compared to 6,048 in 2019)
The figures of the Biennale Arte 2022 on September 5
The 59th International Art Exhibition of La Biennale di Venezia, which opened on April 23 and will close on November 27, by September 5 totalled 368,910 tickets sold (compared to 322,600 in 2019, +15%).
---
Share this page on