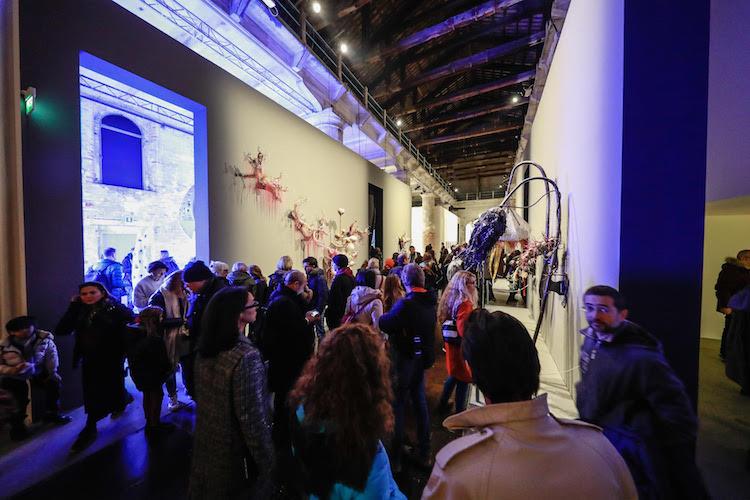 Biennale Arte 2017 in numbers
Artists, visitors, journalists, Open Table, performances, guided tours...
The Exhibition
120 artists invited to the Exhibition
86 national participations
30 national participations in the historical Pavilions of Giardini
23 national participations in the Arsenale, including Italy
33 national participations around the city of Venice
3 countries participating for the first time: Antigua and Barbuda, Kiribati, Nigeria
3 countries participating after a long period of absence: Plurinational State of Bolivia (last time in 1966 as a single national participation, then with I.I.L.A.), Malta (last time in 1999), Tunisia (first and last time in 1958)
1 Special Project (Pavilion of Applied Arts in collaboration with the Victoria and Albert Museum, London)
23 Collateral events
Open Tables (Tavole Aperte)
68 Open Tables (out of which 19 National Participations)
87 artists in total (out of whom 24 National Participations)
2,100 total guests (approximately)
Visitors
615,152  total visitors till November 26th
45% Italian visitors
55% foreign visitors (most of whom from Germany, France, Austria, Great Britain and USA)
3,434 average visitors per day
23,531 preview days visitors
3,682 Biennale cards sold to fund the ASAC
Young people and students were 31% of total visitors.
The students who visited the Exhibition as a group comprised 15% of the overall number of visitors.
Educational activities and guided tours
64,347 (3,738 groups) participants in educational activities and guided tours
(+15% compared to 2015)
Educational activities
35,447 young people and students participated in educational activities
(+3% compared to 2015)
1,568 groups
4,323 teachers involved in educational activities carried out in the Exhibition venues
2,622 teachers involved during the dedicated preview
713 participant schools, out of which:
53 preschools
119 primary schools
103 secondary schools I grade
438 secondary schools II grade
NOTES: The Palmerston North Girls High School and the St Cuthberts College, both of which from New Zealand, are two of the schools that came from the most distant regions of the world to visit the Exhibition.
A large number of secondary schools that visited the Exhibition were from Germany, France and Austria.
16% of participants of educational activities were from the province and metropolitan city of Venice. There were 95 participants involved in the internship programme "Alternanza Scuola Lavoro".
Guided tours
28,900 adults and groups (general public) have participated in guided tours
(+36% compared to 2015)
22,723 members of the public who visited as part of a group
6,177 single visitors that have participated in fixed-departure guided tours
1,679 groups
Rides of Biennale BUS and VAPORETTO Biennale for schools
234 rides on Biennale BUS (117 return)
11,700 students travelled on it (5,850 return)
228 rides on Biennale VAP 1 e VAP 2 (114 return)
31,920 students travelled on it (15,960 return)
NOTES: There has been a 30% increase over the 2015 edition of students who travelled on the VAPORETTO Biennale.
Biennale sessions
68 affiliated universities
3,663 participating students involved in the project
18 countries
23 Italian universities
45 foreign universities, from 4 continents, out of which 8 British universities, 4 German universities, 4 U.S. universities
Educational workers involved
33 Biennale qualified assistants for educational activities and specifically designed tours of the two Exhibition venues from 9 countries (Italy, Germany, Russia, France, the Netherlands, Luxembourg, Argentina, Russia, Ukraine), with educational activities in 10 different languages (Italian, English, German, Spanish, French, Russian, Portuguese, Dutch, Ukrainian, Luxembourgish).
38 young graduates (active catalogues) providing information about the content of the Exhibition to the public.
Communication
Press Office activities
5,000 journalists registered for the preview, out of whom
3,400 international journalists
1,600 Italian journalists
plus other journalists who registered as press during the opening of the Exhibition.
Over 3,500 press clippings published in the Italian and international press
(comprising dailies, periodicals, online, radio and TV)
Web and Social Media
Official website www.labiennale.org
1,622,294 unique visitors from May 13th to November 26th 2017
(+ 2,8 % compared to 2015)
2,487,012 sessions from May 13th to November 26th 2017
(+ 3,70% compared to 2015)
Smartphone users: + 56 % compared to 2015
FACEBOOK
319,770 total fans of the page
+ 26,141 since the opening of Biennale Arte 2017
(In the same period of Biennale Arte 2015 the increase was +14,492 fans)
TWITTER
708,400 total page followers
+ 56,400 since the opening of Biennale Arte 2017
(Biennale Arte 2015: 452,000 total followers on November 22nd, 2015)
INSTAGRAM
185,478 total page followers
+ 48,841 since the opening of Biennale Arte 2017
(Biennale Arte 2015: 28,700 total followers on November 22nd, 2015)
Protocol office
10 Heads of State and Prime Ministers: Italy, Albania (Edi Rama, artist invited to the Exhibition), Antigua and Barbuda (Governor-General, viceregal representative of Queen Elizabeth II), Belgium, Ireland, Kosovo, New Zealand (Governor-General, viceregal representative of Queen Elizabeth II), Russia, San Marino and Ukraine + President of the Italian Chamber of Deputies (third-highest ranking office of the Republic of Italy)
55 Ministers and Deputy Ministers
37 Ambassadors and Deputy Ambassadors
Sponsors
Partner: Swatch
Sponsors: Artemide, JTI (Japan Tobacco International), Vela-Venezia Unica, Bloomberg Philanthropies, illycaffè, COIMA, i-AMFoundation and Trenitalia Gruppo Ferrovie dello Stato Italiane.
ASAC – Historical Archives of Contemporary Arts
192 books acquired for the Biennale bibliography programme (Book Pavilion project)
107 titles overall
470 books gathered for the Unpacking my Library project, which were on display at the Stirling Pavilion throughout the opening of the Exhibition and have now been officially acquired by the library
1,600 library visitors (scholars and students)
---
Share this page on