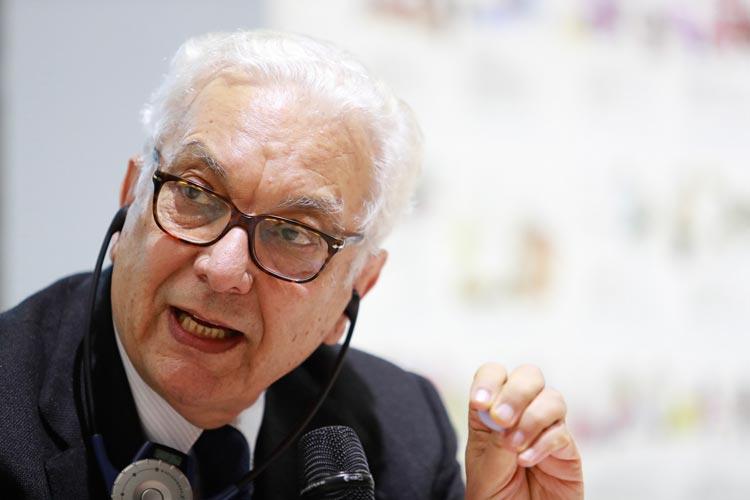 Biennale Arte 2017, a hall of sword play
The concluding remarks of the President Paolo Baratta.
a hall of sword play
The number of visitors has increased greatly, to 615.000. Above and beyond the satisfaction which records can give, and to which we must neither bow nor become accustomed, it pleases me to think that – along with the merits of our curator Christine Macel, which must be recognized in full - this is also a symptom of several positive, wide-ranging phenomena.
First of all, there is the public's growing familiarity with contemporary art. It is nice to think that this bond is the outcome of their desire to have art and artists as travel companions.
Secondly, we have noted a growing desire to discover first-hand the vitality of art, compared to the world's daily onslaught of sounds and images whose goal is to induce certain forms of behavior (occasionally, one striking facet of this onslaught regards the market value which some works of contemporary art have attained).
What interests us is the phenomenon of a growing thirst for knowledge. This is why other data is important to us; for example, the fact that for 9 weeks visitors outnumbered those who came for the preview days; that 31% of the public is composed of young people under the age of 26; and the high number of students who came on organized visits with their teachers (over 35,000 of them). This is the result of wide-ranging activity among and with the teachers; we dedicate great resources to these activities, and – with the exception of a few festive banners in Venice – we do not conduct any advertising campaigns.
Let me add that, symmetrically, La Biennale does nothing to foster or seek the presence of new countries; thus, if the number of participating countries has risen to 86, it is through their own interest in taking part and their independent, official request to be invited.
The number of visitors and countries, therefore, is the outcome of a direct and spontaneous choice in favor of the Film Festival and La Biennale; and here it is worth underscoring that the flow of visitors is also composed of a very high percentage of visitors who have purposefully planned to attend (and, thus, are the exact opposite of excursionist tourism).
La Biennale is a place of free dialogue and reciprocal recognition; as a cultural institution, it has one main goal: international trust and esteem, to which it exclusively entrusts the task of promoting its activity.
Each Biennale is the result of research. They must each go their own way, following pathways which are not always simple.
First of all, they must not let themselves become discouraged by the danger that any promotional activity fostering knowledge might be interpreted as promoting the market, as well. In other words, we must not become discouraged in the face of the mistrust and suspicion which can hover over contemporary art because of potential collusion with financial interests: we believe it is possible to conduct a journey dedicated to knowledge without any ulterior motives.
On the other hand, we must not set ourselves up as doctrinal votaries ready to teach artists what they must do or the social role they must assume.
We foster a secular vision resting on the only pillar possible: the autonomous responsibility of choices. Through the choices we make and entrust to our artistic directors – choices which make common cause with the diversified panorama of choices others have made and which vary from one edition of La Biennale to the next – we foster direct dialogue and a critical approach to the works and the artists on the part of the visitors.
Thus, our research is the independent manifestation of motivated choices. And I thank Christine Macel once again for holding true to this course of action.
La Biennale can maintain its mission if it is able to follow its own pathway, or better, its own ridge, arming itself and its visitors with the proper instruments of discernment to parry temptations, banalities and conformities; to disclose the various truths which the artists want to transmit to us; and lastly, to verify and appreciate the works.
In this sense, the Pavilions of the participating countries also play the decisive and unique role of enriching the plurality of voices.
This year, once again, an entire team of highly-qualified people have worked for months (and will continue to work in the weeks to come) in various facets, each one with their own role, and all of them with the enthusiasm and dedication without which there could be no Biennale. And therefore, our most heartfelt thanks go to them, first of all.
To institutions such as the Ministry of Cultural Heritage and Activities and Tourism, the Municipality and the Region, and, finally, to our partner Swatch, all our sponsors and our supporters, our very sincere thanks.
Paolo Baratta, President of La Biennale di Venezia
---
Share this page on