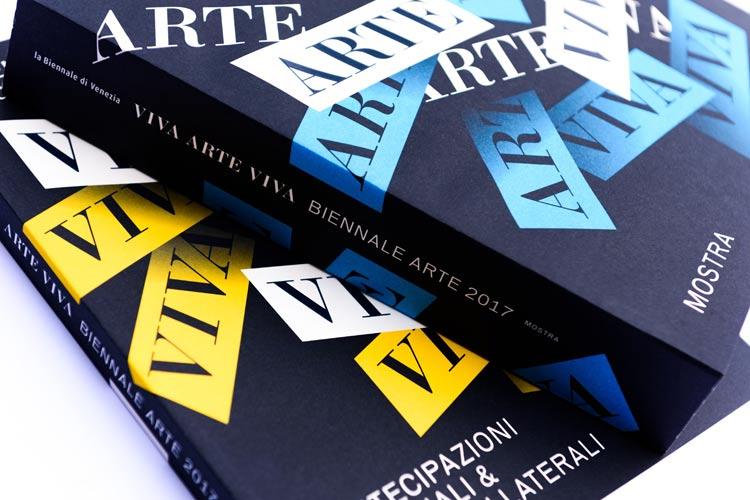 Biennale Arte 2017 - Catalog and guide on sale now
The official catalogue and the short guide of the Biennale Arte 2017 are now available for online purchase.
The official catalogue
The official catalogue of the 57th International Art Exhibition / Biennale Arte 2017 titled Viva Arte Viva consists of two volumes:
Volume I is dedicated to the International Art Exhibition, and is edited by Christine Macel.
The volume dedicates 4 pages to each invited artist: a critical essay and a statement by the artist illustrate and support the images of the works on display and other images that describe the artist's practice. Each section ends with a list of book titles, personally selected by the artist as useful and enlightening for "making art".
Volume II is dedicated to the National Participations, to the Special Projects and the Collateral Events. Texts and images describe and illustrate each of the individual exhibitions.
The guide
The Exhibition Guide is conceived to accompany the visitor through the Exhibition. The works of the artists invited to the main Exhibition and the individual exhibitions of the National Participations and Collateral Events are illustrated with images and short explanatory texts.
Throughout the Exhibition, artists are marked by a number, corresponding to the number in their dedicated section in the Guide.
Publication data
The design of the graphic identity of the Biennale Arte 2017 and the layout of the books are by Studio deValence, Paris.
The Catalogue and Guide are edited and published by La Biennale di Venezia.
A)
VOLUME 1 – MAIN EXHIBITION
Format closed: 21 x 27 cm
No. Pages: 588
Colours: 4/4
VOLUME 2 – COUNTRIES AND EVENTS
Format closed: 21 x 27 cm
No. Pages: 256
Colours: 4/4
2 Editions: Italian and English
2 plastic-wrapped Volumes
€ 85
B)
GUIDE
Format closed: 15 x 20 cm
No. Pages: 250
Colours: 4/4
2 Editions: Italian and English
€ 18
Publications now on sale
See also the La Biennale di Venezia shop on amazon.it listing all the publications now on sale.
Buy on amazon
---
Share this page on