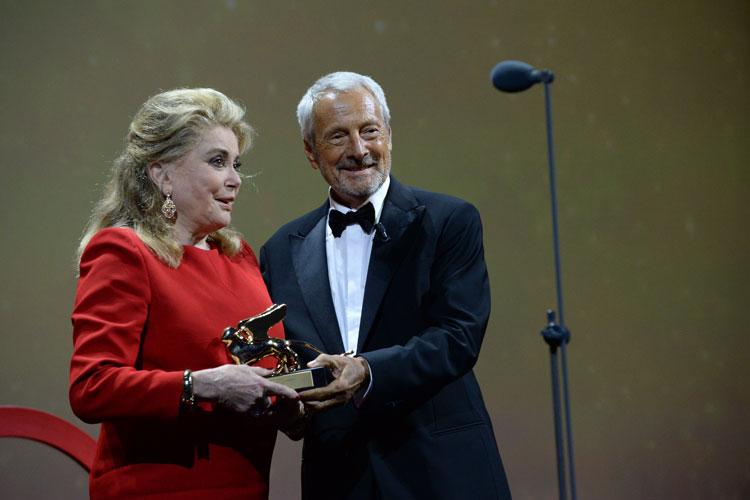 Catherine Deneuve Golden Lion for Lifetime Achievement
The honour to the iconic French actress will be awarded on Wednesday 31 August, during the opening night of the 79th Venice Film Festival.
Golden Lion for Lifetime Achievement
Iconic French actress Catherine Deneuve has been awarded the Golden Lion for Lifetime Achievement at the 79th Venice International Film Festival (August 31 – September 10, 2022).
The decision was made by the board of La Biennale di Venezia, which embraced the proposal of the Festival's Director, Alberto Barbera.
Statement from Catherine Deneuve
Catherine Deneuve, in accepting, said, "It is a joy to receive this prestigious award at the Venice Festival, which I love and have known for a long time, since Belle de jour by Luis Buñuel received the Golden Lion in its day. It is also an honor to be chosen for this tribute at the Film Festival that has accompanied me so often for so many movies. Thank you, best regards".
Statement from Alberto Barbera
Regarding this award, Venice International Film Festival Director Alberto Barbera declared, "An impressive number of movies, most of which are major international successes. An equally remarkable number of awards she has received at the world's most important festivals, plus an Oscar nomination for best actress in a leading role, a rare privilege for an artist who is not American. A succession of artistic partnerships with some of Europe's top directors and actors: Roger Vadim, Jacques Demy, Luis Buñuel, François Truffaut, Roman Polanski, Marco Ferreri, Marcello Mastroianni, and Gérard Depardieu. An indisputable talent at the service of a gift for acting, plus a sophisticated and rare beauty, attributes which have helped make her the very symbol of French cinema, a timeless diva and a true icon of the silver screen. From one of the key figures of the Nouvelle Vague and a privileged example of a concept of style that is associated with French fashion, Catherine Deneuve has come to embody the essence of the universally recognized diva, taking her place as one of the greatest actresses in film history. For these reasons, the Golden Lion for Lifetime Achievement Award that the Venice International Film Festival will present her on the occasion of the 90th anniversary of the first edition of the Venetian festival assumes particular importance, after the Golden Lion she won for Belle de jour by Luis Buñuel in 1967 and the Coppa Volpi for best actress she received for her performance in Place Vendôme by Nicole Garcia in 1998."
Laudatio to Catherine Deneuve
by Arnaud Desplechin
"Dear Catherine, you came to the Festival in '64 out of competition, with the film Les parapluies de Cherbourg. And it was a revolution. Even children know it: you are a revolution. Your being blonde was like a flag for us, the same flag as Marilyn's. You have become self-aware and there is nothing more beautiful. This conquest of yourself is admirable. With Demy you were moved to tears. I can still see you on the platform of that station, yesterday, today... You have never stopped being moved. Madly. And it's above all the love for cinema that I want to share with you. Only cinema, irreducible... I don't know any woman or man loving cinema so ardently. You are my heroine, my hero. I once wrote that you, Catherine Deneuve, are one of the most important filmmakers I know. I thought so and I still think so. At the risk of making you blush, Catherine, with your roles you have invented a complete oeuvre. Each one of your films has been signed by you, with a confident stroke that tonight I want to call: modernity. And I think of Truffaut or Stendhal, who loved Italy so much. Stendhal used to go over his phrases again when they had the misfortune of being twelve feet long. He hated academic stuff. Stendhal preferred life. Next to Truffaut, you chose life and invented prose cinema. Modern prose. All cinema has been nourished on Deneuve's style, fast as a machine gun and as sleepy as a dream.
Am I exaggerating? In 1967 she presented Buñuel's Belle de jour in Venice and the world could not understand the sweetness of such a scandal. You have a taste, yes, a taste, for the impure salt of life unmistakable as soon as you're on screen. It's your signature. Cinema and life are never as beautiful as when they are impure. The love for novels is in all your films. With Téchiné, Wargnier or Bercot, you were able to reinvent novel cinema.
But I cannot make a list of films. I want to be here, tonight, in Venice, where you will be awarded the Golden Lion. I want to remember Kore Eda, or Le vent de la nuit, or Place Vendôme that have already crowned you. Catherine, tonight I want to tell you that I know only one artist as proud and free as you. It's Bob Dylan. He got the Nobel Prize, you get the Golden Lion. Mademoiselle, you have made my life an enchanted dream. Your freedom is what I desire.
On behalf of all the viewers, thank you."
---
Share this page on