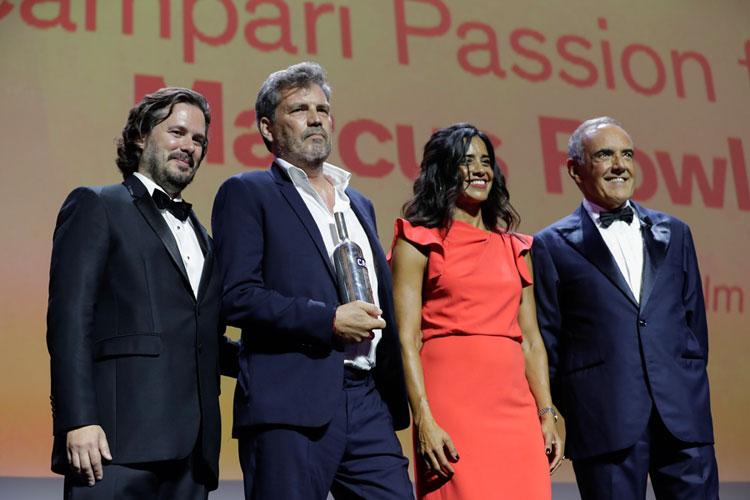 Marcus Rowland to receive the Campari Passion for Film Award
The award ceremony will take place on Saturday 4th September at 10 pm in the Sala Grande (Palazzo del Cinema).
He created the sets for Last Night in Soho by Edgar Wright, to be presented Out of Competition.
Campari Passion for Film Award
La Biennale di Venezia and Campari are pleased to announce that the production designer Marcus Rowland (Last Night in Soho, Rocketman, Baby Driver, Scott Pilgrim Vs The World) is the recipient of the Campari Passion for Film Award of the 78th Venice International Film Festival (September 1 - 11, 2021).
The award, instituted three years ago at the 75th Venice Film Festival, seeks to highlight the remarkable contribution given by the director's closest collaborators to the fulfillment of the artistic project that each film represents. Passion for Film attributes this award to these professional figures (three years ago the prize was awarded to American film editor Bob Murawski, two years ago to the Italian cinematographer Luca Bigazzi, last year to the jazz trumpeter and composer Terence Blanchard), who are more than just craftsmen: they are artists and co-authors of the films to which they offer the gift of their unparalleled talent.
The ceremony for the award to Marcus Rowland will take place on Saturday 4th of September at 10 pm in the Sala Grande (Palazzo del Cinema) before the screening Out of Competition of Last Night in Soho (UK, 118') by Edgar Wright with Anya Taylor-Joy, Thomasin Harcourt McKenzie, Matt Smith, Terence Stamp, and Diana Rigg, featuring Marcus Rowland's production design.
Marcus Rowland says, "I'm very honoured to receive The Campari Passion for Film award and immensely grateful to have been selected. Filmmaking for me is a wonderful collaboration of individuals with their own unique creative skills  focusing towards a singular goal. Nothing defines this more for me than the amazing 20 year journey I've travelled with Edgar Wright and our wonderful film family."
The 78th Venice International Film Festival will be held on the Lido from September 1st  to 11th, 2021, directed by Alberto Barbera and organized by La Biennale.
Statement by Alberto Barbera
Alberto Barbera notes, "What directors who have worked with Marcus Rowland in film, television, and advertising appreciate about him most is his ability to transform what is only a mental image into reality. He has worked closely with Edgar Wright for twenty years and the director, who appreciates his limitless creativity and his ability to go beyond what one normally thinks a production designer does on set, considers him a perfect collaborator. Rowland is involved from the earliest phases of script development to the end of post-production; he is an artist in the fullest sense of the term. He collaborates fully on the conception of the overall look the film will assume, from the sets to the choice of locations, the color palette of the costumes and the actors' makeup, all the way to the special effects that will be used. Edgar Wright considers him one of his very few collaborators who can be considered the creative compass to consult before tackling every single phase of a movie's creative process."
Statement by Clarice Pinto
"For the fourth year in a row, we are very proud to confirm the official 'Campari Passion for Film Award', created by Campari alongside the Artistic Direction of the Exhibition", announces Clarice Pinto, Senior Marketing Director Campari Group. "Sticking with the main theme that everything comes about through Passion, already understood as a fundamental element for inspiring Creativity, the Prize is aimed at showing an appreciation for the figures who, alongside the director, contribute to excellence when creating cinematic art. This year, in choosing Marcus Rowland, we have rewarded the role of production designer; a profession that is characterised by a distinct aesthetic and artistic sensitivity and the ability to look beyond barriers and place fantasy and imagination centre stage".
Marcus Rowland
Rowland's place of birth was an RAF base near the Dutch border in Germany. He studied art at York Art College and he also did a Multi-Arts degree at North Staffordshire University. Then he moved to London after University and started working immediately in commercials and music videos before starting a career in drama. Through his friend Nira Park, who was Edgar Wright's producer, he did commercials with Edgar and movies like Shaun of the Dead (2004), Hot Fuzz (2007) and Scott Pilgrim vs. the World (2010), nominee for Best Art Direction and Production Design at the Satellite Awards. Then he started working with director Joe Cornish, designing Attack the Block (2011) and The Kid Who Would Be King (2019) with him. Rowland is also known for his work on The World's End (2013) by Edgar Wright, I.T. (2015) by John Moore, Baby Driver (2016) by Edgar Wright and Rocketman (2019) by Dexter Fletcher. In 2020 he was nominated twice for his work as Production Designer on both Rocketman and The Kid Who Would Be King  at the British Film Designers Guild Awards.
Last night in Soho
In acclaimed director Edgar Wright's psychological thriller, Eloise, an aspiring fashion designer, is mysteriously able to enter the 1960s where she encounters a dazzling wannabe singer, Sandie. But the glamour is not all it appears to be and the dreams of the past start to crack and splinter into something far darker.
---
Share this page on