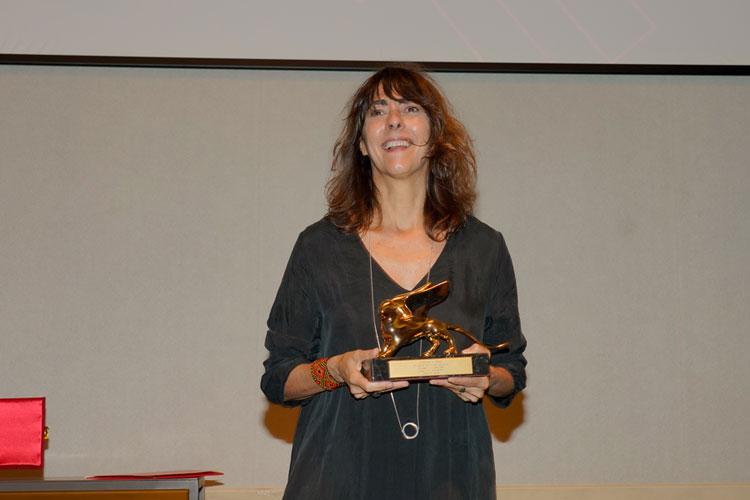 The 2022 Lion awards for Theatre
The Golden Lion for Lifetime Achievement goes to Brazilian director and author Christiane Jatahy; the Silver Lion goes to filmmaker and performer Samira Elagoz.
The awards
Brazilian director and author Christiane Jatahy, one of the most original figures in the wave of theatre that swept across the Atlantic and regenerated the European scene in recent decades, is the Golden Lion for Lifetime Achievement in Theatre of La Biennale di Venezia; the Silver Lion goes to filmmaker and performer Samira Elagoz, who entwines Egyptian and Finnish origins, and is the author of original and abrasive docu-performances.
The Lions were recommended by the Directors of the Theatre Department Stefano Ricci and Gianni Forte (ricci/forte) and approved by the Board of Directors of La Biennale di Venezia.
The awards ceremony will take place on Sunday 26 June for the Golden Lion for Lifetime Achievement to Christiane Jatahy (Ca' Giustinian, at 12 noon) and on Friday 1 July for the Silver Lion to Samira Elagoz (Ca' Giustinian, at 12 noon). The 50th International Theatre Festival is scheduled from June 24th to July 3rd 2022 in Venice.
Christiane Jatahy
"A harsh and acute observer of the violent cruelty of our world – write Stefano Ricci and Gianni Forte in the motivation for the award – Brazilian author and director Christiane Jatahy ramps up an original interstitial language that merges the radical power of her poetic dimension with the counterpoint of caustic political thinking, always permeated by an intrepid spirit of experimentation between present and past.
Abrogating the dogmatic rules of performance and challenging its agonizing theorems, Christiane Jatahy merges the horizons of cinema and theatre, by means of a kind of Brechtian-Wagnerian sort of personal friction, to explore the more prickly territories that best reveal the instability of the fictitious reality embodied by her Characters/Persons, thereby orchestrating a dizzying tentacular dance with the carnal presence of their bodies in motion shouting truths at every single spectator.
Because words are not enough to export a form of life elsewhere, Christiane Jataly sends powerful sequences of images in orbit and, with live editing, uses a camera as an integral part of the play – in the style of Cassavetes' films – dismantling the devices of naturalistic illusion to structure her own theatre and in doing so create unexpected and searingly beautiful narrative traps in which the audience remains so actively captive and fascinated by what is taking place before its eyes that it feels no desire to escape".
Christiane Jatahy came to Italy for the first time for the Biennale Teatro in 2015, with her provocative version of Strindberg's classic Miss Julie, transported from the puritan classist society of late nineteenth-century Northern Europe to today's Brazil, with a language that multiplies perspectives as it brings theatre and cinema together in a single space. The expansion of the virtual and the real and the radical rewriting of the classics again captured the attention of audiences the following year, when at the Biennale Teatro Christiane Jatahy presented E se elas fossem para Moscou?. This time the most famous Three Sisters in European theatre were dropped into a disorienting contemporary Brazil, while the perspectives of theatre and cinema simultaneously intertwine, creating two simultaneous and distinct but complementary versions that produce a single creation. There is great expectation for this year's new piece, that will premiere in Italy at the 50th International Theatre Festival, co-produced by ten different entities including the major theatres and festivals from Europe to Brazil: O agora que demora (The lingering now), part two in the diptych Nossa Odisséia, in which the Greek epic is addressed with documentary materials filmed in Palestine, Lebanon, South Africa, Greece and Amazonia with over 40 actors in a mix between a Homeric tale and true stories of refugee artists.
Samira Elagoz
The artist Samira Elagoz – winner of the Silver Lion – is featured for the first time at the Biennale Teatro with the Italian premiere of Seek Bromance, his latest creation. A product of the forced hibernation in the time of Covid, Seek Bromance is a "romance situated at the end of the world between two transmasculines, a saga almost four hours long developed in collaboration with Brazilian artist Cade Moga" (S. Elagoz).
In the motivation for the award the Directors write: "Bringing his body to the stage and visually sectioning it with its paradoxes and its multiform facets the way Nan Goldin does, focusing his implacable gaze on solitude, on the human relationship between genders in the digital era and in a society that eschews regularisation and control, exploring the porous boundaries between the real and the virtual, investigating the effects of love, gender, femininity, desire, its consequent annihilation and the brutal covert power plays, Samira Elagoz embarks on a journey that is intimate and poetic, yet ironic and perturbing at the same time, exploring the clichés and issues that concern not only self-representation in the media, the behaviour of the male in his attempts at seduction in a relationship of domination and/or submission, as well as the tool-body as the terrain for a necessary and inevitable artistic experimentation.
Camera in hand, using his own self and relying on personal experiences cultivated on applications and websites, amalgamated with videos and photographic footage of real life, highlighting the manipulation of bodies on these platforms and skilfully broadening the typical relationships between masculinty and femininity online, in his creations Samira Elagoz flirts with the infinite possibilities of performance to shape an original language and offers us ­– with the aim of experimenting his own changing gender identity as an expressive devining road – a unique brand of performance-reporting, multimedia happening and docufiction".
The Lions of previous editions
In the past the Golden Lion for Lifetime Achievement in Theatre has been awarded to Ferruccio Soleri (2006), Ariane Mnouchkine (2007), Roger Assaf (2008), Irene Papas (2009), Thomas Ostermeier (2011), Luca Ronconi (2012), Romeo Castellucci (2013), Jan Lauwers (2014), Christoph Marthaler (2015), Declan Donnellan (2016), Katrin Brack (2017), Antonio Rezza and Flavia Mastrella (2018), Jens Hillje (2019), Franco Visioli (2020), and Krzysztof Warlikowski (2021).
The Silver Lion, dedicated to promising young artists in theatre, or to the institutions that have distinguished themselves for cultivating new talents, has been awarded to Rimini Protokoll (2011), Angélica Liddell (2013), Fabrice Murgia (2014), Agrupación Señor Serrano (2015), Babilonia Teatri (2016), Maja Kleczewska (2017), Anagoor (2018), Jetse Batelaan (2019), Alessio Maria Romano (2020), and Kae Tempest (2021).
Biographical notes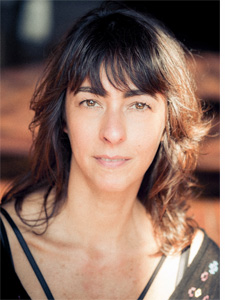 Christiane Jatahy (Rio de Janeiro, 1968) is an author, theater director and filmmaker. Since 2003, she has been developing a body of work that explores border zones between artistic disciplines, between reality and fiction, actor and character, theater and cinema.
Her first works include Conjugado, Corte Seco, A Falta que nos move ou Todas as histórias são ficção, which would become her first feature film (2010). Her first international success came with Julia, based on Strindberg's Miss Julie, winner of the Shell Award 2012 for Best theatrical direction in Brazil, performed over 300 times around the world, and still on tour. As part of the cultural program of the 2012 Olympics, she conceived, directed and coordinated In the comfort of your home, a series of interventions, documentaries, performances and video installations by 30 Brazilian artists in the privacy of their homes in London. In 2013, she developed the audiovisual and documentary installation project Utopia.doc, the first in a series of works concerned with the issues of home, exile and refugees. In 2014, she created E se elas fossem para Moscou?? based on Chekhov's Three Sisters, which - like Julia - is still on tour and has won the Shell Award, the Questão de Crítica Award and the APTR-Associação de Produtores de Teatro Award. In 2015, she completed the "trilogy of memory" with A Floresta que Anda, loosely based on Shakespeare's Macbeth. In 2016 Christiane Jatahy directed her first opera, staging Beethoven's Fidelio (Teatro Municipal in Rio de Janeiro). In 2017, she premiered: La règle du Jeu, based on Jean Renoir's masterpiece, at the invitation of the Comédie Française; the installation/performance Moving People, centred on the issue of refugees, at the invitation of the Theater der Welt Festival and the Thalia Theater in Hamburg; the adaptation of In the Solitude of the Cotton Fields by Bernard-Marie Koltès. This was followed by the diptych Nossa Odisséia, which confronted Homer's epic with the reality of today's refugees: the first part, Itaca, premiered at the Odéon-Théâtre de l'Europe in Paris in 2018; the second, O agora que demora, premiered in 2019 in Sao Paulo and at the Festival d'Avignon. Entre chien et loup – based on the film Dogville by Lars Von Trier – presented in Avignon in 2021, is the first part in a "trilogy of horror" on themes relating to fascism, male chauvinism and racism. The other two titles are:  Before the sky falls, which connects Shakespeare's Macbeth to The Falling Sky by Davi Kopenawa and Bruce Albert, and Depois do silêncio (adapted from the book by Torto Arado) which will open next June at the Wiener Festwochen.
She is an associate artist of the Odéon-Théâtre de l'Europe, Centquatre-Paris, Schauspielhaus Zürich, Arts Emerson Boston and Piccolo Teatro di Milano.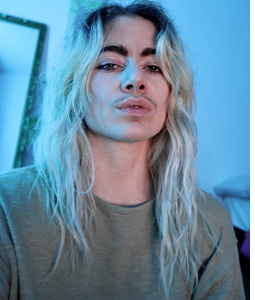 Samira Elagoz (Helsinki, 1989) is a Finnish/Egyptian filmmaker and performance artist based in Amsterdam/Berlin. He graduated with a choreography BA from the Amsterdam University of the Arts in 2016. From 2013 till 2019, when still a female artist, Elagoz dedicated his artistic practice to researching and filming cis-men and building an extensive collection of first encounters with male strangers arranged through various online platforms. Elagoz toured the world nonstop for 5 years, pre and post #metoo, with his performance Cock, Cock, Who's There? which dealt with sexual violence. On a quest to find intimacy after touring so many years, he realizes that the show started as a genuine ode to being a woman, but revealed itself to be a farewell to being one. Now he identifies as a transmasculine with a high femme past.
A recurring topic for Elagoz is masculinity and men. While his previous works explored cis-men and masculinity in its different forms from an outside position when still identifying as a woman, his latest work Seek Bromance (2021) changes the vantage point as Elagoz captured his own transition. Elagoz has dedicated his career and being to the discourse on gender, sexual violence and its aftermath, the male gaze, digital romanticism, and intimate encounters. Educated in performative arts, he incorporates aspects of this medium with that of video and film, creating his own unique brand of "docu-fiction". The most indicative parts of his filmings are that he doesn't use actors or performers and always puts himself inside his films as a vérité-esque observer who is also being observed. Elagoz never uses scripts, refuses to work in studios, and wants to gather up real-life events. He has been a comrade, a lover, a confidant, and a sidekick.
Elagoz has toured with his works in various international film, visual art, and performance contexts. In 2014 Elagoz won the visual art competition Blooom Award in Cologne with his first short Four Kings. His documentary-performance Cock, Cock, Who's There? won the Prix Jardin d'Europe competition at Impulstanz 2017. And at Edinburgh Fringe it won the Total Theatre Awards for Emerging talent. His first feature film Craigslist Allstars had its premiere in 2016 at IDFA, the world's biggest festival for documentary. It was nominated in the main competition for best international films at CPH:DOX 2017.
---
Share this page on