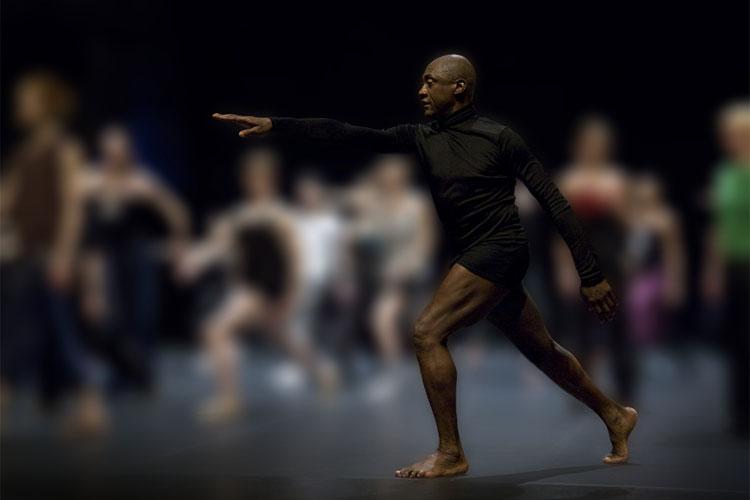 The body is a document of today: A tribute to Ismael Ivo
An exhibition at Ca' Giustinian organised by the Historic Archives of La Biennale di Venezia – ASAC, and curated by Wayne McGregor.
A tribute to Ismael Ivo
The exhibition titled The body is a document of today – A tribute to Ismael Ivo, will be inaugurated today, Thursday July 22nd, at the Portego in Ca' Giustinian, the headquarters of La Biennale. This is the pre-opening event of the 15th International Festival of Contemporary Dance of La Biennale di Venezia, presented by Wayne McGregor, the director of the Dance department.
The exhibition features film clips, photographs, posters, catalogues, essays, articles – all from the Historic Archives – chronicling Ismael Ivo's years at Biennale Danza: from his first appearance in 2002 with the solo Mapplethorpe to his eight-years as the director – from 2005 to 2012 – in festivals with striking titles complemented by the educational work of the Arsenale della Danza.
The materials were selected by Wayne McGregor, with the assistance of Elisa Guzzo Vaccarino and the Historic Archives of La Biennale di Venezia.
The exhibition will be open at the Portego in Ca' Giustinian, the headquarters of La Biennale, every day from 8 am to 8 pm. Free admission.
A note from Roberto Cicutto
The President of La Biennale di Venezia Roberto Cicutto, writes: "The Exhibition dedicated to Ismael Ivo which inaugurates the Biennale Danza 2021, does not merely aim to celebrate a Director who gave so much to La Biennale di Venezia and to this discipline, to which he brought his innovative drive and vision. It also demonstrates that the content developed by the Curators in their Exhibitions and Festivals endures beyond the temporal confines of these events and even, as in this case, those of their lives on earth.
The documentary evidence that La Biennale can provide through its Historical Archives of the Contemporary Arts, as demonstrated in last year's exhibition The Disquieted Muses. La Biennale di Venezia Meets History, serves this very function. We are proud that the material gathered in this Exhibition today can indeed make us feel the presence of Ismael Ivo, who recently passed away, and brings his work to the attention of those who might choose to embrace it and those who might wish to disseminate it".
A note from Wayne McGregor
The Director of the Dance department Wayne McGregor describes the exhibition as "a celebration of the adventuresome spirit and poetic humanity of Ismael Ivo in documents, photos and video from the Historical Archives of La Biennale di Venezia".
In commemoration of the artist who recently passed away, McGregor writes: "Ismael often talked about the body as a 'document' of today – an idea that carries so much resonance, poetry and power. We are our experiences, and we journey through life as collectors, storing sensation, memory and experience in, through and with our bodies.
As dancers, we are asked more than most, to access these deep somatic senses in order, to bring them into our current awareness – enabling us to then draw on them for our creativity and expression.
We seek clues, cues that help us to remember and feel again: reconnecting with forgotten objects, photographs, voices, moving images, ideas and indeed the dances of our past, aid us in navigating these once fully known emotions as we recapture and relive them – we are the same and we are different. This is the potency of archive, whether collected externally on our behalf or resting far inside the body of us.
Our recent past has been scarred by the many losses to Covid, of our loved ones and our dear friends. Ismael Ivo, a brilliant former Director of Biennale Danza, innovative choreographer, consummate collaborator and committed educator will be deeply missed by all that knew, respected and loved him.
His influence on dance in Venice and beyond was marked by an insatiable curiosity and vision to share his passion for dance as widely and as energetically as possible. We dedicate this exhibition to Ismael, in memory of his joyous achievements and his great contribution to enriching all of our lives".
---
Share this page on