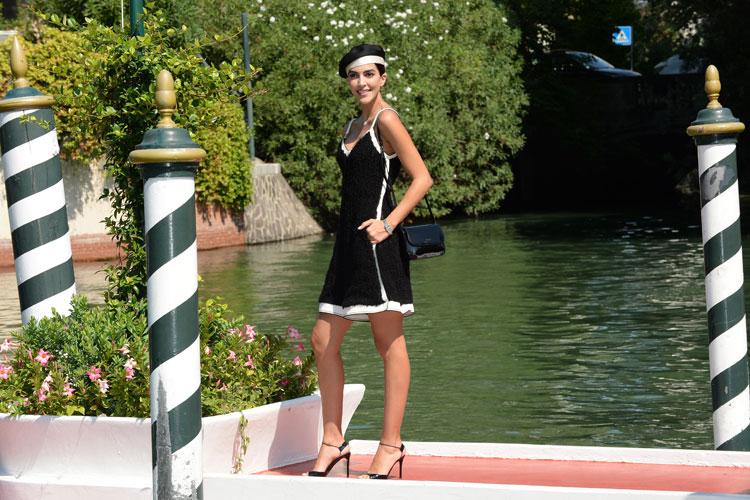 Rocío Muñoz Morales to host the opening and closing nights of Venezia 79
The 79th Venice International Film Festival opens on August 31st and will come to an end on September 10th.
The opening and closing nights of Venezia 79
Actress and presenter Rocío Muñoz Morales will host the opening and closing nights of the 79th Venice International Film Festival 2022 within La Biennale di Venezia, directed by Alberto Barbera.
Rocío Muñoz Morales will open the 79th Venice Film Festival on the evening of Wednesday 31 August 2022, on the stage of Sala Grande (Palazzo del Cinema on the Lido) for the inauguration ceremony, and will host the closing ceremony on Saturday 10 September, when the winners of the Lions and other official prizes of the 79th Venice Film Festival will be announced.
Rocío Muñoz Morales
Rocío Muñoz Morales was born in Madrid in 1988. She is an actress, television presenter and former model.
After taking her first steps in the world of show business at a young age as a professional dancer, she studied to become an actress and debuted in some TV series for Spanish television. In 2012, she made her first appearance in Italian cinema in Paolo Genovese's film Immaturi - Il Viaggio and since 2013, she has been the female protagonist of the successful series Un passo dal cielo broadcasted on Italy's public television channel Rai1. That same year, she joined Carlo Conti in presenting the 65th Annual Sanremo Music Festival that took place over a period of five evenings. And in 2015 she landed the leading role of the film Tango per la libertà by Alberto Negrin broadcasted on Rai1.
The following year, she starred in the international film All Roads Lead To Rome alongside Sarah Jessica Parker (2016). Not long after that year, back in Italian cinema, she featured in the comedy films Natale da chef by Neri Parenti (2017) and Tu mi nascondi qualcosa by Giuseppe Loconsole (2018). Rocío alternated her work as an actress in Italy with a career that went hand in hand in Spain. She led for TVE1, a Spanish broadcasting channel, the 2018 edition of Bailando con las estrellas and in the following two consecutive years, she was the presenter of the TV marathon of New Year's Eve, always aired on the first Spanish channel TVE1. There are numerous advertising campaigns where Morales is seen giving a testimonial in recent years. In 2017, she made her theatrical debut in Italy with the play Certe notti, and subsequent roles including Dì che ti manda Picone (2018), Love Letters (2019), Sherlock Holmes and the Murders of Jack the Ripper (2020), Parlami d'amore Mariù (2021) and Fiori d'acciaio (2022).
In 2021, she appeared in the English language film They Talk To Me later released on Prime Video and in the comedy by Enrico Vanzina Tre sorelle. In May 2022, she will be at the center of the Mediaset TV series Justice For All by Maurizio Zaccaro and in the Sky film (Im)perfetti criminali by Alessio Maria Federici. We will soon see her in two independent films: Uomini da marciapiede by Francesco Albanese for Raicinema and Troppo famiglia by Pierluigi Di Lallo. A face that is loved by fashion and TV, Rocío is often the host of popular programs and has also hosted one of the episodes of Le iene on Italia1. She is a naturalized Italian actress, esteemed and known not only for her elegance and beauty, but also for the professionalism and love with which she takes on for every project.
---
Share this page on