Orchestra del Teatro La Fenice
---
| | |
| --- | --- |
| Orchestra: | Teatro La Fenice |
| Conductor: | Ernest Martinez-Izquierdo |
| Soloist: | Ansi Karttunen, cello |
| In collaboration with: | Fondazione Teatro La Fenice |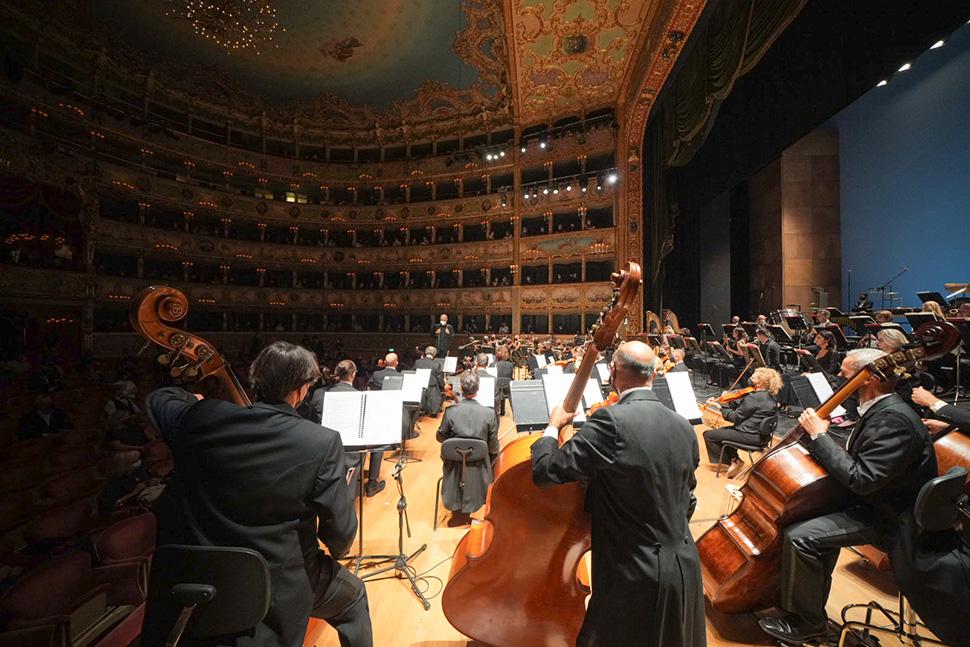 Kaija Saariaho
The vocal music of Kaija Saariaho, the Golden Lion for Lifetime Achievement of this Festival, is based on the texts of important authors from various eras who address universal themes such as the solitude of the journey, distance, and death. The texts are analysed by the composer as sound material and as instructions and suggestions for listening.
The performance of Notes on Light for cello and orchestra inaugurates the Festival at the Teatro La Fenice with its Orchestra conducted by Ernest Martinez-Izquierdo. In the five-movement Notes on Light the Finnish com- poser chose light as her theme. Each of the five movements, in fact, bears a title relating to the exploration of different aspects of light: "Trans- lucent, secret", "On fire", "Awakening", "Eclipse", and "Heart of Light". Though the formal structure can hardly be de- scribed according to classical definitions of genre, the dialogue between the restless versatility of the solo cello and the ever-changing timbres of the large orchestral resources brings to mind the genre of the concerto for solo instrument and orchestra. It is a dialogue that Anssi Kart- tunen, the work's dedicatee and first interpreter, describes in terms of a struggle: "The Soloist is not just the hero of Notes on Light, he/she also has to stand up for his rights, fight, lead, collaborate with and sometimes submit to the orchestra. All these make Notes on Light a rich voyage that could well lead us into the very heart of light".
Hans Abrahamsen
The version for orchestra of Claude Debussy's Children's Corner composed by the Danish composer Hans Abrahamsen highlights the fundamental relationship between the composers of the second spectral generation and the research on timbre by Debussy.
Compared to André Caplet's 1911 orchestral version, Abrahamsen expands the classical orchestral forces, especially the percussion section; in addition to Caplet's timpani, drum, bass drum and triangle, Abrahamsen adds bells, tubular bells, sleigh bells, crotal bells, tam-tam, castanets, cymbals and xylophone, as well as a celesta. The sound range of the wind section is also expanded to include a cor anglais beside the oboes and a bass clarinet along-side the clarinets in B flat and A; Abrahamsen's score includes only two horns in F rather than the four used by Caplet, but makes up for this with the addition of two tenor trombones and a bass tuba. The vast orchestral resources at Abrahamsen's disposal serve to recreate Debussy's six miniatures in vivid images.