The 2019 Lion awards for Music
The Golden Lion for Lifetime Achievement goes to George Benjamin (award ceremony on 27 September). Italian composer Matteo Franceschini gets the Silver Lion (award ceremony on 3 October).
The Awards
George Benjamin, the internationally-acclaimed British composer, has been awarded the Golden Lion for Lifetime Achievement in Music 2019.
Matteo Franceschini, the Italian composer and rising star, is the Silver Lion for Music 2019.
The decision was made by the Board of Directors of the Biennale di Venezia, chaired by Paolo Baratta, accepting the recommendation by Ivan Fedele, Director of the Music Department.
George Benjamin "is universally acknowledged as one of the most important composers of our time – states the motivation. His prodigious talent, which exploded at a very early age with his composition At First Light, brought him instant international notoriety at the age of twenty, drawing the acclaim of audiences and critics alike who greeted him as predestined. His deep yet refined compositions reveal a precious and incisive style that shapes the material of sound with the visionary imagination of a sculptor who feels and sees form even before it is materialized in the score. A great educator, George Benjamin is a unique model for the new generations of composers for his creative imagination, intelligence in composing and understanding of form".
George Benjamin will inaugurate the 63rd International Festival of Contemporary Music (27 September > 6 October) with the work Written on Skin, a triumph that has been produced six different times, in a concert version performed by the Orchestra Sinfonica Nazionale della Rai (Teatro Goldoni). The concert will be preceded by the awards ceremony for the Golden Lion for Lifetime Achievement.
One of the most original voices of our time and a champion of the concept of composer as author-performer, Matteo Franceschini bases his music "on a sensibility open to the different creative dimensions of sound – as the motivation reads. From chamber and symphonic music to musical theatre, from augmented acoustic music to the most innovative experiences in the field of electronics, his career is distinguished by his curious inquisitive intelligence and his effective style, which is extremely communicative even in its most complex forms, which merge artistic experiences ranging beyond the sphere of cultured music and deriving from his assiduous practice of rock music as well".
Significant in this sense is the piece that Matteo Franceschini has composed for the 63rd International Festival of Contemporary Music (27 September > 6 October): Songbook for rock quartet, amplified ensemble and live electronics, which is representative of his syncretic research. Commissioned by the Biennale di Venezia, the piece will be performed by the Icarus and Cantus ensembles on October 3rd (Teatro Toniolo in Mestre), for the awards ceremony of the Silver Lion.
In the past, the Golden Lion for Lifetime Achievement in Music has been awarded to Goffredo Petrassi (1994), Luciano Berio (1995), Friedrich Cerha (2006), Giacomo Manzoni (2007), Helmut Lachenmann (2008), György Kurtág (2009), Wolfgang Rihm (2010), Peter Eötvös (2011), Pierre Boulez (2012), Sofia Gubaidulina (2013), Steve Reich (2014), Georges Aperghis (2015), Salvatore Sciarrino (2016), Tan Dun (2017) and Keith Jarrett (2018). The Silver Lion, dedicated to promising young artists in music, or to institutions that have distinguished themselves for cultivating new talents, has been awarded in the past to Vittorio Montalti and Francesca Verunelli (2010), RepertorioZero (2011), Quartetto Prometeo (2012), Fondazione Spinola Banna per l'Arte (2013), Ryo Murakami (2016), Dai Fujikura (2017) and Sebastian Rivas (2018).
George Benjamin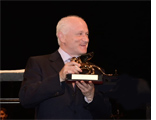 George Benjamin (London, 1960) began composing at the age of seven. He studied at the Paris Conservatoire with Messiaen and at King's College of Cambridge with Alexander Goehr.
When George was only 20 years old, Ringed by the Flat Horizon was played at the BBC Proms by the BBC Symphony Orchestra; two years later the London Sinfonietta directed by Sir Simon Rattle played the World premiere of At First Light. Antara was commissioned for the 10th anniversary of the Pompidou Centre in 1987 and Three Inventions for chamber orchestra was written for the 75th Salzburg Festival in 1995. The London Symphony Orchestra under Pierre Boulez premiered Palimpsests in 2002 to mark the opening of 'By George', a season-long portrait which included the first performance of Shadowlines by Pierre-Laurent Aimard. More recent celebrations of Benjamin's work have taken place at the Southbank Centre in 2012 (as part of the UK's Cultural Olympiad) and at the Barbican in 2016, and the last decade has seen multi-concert retrospectives in Paris, Lucerne, San Francisco, Frankfurt, Turin, Milan, Toronto and New York.
He collaborated with playwright Martin Crimp for his operatic works: Into the Little Hill (2006), Written on Skin (2012), which won many international awards, Lessons in Love and Violence (2018), which premiered last May at the Covent Garden – Royal Opera House.
As a conductor Benjamin has a broad repertoire  - ranging from Mozart and Schumann to Knussen, Murail and Abrahamsen -  and has conducted numerous world premieres, including important works by Rihm, Chin, Grisey and Ligeti.
He regularly works with some of the world's leading orchestras (Mahler Chamber Orchestra, Philharmonia Orchestra, London Sinfonietta, Ensemble Modern, Royal Concertgebouw Orchestra).
He is honorary fellow of King's College Cambridge, the Guildhall, the Royal College and the Royal Academy of Music and the Royal Philarmonic Society.
His works are published by Faber Music and are recorded on Nimbus Records.
Matteo Franceschini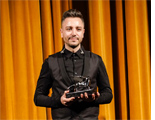 Matteo Franceschini (Trento, 1979) graduated from the "Giuseppe Verdi" Conservatoire in Milan under the guidance of Alessandro Solbiati. He studied at Accademia Nazionale di Santa Cecilia in Rome under the supervision of Azio Corghi and attended the cursus offered by the Ircam in Paris.
Franceschini concentrates his research on theatricality of musical gesture and on the necessity of pulling different languages together by following the rules of contrast and fusion.
In 2017, Franceschini adopted TOVEL as his stage name. As TOVEL, he relaunches the figure of the author/interpreter. His direct, live involvement becomes therefore the expression of a creative act.
He has realized operas, orchestral and choral works, chamber music, performances as well as multimedia installations.

He has received commissions from La Scala Philharmonic Orchestra, Ensemble Intercontemporain, Wigmore Hall, La Biennale di Venezia, Festival Mito, Philharmonie de Paris, Orchestre national d'Île-de-France, National Orchestra of Belgium, Reims Opera, Saint-Étienne Opera and from important festivals and organizations. Since 2011 he is published by Casa Ricordi – Universal Music Publishing.
---
Share this page on