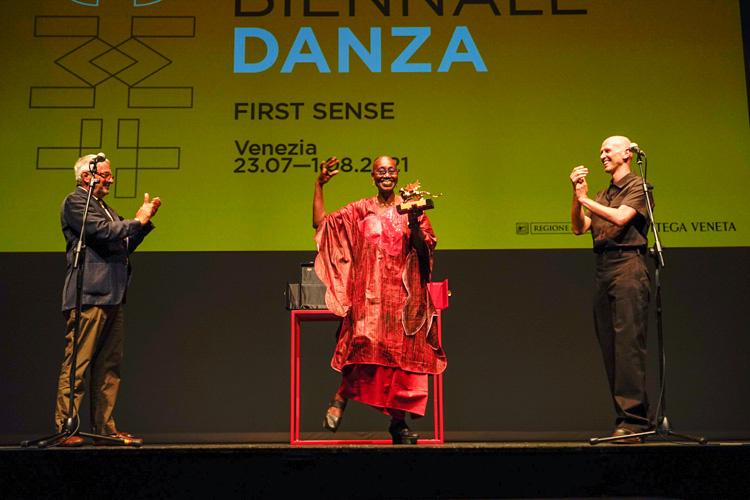 The 2021 Lion awards for Dance
The Golden Lion for Lifetime Achievement goes to dancer and choreographer Germaine Acogny. The Silver Lion goes to dancer and choreographer Oona Doherty.
The awards
The charismatic Senegalese and French dancer and choreographer Germaine Acogny, known around the world as "the mother of contemporary African dance", is the Golden Lion for Lifetime Achievement in Dance 2021. The Northern-Irish dancer and choreographer Oona Doherty, a searing and compelling voice on the European scene, has been awarded the Silver Lion.
The Awards ceremony of the Golden Lion for Lifetime Achievement and the Silver Lion will take place on Saturday 24 July 2021, 11 am, at the Teatro Piccolo Arsenale.
The Lions for Dance 2021 were approved by the Board of Directors of La Biennale di Venezia which accepted the recommendations advanced by Wayne McGregor, director of the Dance Department.
At the 15th International Festival of Contemporary Dance of La Biennale di Venezia, to be held July 23rd through August 1st, Germaine Acogny will present the Italian premiere of her most recent solo piece Somewhere at the beginning, a journey touching on sensitive themes in which her personal history interlaces with collective events; Oona Doherty will bring Hard to Be Soft – A Belfast Prayer, her famous second work, for its Italian premiere performance.
Germaine Acogny
Germaine Acogny "is an artist of the highest quality and integrity – reads the motivation. Her contribution to the training of young people in performance and choreography alongside the wide dissemination of her work in her country and in the world has made her a major individual force in the development of our art form. Acogny believes in the power of dance to change lives and has been committed to sharing her passion as an act of transformation and regeneration".
From 1977 to 1982, Germaine Acogny directed Mudra Afrique, a dance school founded by Maurice Béjart and by the President-poet of Senegal Léopold Sédar Sénghor, which would serve as a model for the entire continent. It was there that Acogny developed her own original technique and became a protagonist of contemporary African choreography.
From Maurice Béjart to Susanne Linke and Olivier Dubois, Acogny wove relationships and activated collaborations, stimulating new energy in the activity that radiates today from the École des Sables – both a school and a dance company (Jant-bi) – one of the major centres driving contemporary dance, which attracts dancers and choreographers from around Africa and the rest of the world. "Her influence as a creative and mentorship of countless young dance makers from Africa and beyond - writes Wayne McGregor - is a legacy we should highlight and celebrate as she continues to inspire and guide with her restless vision".
Oona Doherty
Thirty-four-year-old Oona Doherty, based in Belfast, rose to prominence in Britain and later on the European scene with her electrifying solo Hope Hunt and the Ascension into Lazarus, which forcefully addresses themes of gender identity and religion, issues that generally remain out of the spotlight in dance.
"Doherty's interests, passions and singular outlier instincts – writes McGregor – have never gelled with the establishment dance world. Inspired by club culture and 'informal' dancing Doherty has refined her craft through trial and error, her approach unorthodox, creative, raw and brave. What is significant about her work is how it reaches out and speaks to many who would not normally come to the theatre. Her dances communicate across boundaries and demographics in arrows straight to the heart. She has an exceptional gift in working with non - dancers and local communities, often integrating them into her touring productions with great insight and humanity. This award will remind the world that there is no one way to become a great artist. Art sits within you and will always out". 
The Lions of previous editions
In the past, the Golden Lion for Lifetime Achievement in Dance has been awarded to Merce Cunningham (1995), Carolyn Carlson (2006), Pina Bausch (2007), Jirí Kylián (2008), William Forsythe (2010), Sylvie Guillem (2012), Steve Paxton (2014), Anne Teresa De Keersmaeker (2015); Maguy Marin (2016); Lucinda Childs (2017); Meg Stuart (2018), Alessandro Sciarroni (2019), and La Ribot (2020).
The Silver Lion, dedicated to promising young artists in dance, or to the institutions that have distinguished themselves for cultivating new talents, has been awarded to Anne Teresa De Keersmaeker's Performing Arts Research and Training Studios (2010), Michele Di Stefano (2014), Dana Michel (2017), Marlene Monteiro Freitas (2018), Steven Michel and Théo Mercier (2019), and Claudia Castellucci (2020).
Biographical notes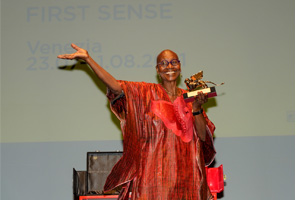 Senegalese and French, born on May 28th 1944, Germaine Acogny has evolved her own technique of Modern African Dance and is considered worldwide as the 'mother of Contemporary African Dance'. From 1977 to 1982, she was the Artistic Director of Mudra Afrique, created by Maurice Béjart and the Senegalese President L.S. Senghor in Dakar. She dances, choreographs and teaches all over the world and has become a powerful ambassador of African Dance and Culture. In 1997, Germaine Acogny was appointed Artistic Director of the dance section of Afrique en Creation in Paris.
With her husband Helmut Vogt, she created the École des Sables, the International Centre for Traditional and Contemporary African Dances inaugurated in June 2004. Located in Toubab Dialaw / Senegal, the École des Sables is a place for training and exchange for African dancers and dancers from all over the world, an important meeting and education place for Contemporary African Dance and choreography.
Germaine Acogny has choreographed many pieces, for her Company JANT-BI, which tours successfully around the world, and she creates and performs her own solos. Her last creation, the solo A un endroit du début had its premiere at the Grand Théâtre du Luxembourg in June 2015.
Germaine Acogny is 'Chevalier de l'Ordre du Merite', 'Officier and Commandeur de l'ordre des Arts et Lettres', 'Chevalier et Officier de l'Ordre de la Légion d'Honneur' of the French Republic. She is also 'Chevalier de l'Ordre National du Lion' and 'Officier et Commandeur des Arts et Lettres'' of the Republic of Senegal. In 1999, Germaine Acogny was decorated as "PioneerWoman" by the Senegalese Ministry of the Family and the National Solidarity. In 2007, she received, jointly with the Japanese Kota Yamazaki, a Bessie Award in New York for their choreography Fagaala. In 2018 – Germaine Acogny received a New York Bessie Award for outstanding performance in the solo Mon élue noire-sacre # 2 and an Award for Lifetime achievement in the field of choreography, movement and dance from the Cairo International Festival for Experimental and Contemporary Theatre.
In January 2019, Germaine Acogny received the ECOWAS (Economic Community of West African States) Excellence Award, in the category Arts and Letters.
Germaine Acogny danced and choreographed for the corps de ballet of XFactor the opening to the fourth Live Show in 2018. Why We Dance, broadcast on Sky Arte in 2019, dedicated one of its five episodes to her.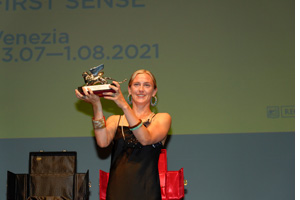 Oona Doherty, born in 1986, is a Northern-Irish choreographer based in Belfast. She studied at St. Louise's Comprehensive College in Belfast, at the London Contemporary Dance School, the University of Ulster and LABAN. She earned an undergraduate and a master's degree in the Disciplines of Contemporary Dance. Since 2010, she has worked with several companies, including: T.r.a.s.h. dance/performance group (Netherlands), Abattoir Fermé (Belgium), Veronika Riz (Italy), Emma Martin/United Fall, Enda Walsh and Landmark Productions (Ireland).
She has won many awards for her choreographic work, which includes: Hope Hunt and the Ascension into Lazarus (2015), a 30-minute solo that won her the Best Performer Award at the Tiger Dublin Fringe (2016), the Aerowaves award (2016/17), the Total Theatre Dance Award and The Place Dance Award at the Edinburgh Fringe (2017); Hard to be Soft – A Belfast Prayer (2018), which won the Best Dance Show 2019 award from the English daily "The Guardian"; Lady Magma – The Birth of a Cult (2019).
She has been an associated artist as the MAC Belfast HATCH Artist (2016), an Aerowaves Selected Artist, Prime Cut REVEAL Artist (2017), Maison de la Danse Lyon and La Briqueterie Paris Associate (2017-20), and again the MAC Belfast HATCH Artist (2020).
She has collaborated on music videos with the Rubber Bandits, Girl Band, Jamie XX. She participated in the digital Dancing Nation festival promoted by BBC Arts and Sadler's Wells with Hope Hunt (2020). Carla Holmes made a documentary about her artistic work titled Welcome To A Bright White Limbo, which won the Best Short Irish Film Award and a special mention at Tribeca in New York (2020).
Her choreographic experimentation has extended to the world of visual arts in an exhibition titled Death of the Hunter, shown at the Golden Thread Gallery in Belfast, Lothringer 13 Halle in Munich, ADC Gallery in Geneva and the Kanal – Centre Pompidou in Brussels.
Her solo piece, Lazarus and the Concrete Birds of Paradise, will be on the programme of the Ballet de Marseille and become part of the company's repertory.
---
Share this page on