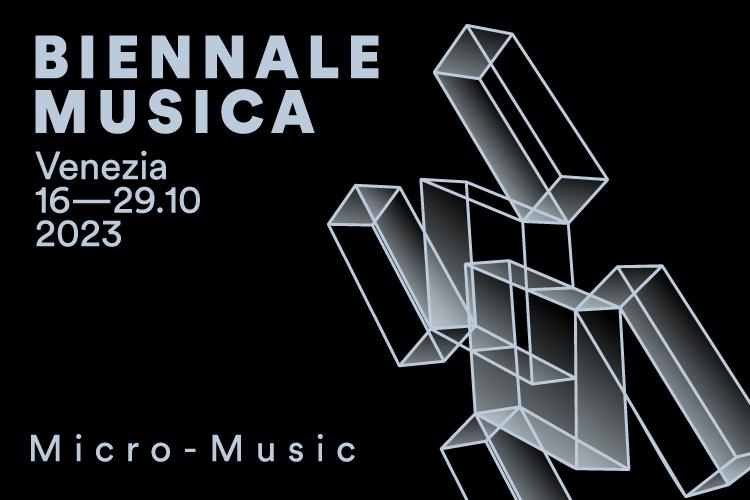 Advance ticket sales for the Biennale Musica 2023
Tickets for the concerts and performances of the 67th International Festival of Contemporary Music may be purchased online. New stocks available on Monday 9 October.
Biennale Musica 2023
Advance ticket sales are available for all the events, concerts, and installations of the 67th International Festival of Contemporary Music (16 > 29 October) directed by Lucia Ronchetti and produced by La Biennale di Venezia. Tickets and passes may be purchased at www.labiennale.org.
Available passes include the pass for 3 festival concerts at the special price of 60 euro (instead of 75), which is reduced to 36 euro for students and young people under 26.
Particularly advantageous is the Special Music ticket at the price of 10 euro, which grants admission to all the installations and the documentary video on Brian Eno in the Arsenale, as well as a visit to the Architecture Exhibition in the exhibition spaces of the Arsenale.
Also available is the combined Biennale Architettura / Biennale Musica ticket which includes one concert of the 67th International Festival of Contemporary Music and admission to the 18th International Architecture Exhibition, all for the price of 35 euro (instead of 50).
Programme
To be held in Venice from October 16th to 29th, the 67th International Festival of Contemporary Music Micro-Music is dedicated to digital electronic sound, presenting a wide range of stylistic trends and creative experimentations.
The heart of the Festival is the concert by Brian Eno (Golden Lion for Lifetime Achievement), who will be on the stage of the Teatro La Fenice on October 21st with his new project Ships, together with the Baltic Sea Philharmonic directed by Kristjan Järvi, the actor Peter Serafinowicz, his long-time collaborator guitarist Leo Abrahams, and Peter Chilvers on the keyboards, interacting with the orchestral atmospheres diffused and processed for the acoustic space of the theatre.
Along with Brian Eno, the festival will present legendary composers such as Morton Subotnick, performers and experimenters such as Miller Puckette (Silver Lion), the Australian bio-artist Guy Ben-Ari, the engineer and composer Robert Henke with his vintage technology, and the electronic musician Marcus Schmickler, who uses the sounds of the bells of Venetian churches for his installative performance. Live electronics will feature, in addition to the legendary English collective Autechre, personalities such as Lamin Fofana, Jjjjjerome Ellis, Jace Clayton aka Dj Rupture, Steve Goodman aka Kode9, Loraine James and many others. Finally, the archaeology of sound diffused by Venetian organs, as the ancient meets the modern with Wolfgang Mitterer, Kali Malone, John Zorn, Andrea Marcon, and Luca Scandali.
---
Share this page on