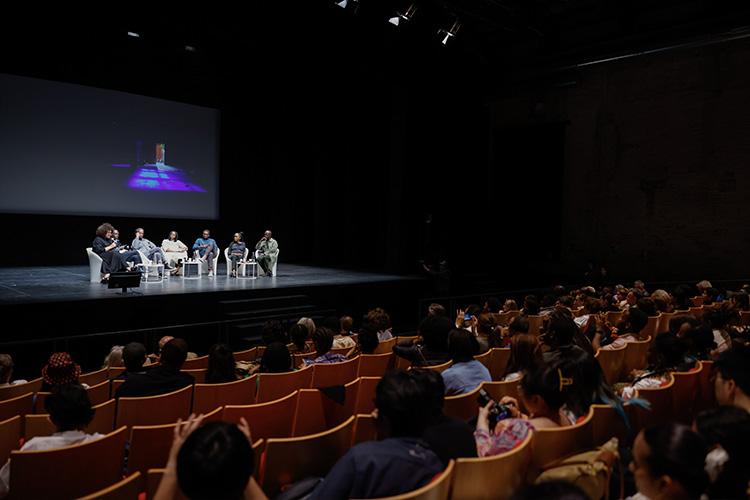 The 14 Carnival Film Screenings curated by Lesley Lokko
Tuesday 26 September (10 am > 6:45 pm) and Wednesday 27 September (2 pm > 6:45 pm) at the Teatro Piccolo Arsenale.
A "mini-festival"
A "mini-festival" to explore the complex relationship between cinema and architecture will take place at the Teatro Piccolo Arsenale on Tuesday 26 September (from 10 am to 6:45 pm) and Wednesday 27 September (from 2 pm to 6:45 pm). Organized as part of Carnival, conceived by the curator of the Biennale Architettura 2023, Lesley Lokko, the program will feature film screenings on the first day, while on the second day, after the screening of only short films, two panel discussions where architects, educators, artists and filmmakers will explore proximities and tensions between space, buildings, moving images and representation.
Tuesday 26 September
10 am > 6:45 pm
Tuesday 26 September – Film Screenings
10 am > 6:45 pm
10 am: Introduction by Lesley Lokko
10:10 am > 12 am: Rumba Rules, New Genealogies (108') by Sammy Baloji
Permeating the daily life of one of the great orchestras of the current generation, Rumba Rules proposes an incursion into the arcanes of a monumental African music. An essay on the meaning of self and rootedness, the film culminates in a kind of urban polyphony. Ya Mayi, Lumumba, Xéna La Guerrière, Pitchou Travolta, Alfred Solo, Soleil Patron and many others: nearly thirty artists feed the creative life of the Brigade Sarbati Orchestra.
Sammy Baloji is a photographer from the Democratic Republic of the Congo. He works in Lubumbashi and Brussels, and held exhibitions in Amsterdam, Paris, Brussels, Bilbao, Cape Town and Bamako. He received a Special Mention for his work at the Biennale Architettura 2023.
12 pm > 1 pm: House (54') by Amos Gitaï

House (1980) is part of the multimedia installation Home, Ruins, Memory, Future at the 18th International Architecture Exhibition (Special Participations). Censored by Israeli television, House represents different ethnicities, languages, musical traditions, and generations, brought together to reveal complex memories of the past and the possibility of envisioning a peaceful future coexistence. The installation tell the story of a house in West Jerusalem, spanning a quarter of a century, sharing the stories of its successive occupants.
Amos Gitaï is an Israeli filmmaker, internationally known for his documentaries and feature films about the Middle East, the Arab-Israeli conflict, and personal and collective memory.

2 pm > 3:40 pm: Wajib (96') by Annemarie Jacir

After years abroad in Italy, Shadi (Bakri) returns to his native Nazareth. But this is no spectacular homecoming. He's back somewhat begrudgingly to honour his "wajib" (or duty) to hand out invitations to his sister's wedding with his father. The simmering tension between the two - who are often stuck in a car, more often than not in traffic - builds, exposing the sometimes-comic chasms that exist between men who live in different worlds but share an unshakable bond.
Annemarie Jacir is an independent filmmaker from Palestine. She has written, directed and produced a number of award-winning films. She is founder of Philistine Films.

ore 3:45 pm > 4:10 pm: Sizígia (17') by Luis Urbano

The word syzygy means a combination between two or more distinct elements and, according to the science that studies stars and planets, it can designate an astronomical configuration in which celestial bodies are organised approximately on the same axis, for example, the Sun, the Earth and the Moon during a solar or lunar eclipse. In Sizígia, we follow the path of a solitary character throughout one of the many working days in which the Leça Ocean Swimming Pools, designed by Alvaro Siza in 1961, remain closed to the public, seeking to identify the viewer with the camera's eye but also with that of the actor himself.
Luis Urbano is a Portoguese architect, filmmaker, teacher and researcher at Porto School of Architecture. He is editor of JACK – Journal on Architecture and Cinema

4:20 pm > 4:55 pm: ButoHouse (34') by Ila Bêka & Louise Lemoine

Somewhere in the gigantic human anthill of Tokyo, a man resists to the infernal machinery of the great metropolis. Alone, for 15 years, he built this resistance in the form of a house. The work of Keisuke Oka escapes any simple definition. Trained in butoh dance, an avant-garde choreographic movement born in Japan in the 1960s, Oka makes architecture a performance. Conceived day after day in the mode of improvisation, the space that slowly emerges is a form of moving meditation. Like the house, this film is an improvisation. Beka & Lemoine met Keisuke Oka by chance the day he chose to build, before the total stop of the project, the last three steps of the staircase that will lead to the top floor. ButoHouse is a film about concrete, illumination, perseverance and hope.
Ila Bêka and Louise Lemoine are visual artists who work in a variety of media, such as film, video installation and books. They live in Venice.

5 pm > 6 pm: A Lot with Little (60') by Noemi Blager & Tapio Snellman

A Lot With Little presents the inspiring work of ten architects from across the globe who have used ingenuity to tackle the climatic, social and economic crises of our time, respecting local culture and emphasising ethical and resource-efficient solutions. A multichannel film installation, exclusively adapted to a single screen for its premiere at the Biennale Architettura 2023, showcases selected projects in their existing settings, alongside interviews with the architects themselves.
Noemi Blager is an Argentine architect and curator based in London. With her curatorial work she champions visionary, respecting local culture and emphasising ethical and resource-efficient solutions.

6:05 pm > 6:45 pm: 2022 Pritzker Architecture Prize Ceremony (43')
The Pritzker Architecture Prize was created to honor a living architect or architects whose built work demonstrates a combination of those qualities of talent, vision, and commitment, which has produced consistent and significant contributions to humanity and the built environment through the art of architecture. This special film celebrates the 2022 Pritzker Laureate, Francis Kéré, who has just also been named Japan's Praemium Imperiale Laureate, the first African architect to win both, and whose work is featured prominently in the Central Pavilion's Force Majeure section.
Wednesday 27 September
2 pm > 6:45 pm
Wednesday 27 September – Short Film Screenings
2 pm > 3:15 pm         
Inhabiting Hybridity: Letters from the Middleground (7') by UNIT 24 – Vitika Agrawal

Inhabiting Hybridity is an architectural essay film on the syncretism of British and Indian cultures, commenting on the experience of being rooted in many places at once through the design of a transforming and transformative stone architectural structure.
Vitika Agrawal is a graduate from Bartlett School of Architecture, University College London. Her  short movie has received the Bartlett Medal 2022.

 My Land, Mine Land (6') by UNIT 24 – Paris Gazzola

Paris Gazzola's My Land, Mine Land is an investigation into gold-mining towns in the Western Australian desert, which excavates suppressed indigenous knowledge to reimagine desert living based on local resources, remediation, and co-existence.
Paris Gazzola is an Architectural Assistant at dRMM. She graduated from the Master's program at The Bartlett with honours. My Land, Mine Land was awarded The Bartlett Medal.

Robots of Brixton (6') by Kibwe Tavares

Part of the 18th International Architecture Exhibition, The Laboratory of the Future (Force Majeure), Robots of Brixton uses robots as metaphors for a future intake of migrants to the UK. The film shows Brixton as a degenerated and forgotten area inhabited by the new robot workforce, built and designed to carry out all the tasks which humans are no longer inclined to do.
Kibwe Tavares is a British filmmaker and architect. He is the co-founder of Factory Fifteen, a studio that uses animation and emerging technologies to explain the built environment.

Planet City (16') by Liam Young
Planet City tells about an imaginary city for 10 billion people, the entire population of the earth, where we surrender the rest of the world to a global scaled wilderness and the return of stolen lands. The film follows a continuous festival procession dancing through the city on a 365 day loop. Each day it intersects with a different carnival, culture and celebration, changing the beat as it goes, endlessly cycling through new colors, costumes and cacophonies.
The Great Endeavor (9') by Liam Young

To reach current climate targets, the capacity to remove existing carbon dioxide from the atmosphere and store it underground at gigatonne scales must be developed. Part of The Laboratory of the Future (Dangerous Liasions), The Great Endeavor approaches this challenge with optimism, collaborating with a network of scientists and technologists to imagine what it might look like to build this infrastructure.
Liam Young is an Australian-born film director and architect. Described by the BBC as 'The man Designing our Futures', his work explores the increasingly blurred boundaries among film, fiction, design and storytelling with the goal of prototyping and imagining the future of the city.

Ferenj (11') by Ainslee Alem Robson

Part of the 18th International Architecture Exhibition, Ferenj is an experimental form of emancipatory thinking, reclaiming Robson's Ethiopian–American mixed-race identity, and redefining boundaries between fragmented memories and the digital imaginary.
Ainslee Alem Robson is an award-winning Ethiopian-American director, writer and media artist, and current Sundance-NEH Fellow.

Beck Road (11') by Ewa Effiom
An investigation into the past, present and future of the eponymous street. The film is a response to the act of decontextualising the street, which is often occurs when the street is used as a film set. Beck Road seeks to give the urban morphology and associated stories centre stage, inspired by Khalik Allah's I Walk on Water to create a snapshot of place that goes beyond critique.
Ewa Effiom is a London-based Belgo-Nigerian architect, writer, producer and filmmaker. His films Eagle Mansions and Beck Road have screened at festivals internationally in Europe and Australasia.
From 3:25 pm to 6:45 pm two panel discussions will follow with: Noemi Blager, Luis Urbano, Ila Bêka & Louise Lemoine, Ewa Effiom, Penelope Haralambidou, Mike Tite, Ainslee Alem Robson, Liam Young.
Carnival
Carnival is the cycle of meetings, lectures, round tables, films and performances designed by Curator Lesley Lokko to animate the Biennale Architettura 2023 and explore the themes of The Laboratory of the Future, open until November 26th .
Carnival is supported by Rolex, Exclusive Partner and Official Timepiece of the Exhibition.
The final Carnival
Sunday 26 November 2023

Arsenale venue and Teatro Piccolo Arsenale

 

It's a Wrap!

 

 
---
Share this page on