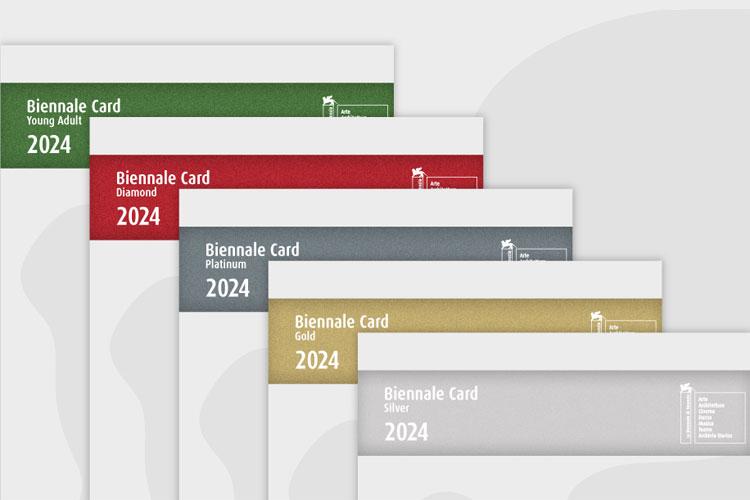 Biennale Card 2024: discover all benefits for holders
Choose your membership card to enjoy a number of benefits and to support the activities of the Biennale's Historical Archive.
Biennale Card 2024
To mark the upcoming season of cultural events 2024 (60th International Art Exhibition; 81st Venice International Film Festival; performances of the Dance, Music and Theatre departments), La Biennale di Venezia is reissuing its Biennale Card.
Dedicated to professionals and art lovers interested in the initiatives organized by La Biennale di Venezia, the Card will enable holder to take advantage of a series of benefits covering all of the Biennale's activities. La Biennale offers 5 different types of Cards (Silver, Gold, Platinum, Diamond and the new Young Adult); the Biennale Diamond Card - the most prestigious one available – is a kind of "mini donor" of La Biennale di Venezia.
The revenue from the sale of Biennale Cards 2024 will be used to support the activities of the Historical Archive of Contemporary Arts. In this way, all Card holders will greatly contribute to collect, catalogue and digitize the valuable heritage which includes works, documents and images stored in the Archive.
A part of this revenue will be allocated to the Carbon Neutrality project undertaken by La Biennale di Venezia in 2021.
5 types of Biennale Card
The Biennale Card 2024 is available in 5 different types:
Biennale Card Young Adult
Biennale Card Silver
Biennale Card Gold *
Biennale Card Platinum *
Biennale Card Diamond *
* these Cards secure access for one or more visitors to the pre-opening of the Biennale Arte 2024 on 17, 18 and 19 April, in addition to a number of other benefits.
To discover all the benefits for holders of the Biennale Card 2024, please visit the Biennale Card page →
---
Share this page on