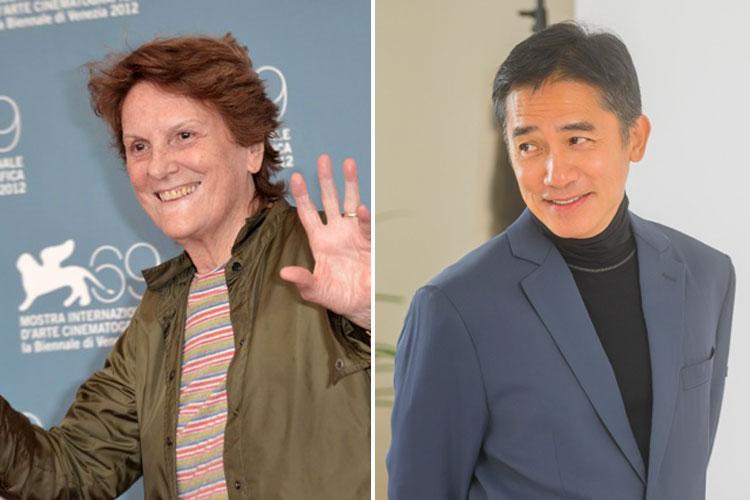 Director Liliana Cavani and actor Tony Leung Chiu-wai Golden Lions for Lifetime Achievement
The acknowledgments will be awarded during the 80th Venice International Film Festival (30 August > 9 September 2023).
Golden Lions for Lifetime Achievement
The director Liliana Cavani and the actor Tony Leung Chiu-wai will each receive the Golden Lions for Lifetime Achievement at the 80th International Film Festival of the Biennale di Venezia (August 30 – September 9, 2023). The decision was made by the Board of Directors of La Biennale, upon recommendation of the Director of the Festival, Alberto Barbera.
"I am very happy and grateful to the Biennale di Venezia for this wonderful surprise", said Liliana Cavani in accepting the offer. The director made herself known in Venice in 1965 with Philippe Pétain: Processo a Vichy, Lion of San Marco for best documentary, followed by Francesco d'Assisi (Francis of Assisi, 1966), Galileo (1968), I cannibali (The Year of the Cannibals, 1970), Il gioco di Ripley (Ripley's Game, 2002) and Clarisse (2012).
Tony Leung Chiu-wai  – who has starred in three movies which have won the Golden Lion at the Venice International Film Festival, A City of Sadness (1989) by Hou Hsiao-hsien, Cyclo (1995) by Tran Anh Hung, and Lust, Caution (2007) by Ang Lee – in accepting the offer, declared: "I am overwhelmed and honoured with the news from the Biennale di Venezia. I hope to celebrate this award with all the filmmakers I have worked with. This award is a tribute to all of them as well."
Statement from
Alberto Barbera
With regard to the award to Liliana Cavani, Festival Director Alberto Barbera declared: "One of the most emblematic protagonists of the New Italian Cinema of the 1960s, whose work has spanned over sixty years of show business history, Liliana Cavani is a versatile artist who frequents television, theatre, and opera with the same unconventional spirit and  intellectual ferment that have made her movies famous. Her mindset has always been nonconformist, free of ideological preconceptions, and decoupled from any type of brainwashing; it is driven by the constant search for a truth concealed in the most recessed and mysterious corners of the human soul, up to the edge of spirituality. The characters in her movies are set in a historical context that shows an existential tension toward change, young people searching for answers to important questions, complex and problematic characters who reflect the unresolved conflict between individual and society. Hers is a political gaze in the highest sense of the term, anti-dogmatic, non-aligned, brave in the way she confronts even the most challenging taboos, alien to trends, resistant to compromise and production opportunism. Instead, she is open to a fertile ambiguity in the characters and situations she presents. A fecund lesson in both aesthetics and ethics, by a protagonist of our cinema who defines its perpetual modernity."
Commenting on Tony Leung Chiu-wai's award, Festival Director Alberto Barbera declared: "Tony Leung is a charismatic performer in the course of an exceptional transnational career which has evolved paralleling the expansion of global film circulation. Not only have Tony Leung's roles spanned a great variety of genres, but also have bridged television, popular culture, and art-cinema at different latitudes. His reputation is strictly tied to his long-term collaboration with acclaimed award-winning auteurs epitomized by his unforgettable performance in Wong Kar-wai's In the Mood for Love (2000), which granted him the Best Actor award at the Cannes film festival. His leading roles in three Venice Golden Lion awarded films from different parts of Asia also confirm his centrality to auteur cinema - Hou Hsiao-hsien's City of Sadness (1989), Tran Anh Hung's Cyclo (1995), and Ang Lee's Lust, Caution (2007). Yet, his worldwide profile is also affiliated to box-office hits which cut across different modes, genres, and languages including Zhang Yimou's Hero (2002), Andrew Lau's and Alan Mak's Infernal Affairs (2002-03), John Woo's Red Cliff (2008-09), and the Marvel film Shang-chi and the Legend of the Ten Rings (2021). Recognized as one of the major actors of his generation, while maintaining the incredible versatility that first turned him into a film and pop star in Hong Kong in the 1980s, he has achieved a unique profile as a pan-Asian and global star confirming his presence within ever shifting screen cultures, deconstructing the traditional idea of male stardom and bringing compelling sensitivity to all his roles."
Liliana Cavani
Biographical notes
Born in Carpi (Modena), Liliana Cavani graduated with a degree in Ancient Literature from the University of Bologna and a diploma from the Centro Sperimentale di Cinematografia in Rome. In 1962 she began to make important documentaries for Rai television on controversial issues, including the Storia del Terzo Reich (1962), L'età di Stalin (1963), La casa in Italia (1964), Philippe Pétain: processo a Vichy, which won the Golden Lion for best documentary at the Venice International Film Festival in 1965. She made her feature film debut in 1966 with Francesco d'Assisi, starring Lou Castel, a work that brought her fame, which was presented at the Venice Film Festival and won the Best Film award at the Valladolid Film Festival. The historical figures that Liliana Cavani focused on interested her for the current relevance of their teachings, which offer non-violent methods to protest existing orders. This was also the case with her next film Galileo (1968), filmed for the big screen and presented in competition at the Venice Film Festival, which along with its portrayal of the scientist brought to light the disquieted figure of Giordano Bruno. She then directed I cannibali (The Year of the Cannibals, 1969), starring Pierre Clémenti and Britt Ekland, presented at the Venice Film Festival, a metaphorical film that alludes to the "cannibalism" of power with regards to the antagonistic currents in society. She returned to television with L'ospite (The Guest), starring Lucia Bosè, an investigation of mental illness shown at the Venice Film Festival, and Milarepa (1974), in competition at the Cannes Film Festival, about the mystical experience of a Tibetan hermit. She won significant critical and audience acclaim with Il portiere di notte (The Night Porter, 1974), starring Dirk Bogarde and Charlotte Rampling, about the relationship between a former SS torturer and a Jewish prisoner, reignited years after the end of the war. The film focused once again on the analysis of power interwoven with the ambiguity of human nature. In 1977 she filmed Al di là del bene e del male (Beyond Good and Evil), about the private relationship between Nietzsche and Lou Andreas Salomé, followed by La pelle (The Skin, 1981), adapted from the novel by Curzio Malaparte. Before the international success of Interno berlinese (The Berlin Affair, 1985), adapted from Tanizaki Jun'ichirō, she participated again in the Venice Film Festival in 1982 with a new film on the theme of madness, Oltre la porta (Beyond the Door). She came back to the Lido with Dove siete? Io sono qui (Where Are You? I'm Here, 1993), for which Anna Bonaiuto won the Coppa Volpi for best actress, and again in 2002 with the thriller Il gioco di Ripley (Ripley's Game), starring John Malkovich. She returned to the figure of Francis in 1989 with the film Francesco starring Mickey Rourke, and with a new film for television in 2014. In 2012 she participated in the Venice Film Festival with the short film Clarisse, which won the Pasinetti award. That same year she was awarded a special David di Donatello. Last January Liliana Cavani was celebrated at the Ministry of Culture on the occasion of her birthday.
Tony Leung Chiu-wai
Biographical notes
Tony Leung Chiu-wai (born 27 June 1962) is a Hong Kong actor and singer. He is considered one of Asia's most successful and internationally recognised actors and was named as "Small Tiger" among the Five Tiger Generals of Hong Kong TVB (Television Broadcasting Company). He has won many international acting prizes, including the Cannes Film Festival award for Best Actor for his performance in Wong Kar-wai's film In the Mood for Love. Leung is widely considered the best native Hong Kong actor of his generation. He was named by CNN as one of "Asia's 25 Greatest Actors of All Time". Leung is known for his collaborations with director Wong Kar-wai, with whom he has worked in seven films including Chungking Express (1994), Happy Together (1997), In the Mood for Love (2000), and The Grandmaster (2013). He also appeared in three Venice Film Festival Golden Lion-winning films, including A City of Sadness (1989) by Hsiao-Hsien Hou, Cyclo (1995) by Anh Hung Tran and Lust, Caution (2007) by Ang Lee. Leung also stars in the Academy Award-nominated film Hero (2002) by Zhang Yimou, and the box office hits Hard Boiled (1992) by John Woo and Infernal Affairs (2002-03) by Andrew Lau and Alan Mak. Leung was cast as Wenwu in the Marvel Cinematic Universe film Shang-Chi and the Legend of the Ten Rings (2021) by Destin Daniel Cretton. Leung has a comprehensive set of awards that he has won in a career that began in the 1980s. He is also a seven-time winner at the Hong Kong Film Awards and three-time winner at the Golden Horse Film Awards, holding the record for most awards in the Best Actor category. In 2022 he was awarded the Asian filmmaker of the Year at the Busan International film festival. In 2023 he won the Best Actor Award and the Asian Film Contribution Award at 16th Asian Film Awards. The BFI has dedicated a monograph to Tony Leung Chiu-wai in 2017 in which he is described as "one of the most acclaimed contemporary pan-Asian and global film stars of his generation".
---
Share this page on