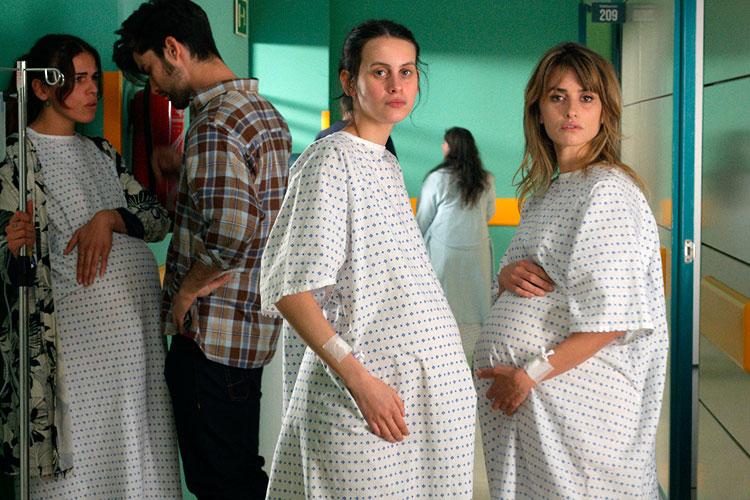 Madres paralelas by Pedro Almodóvar to open the 78th Venice Film Festival
The film stars Penélope Cruz, Milena Smit, Israel Elejalde, and Aitana Sánchez-Gijón.
Madres paralelas is the Opening Film
Madres paralelas, directed by Pedro Almodóvar, starring Penélope Cruz, Milena Smit, Israel Elejalde, Aitana Sánchez-Gijón, with the participation of Julieta Serrano and Rossy De Palma is the Opening Film, in Competition, of the 78th Venice International Film Festival within La Biennale di Venezia, directed by Alberto Barbera (1 – 11 September 2021).
"I was born as a film director in 1983 in Venice..." - says Pedro Almodóvar - "...in the Mezzogiorno Mezzanotte section. Thirty-eight years later I am called to open the Festival. I cannot explain the joy and the honor, and how much this means to me without falling into complacency. I am very grateful to the Festival for this recognition and hope to be up to it".
Alberto Barbera says: "I am grateful to Pedro Almodóvar for having given us the privilege of opening the Film Festival with his new movie, an intense and sensitive portrait of two women as they contend with a pregnancy with unpredictable consequences, women's solidarity, and sexuality that is experienced in full freedom and without hypocrisy, all against the backdrop of a reflection on the ineluctable need for truth that is to be unwaveringly pursued. This is a very welcome return to Venice in Competition for the recipient of our 2019 Golden Lion for Lifetime Achievement, many years after the success of Women on the Verge of a Nervous Breakdown the movie that marked his definitive triumph on the international scene".
Madres paralelas will be screened Wednesday September 1st, in the Sala Grande at the Palazzo del Cinema (Lido di Venezia), on the opening night of the 78th Venice International Film Festival. Madres paralelas is produced by El Deseo and will be distributed in Italy by Warner Bros. Pictures.
Synopsis
Two women, Janis and Ana, coincide in a hospital room where they are going to give birth. Both are single and got pregnant by accident. Janis, middle-aged, doesn't regret it and she is exultant. The other, Ana, an adolescent, is scared, repentant and traumatized. Janis tries to encourage her while they move like sleepwalkers along the hospital corridors.
The few words they exchange in these hours will create a very close link between the two, which chance will undertake to develop and complicate in such a decisive way that it will change the lives of both.
Pedro Almodóvar – Biography
He was born in Calzada de Calatrava, in the heart of La Mancha, in the 50s. At seventeen, he left home and moved to Madrid, with no money and no job, but with a very specific project in mind: to study cinema and direct films. It was impossible to enrol in the Official Film School because Franco had just closed it. Despite the dictatorship that was suffocating the country, for an adolescent from the provinces Madrid represented culture, independence and freedom.
He worked at many sporadic jobs, but he couldn't buy his first Super-8mm camera until he got a "serious" job at the National Telephone Company of Spain in 1971. He worked there for twelve years as an administrative assistant. In the mornings, his job gave him an in-depth knowledge of the Spanish middle class at the start of the consumer era, with its dramas and its misfortunes, a real gold mine for a future story teller. In the evenings and nights, he wrote, loved, acted with the mythical independent theatre group Los Goliardos and made films in Super-8. He collaborated with various underground magazines and wrote stories, some of which were even published. He was a member of a parody punk-rock group, Almodóvar & McNamara. He had the good fortune that his personal explosion coincided with the explosion of the democratic Madrid of the last seventies, early eighties. That was the period the world knew as La Movida.
After a year and a half of eventful shooting on 16mm, in 1980 he opened Pepi, Luci, Bom, a no-budget film made as a cooperative effort with the rest of the crew and the cast, all beginners, except for Carmen Maura.
In 1986, he founded the production company El Deseo with his brother Agustín. Their first project was Law of Desire. Since then, they have produced all the films that Pedro has written and directed, they have also produced other young directors.
In 1988, Women on the Verge of a Nervous Breakdown brought him international recognition. Since then, his films have opened all around the world.
With All About my Mother (1999) he won his first Academy Award for Best Foreign Film, he was also awarded as Best Director in Cannes Film Festival. Three years later, Talk to Her got him an Academy Award for Best Script.
In 2004, Bad Education was chosen to open the Cannes Festival. In 2006, he presented Volver in Cannes Film Festival, where it got the Best Screenplay Award as well as the Best Actress Award for the six actresses of the film, leaded by Penélope Cruz, who would eventually became the first Spanish actress nominated for an Academy Award for a Spanish speaking film.
He is been awarded with the Prince of Asturias Award to the Arts and has special University Honours by Harvard and Oxford Universities.
Some of his films have been adapted into plays (All About My Mother) and even into musicals (Women on the Verge of a Nervous Breakdown). 
Filmography
1980 Pepi, Luci, Bom
1982 Labyrinth of Passions
1983 Dark Habits
1984-5 What Have I Done to Deserve This?!
1985-86 Matador
1986 Law of Desire
1988 Women on the Verge of a Nervous Breakdown
1989 Tie Me Up! Tie Me Down!
1991 High Heels
1993 Kika
1995 The Flower of my Secret
1997 Live Flesh
1999 All About my Mother
2001 Talk to Her
2003 Bad Education
2006 Volver
2009 Broken Embraces      
2011 The Skin I Live In
2013 I'm So Excited!
2016 Julieta
2019 Dolor y Gloria
2020 The Human Voice
---
Share this page on