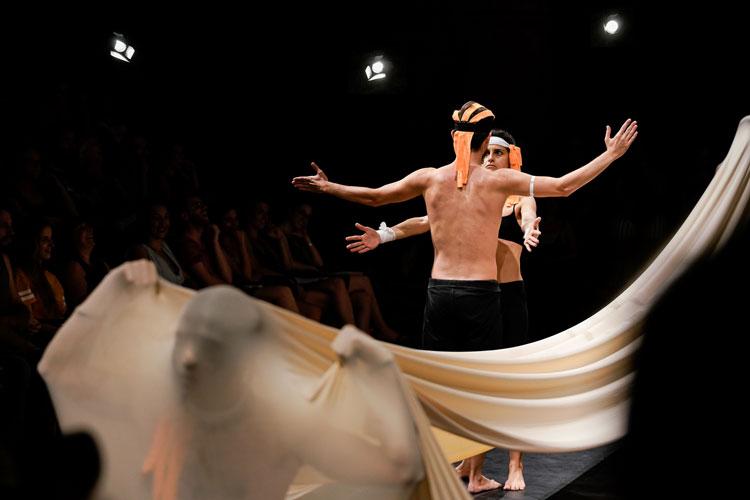 New call for applications: Biennale College Teatro - workshops
Six training workshops coordinated by Masters on the theme of the "recipe". Deadline for applications: 9 April 2019.
Biennale College Teatro is a higher training project aimed at professionals, scholars, spectators and theatre lovers.
Biennale College Teatro 2019 -
Workshops
The 2019 edition of the Biennale College ­– Theatre will include an introductory session with the Director Antonio Latella, attendance at the stage readings from the call for Authors under-40, and a significant number of sessions dedicated to working with the chosen Masters, with the purpose of offering each participant the possibility of taking part in an authentic creative process, on the one hand, and on the other, to enhance the educational value of each workshop, a place of both ideation and higher education.
The call is for applicants aged 18 and over. Specific requirements are indicated in the presentation of each workshop. All applicants must fill out the online application form in all its parts and attach the required documentation in digital form (in Italian or in English). The deadline for the submission of applications is 9th April 2019.
The programme is organized as follows:
   · 22 > 25 July: meetings with the Director Antonio Latella, which will involve all candidates selected from the call and require attendance at the stage readings of the texts selected as part of the Authors-under-40 call (2018-2020). Following these readings, the Director will choose the texts that, at his discretion, could be staged and produced by the Biennale Teatro 2020.
   · 26 July: symposium "Publishing Theatre" and the conclusion of the Biennale College Theatre – Directors-under-30 call (2019/2020).
   · 27 July > 4 August: workshop with the selected Master.
   · 5 August: theatre marathon of short performances, outcomes of the workshops.
Throughout the Festival, the participants may attend the afternoon meetings with the directors invited to the Biennale Teatro 2019 and the evening performances on the roster.
---
Share this page on