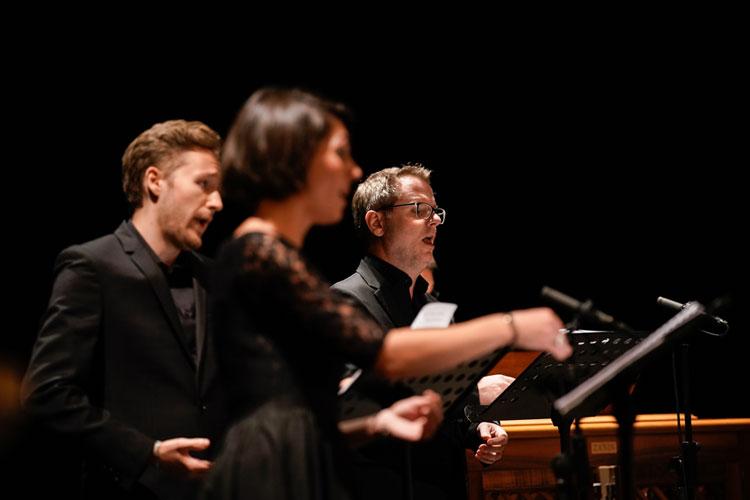 New calls for applications of the Biennale College Musica
The calls for young composers, performers and vocal ensembles are available online. Applications to be sent by 18 February 2021.
Biennale College Musica 2021
The Biennale College Musica 2021 is addressed to young composers, young performers and new vocal ensembles interested in the recent compositions for a cappella voices.
The new calls will select:
2 Italian and foreign composers under 30 to write original works for vocal a cappella ensembles (call deadline 18 February 2021)
2 Italian and foreign composers under 30 to create site-specific sound installations that include pre-recorded vocal material (call deadline 18 February 2021)
2 Italian and foreign performers (DJs/turntablist/controllerist, live electronics) under 30 for experimental performances working on pre-recorded voice (call deadline 18 February 2021)
1 Italian vocal ensemble with a maximum of 6 voices under 25 (call deadline 18 February 2021) to perform contemporary vocal music
The Biennale Musica 2021 (17 > 26 September 2021), titled Choruses, intends to explore "the dramaturgical potential of the voice through the production of a cappella works of music, sound installations and site-specific performances dedicated to the voice, presented in various locations in the city of Venice". A city, director Lucia Ronchetti reminds us, "that generated Baroque vocal counterpoint and vocal dramaturgy".
The programmes for the theoretical and practical seminars that will involve the young artists selected for the Biennale College, are finalized towards the presentation of 7 events (2 compositions, 2 site-specific sound installations, 2 experimental electronics performances and 1 concert for vocal ensemble) which will be an integral part of Biennale Musica 2021.
The programmes for the composers, performers and new vocal ensembles will each be structured as specific sessions taking place between April and September 2021, and involving a team of tutors coordinated by Lucia Ronchetti herself: the Palestinian-Israeli composer living in Berlin Samir Odeh-Tamimi; Irish vocalist, composer and performer Jennifer Walshe; Andreas Fischer, one of the founders of the Neue Vocalsolisten of Stuttgart; the essayist and playwright Guido Barbieri; the sound engineer Thierry Coduys; the composer and artistic producer Guglielmo Bottin; the sound engineer Roberto Benozzo. Thanks to the Centro di Informatica Musicale e Multimediale (CIMM), which La Biennale founded in 2019 in the two venues of the Arsenale in Venice and the Centro Civico and Teatro della Bissuola in Mestre.
Complete details of the calls may be found on the La Biennale di Venezia website at:
https://www.labiennale.org/en/biennale-college
Biennale College
Biennale College is an experience that engages every Department of La Biennale di Venezia – Cinema, Dance, Music, Theatre – to promote young talents offering them the opportunity to work closely with the masters to develop their creations.
Biennale College Musica, organized by La Biennale di Venezia, enjoys the support of the Ministry for the Cultural Heritage and Activities – General Direction for the Performing Arts and the Regione del Veneto.
---
Share this page on