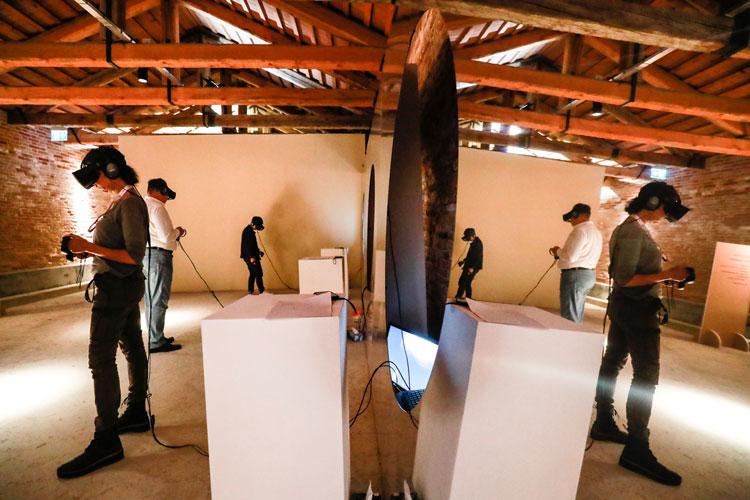 The second workshop of the Biennale College Cinema – Virtual Reality
The workshop was held entirely in virtual mode. Participating were the three projects selected for the 4th edition.
The virtual workshop
The workshop of the 4th Biennale College Cinema – Virtual Reality, which ended on Friday March 6th, was held entirely in virtual mode, on a specialized platform and consistent with the language of the projects involved.
This is the first time anywhere in the world that a complete workshop, organized over the course of several days, performed all of its work in virtual mode.
Held from Tuesday March 3rd to Friday March 6th, the virtual workshop remotely connected the staff of the Biennale College Cinema with the three teams selected from Germany, Great Britain and Italy. One of the three projects will be presented in the Venice Virtual Reality section of the 77th Venice International Film Festival (2 – 12 September), directed by Alberto Barbera.
The workshop, which engaged the three teams in the development of their production projects, took place in a virtual environment designed by the VRROOM platform on the VR Chat application. This channel provided a virtual replica of the entire workshop situation, creating avatars that represented the participants in different classrooms and in a common space, which served as the venue for discussions, film and video screenings, and 360° immersive Virtual Reality experiences proposed by the teams and the staff of Biennale College Cinema.
The three projects selected for this edition of the Biennale College Cinema VR are:
The Pub (United Kingdom)
Director: Duane Hopkins
Producer: Samm Haillay
Touched
Directors: Emilia Ondriasova (Slovakia), Sarah Lisa Vogl (Germany)
Producer: Sarah Lisa Vogl
Vajont (Italy)
Director: Iolanda Di Bonaventura
Producer: Saverio Trapasso
---
Share this page on