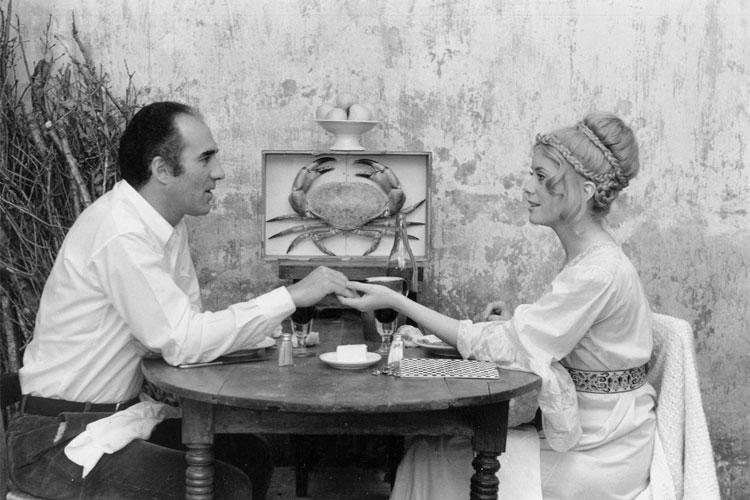 The Venice Classics restored films at the 80th Venice Film Festival
Director Andrea Pallaoro appointed as President of the Jury of film students.
Venice Classics
Director and screenwriter Andrea Pallaoro (Medeas, Hannah, Monica)  will chair the Jury of Film Students which – for the tenth year – will award the Venice Classics prizes for the respective competitions for Best Restored Film and for the Best Documentary About Cinema. The Jury chaired will be composed of 24 students, each of them recommended by professors of film studies from various Italian universities, DAMS and from Ca' Foscari University in Venice.
Venice Classics is the section that since 2012 has presented world premiere screenings at the Venice Film Festival of a selection of the best restorations of film classics carried out over the past year by film archives, cultural institutions and production companies around the world. Curated by Alberto Barbera with the collaboration of Federico Gironi, Venice Classics also presents a selection of documentaries about cinema or its practitioners.
"Once again this year, the line-up of Venice Classics seeks to offer its audiences a wide and overarching cross-section of the history of cinema, spanning genres and currents, exploring cinema styles and celebrating great filmmakers and anniversaries". – said Alberto Barbera and Federico Gironi – "It rightly begins with the tribute to one of Italian cinema's greatest and most popular stars. The pre-opening night, dedicated to Gina Lollobrigida, will feature La provinciale (The Wayward Wife) by Mario Soldati in which she offers one of her finest performances, and the rarely seen documentary dedicated to her by Orson Welles in 1958, Portrait of Gina, with which he hoped to initiate a series of portraits of people and places for the American broadcasting network ABC, but which was never followed up. Another tribute proposes to celebrate one of the masters of Italian genre cinema, Ruggero Deodato, who passed away in December last year, with the restoration of one of his most extreme and recherché films: Ultimo mondo cannibale.
Last February, we lost one of the greatest Spanish directors as well, Carlos Saura. We will see the restored version of one of his first and finest films, which marked the renascence of Spanish cinema: La caza (The Hunt) was an award-winner at the 1965 Berlin Film Festival.
Another of the anniversaries we will be celebrating this year is that of Anna Magnani, who left us fifty years ago. On this occasion, there will be a screening of the newly-restored 4K version of Bellissima, the remarkable film by one of the greatest directors in the history of Italian cinema, Luchino Visconti.
It is also the 120th anniversary of Yasujiro Ozu's birth, and we will be seeing a rare film of his, mutilated by the censorship of the time, at the height of World War II: the recent rediscovery of part of the clips that were cut will make it possible to rediscover Chichi Ariki (There Was a Father) in a version that is not complete but is undoubtedly closer to the original release than the version we have known to date.
"We will follow with a series of great films that  rightfully belong to the history of cinema and its pantheon", continued Alberto Barbera and Federico Gironi, "Les Créatures (The Creatures) by Agnès Varda (in competition at the Venice Film Festival in 1966); Days of Heaven, Terrence Malick's second film; King and Country by Joseph Losey and Tini zabutych predkiv (Shadows of Forgotten Ancestors) by Sergei Parajanov, which revealed to the world the remarkable qualities of the great Armenian-Ukrainian director despised by Soviet authorities for his work, which takes a visionary surrealistic approach to the popular traditions of the Carpathian people.
"Not just restored, but also revised by the filmmakers themselves in what are genuine Director's Cuts, are One from the Heart by Francis Ford Coppola and Profundo Carmesí (Deep Crimson) by Arturo Ripstein, while the masterpiece Andrei Rublev by Andrei Tarkovsky will be presented in the reconstruction of the complete original version, which was censored before its release and has never been seen until now.
"2023 marks the 100th anniversary of both Warner Bros. and Disney. To celebrate them, fifty years after its production, a masterpiece of not just horror films, The Exorcist by William Friedkin, returns in a restored version, while for those looking for something softer and more reassuring, the screenings will feature Rebecca of Sunnybrook Farm, the film with the legendary Shirley Temple directed by the prolific and sometimes brilliant Allan Dwan.
"From America's indie scene, we have Roger Corman's pupil Stephanie Rothman, who gave a feminist boost to 1970s sexploitation. The Festival will present The Working Girls, a recently restored movie from her filmography that has joined the collection of New York's MoMA. Always on the topic of taboos, the director Yonfan takes us to Singapore's red light district to meet a group of irresistible transvestites, in the brightly coloured Bugis Street. Children are the protagonists of one of Amir Naderi's first movies, Harmonica (Saaz Dahani, not seen for years), set in a sunny, coastal Iran that you wouldn't expect. There will be an opportunity to discover, or rediscover, two films that are truly unfamiliar to us: Life of a Shock Force Worker (Slike iz života udarnika) by Bosnian director Bahrudin Čengić, a film considered by many critics to be one of the masterpieces of cinema from the former Yugoslavia, and Ohikkoshi (Moving) by Japanese director Shinji Sōmai, the unjustly underestimated director of only 13 remarkable films, made between 1980 and 2000."
Line-up
SLIKE IZ ŽIVOTA UDARNIKA (LIFE OF A SHOCK FORCE WORKER)
by BAHRUDIN BATO ČENGIĆ (Yugoslavia, 1972, 78', Colour / B/W)
restored by: Slovenska kinoteka / Filmski centar Sarajevo / Hrvatski državi arhiv – Hrvatska kinoteka / Ōsterreichisches Filmmuseum with the supporto f the EU Creative Europe Medie Programme / ACE - Association des Cinémathèques Européennes / Ministrstvo za kulturo Republike Slovenije
ULTIMO MONDO CANNIBALE (JUNGLE HOLOCAUST) – Midnight screening
by RUGGERO DEODATO (Italy, 1977, 90', Colour)
restored by: Minerva Pictures and Midnight Factory (Plaion Italia)
REBECCA OF SUNNYBROOK FARM
by ALLAN DWAN (USA, 1938, 81', B/W)
restored by: Walt Disney Studios / The Film Foundation
ONE FROM THE HEART: REPRISE
by FRANCIS FORD COPPOLA (USA, 1982, 95', Colour)
restored by: American Zoetrope
THE EXORCIST
by WILLIAM FRIEDKIN (USA, 1973, 132', Colour)
restored by: Warner Bros.
KING & COUNTRY
by JOSEPH LOSEY (UK, 1964, 88', B/W)
restored by: StudioCanal
DAYS OF HEAVEN
by TERRENCE MALICK (USA, 1978, 94', Colour)
restored by: Criterion / Paramount
SAAZ DAHANI (HARMONICA)
by AMIR NADERI (Iran, 1973, 76', Colour)
restored by: Institute for the Intellectual Development of Children and Young adults – KANOON / Roashana Laboratory
CHICHI ARIKI (THERE WAS A FATHER)
by YASUJIRO OZU (Japan, 1942, 92', B/W)
restored by: Shochiku / National Film Archive of Japan
TINI ZABUTYKH PREDKIV (SHADOWS OF FORGOTTEN ANCESTORS)
by SERGEI PARAJANOV (Ukraine, 1965, 99', Colour / B/W)
restored by: Oleksandr Dovzhenko National Centre
PROFUNDO CARMESÍ (DEEP CRIMSON) – DIRECTOR'S CUT
by ARTURO RIPSTEIN (Mexico, Spain, France, 2023, 136', Colour)
restored by: Alebrije Producciones / Wanda Films
THE WORKING GIRLS
by STEPHANIE ROTHMAN (USA, 1974, 80', Colour)
restored by: The Museum of Modern Art, New York
LA CAZA (THE HUNT)
by CARLOS SAURA (Spain, 1966, 87', B/W)
restored by: Video Mercury Films
LA PROVINCIALE (THE WAYWARD WIFE)
by MARIO SOLDATI (Italy, 1953, 113', B/W)
restored by: CSC - Cineteca Nazionale in collaboration with Compass Film
OHIKKOSHI (MOVING)
by SHINJI SÔMAI (Japan, 1993, 124', Colour)
restored by: Yomiuri Telecasting Corporation
ANDREI RUBLEV – DIRECTOR'S CUT
by ANDREI TARKOVSKY (USSR, 1966, 191', Colour / B/W)
restored by: Istituto Internazionale Andrei Tarkovsky in collaboration with Coevolutions and Cloudpost
LES CRÉATURES (THE CREATURES)
by AGNÈS VARDA (France, 1965, 94', Colour / B/W)
restored by: Ciné Tamaris / CNC with the support of SHE ECHOES and Chanel
BELLISSIMA
by LUCHINO VISCONTI (Italy, 1951, 114', B/W)
restored by: CSC - Cineteca Nazionale in collaboration with Compass Film
BUGIS STREET
by YONFAN (Hong Kong, 1995, 98', Colour)
restored by: L'immagine ritrovata / Far Sun Film
OUT OF COMPETITION
PORTRAIT OF GINA
by ORSON WELLES (USA, 1958, 27', B/W)
restored by: Munich Filmmuseum
Completing the Venice Classics section will be a selection of documentaries about cinema and its practitioners, with a line-up to be announced at the press conference on July 25th.
Andrea Pallaoro –
Biographical notes
Born in Trento, Italy in 1982, Andrea Pallaoro holds an MFA in Film Directing from the California Institute of the Arts and a BA from Hampshire College. His first feature film, Medeas, starring Catalina Sandino Moreno and Brian O'Byrne, premiered at the 70th Venice Film Festival and won several awards at prestigious international film festivals including Marrakech, Tbilisi, Palm Springs, and CamerImage. Hannah, Pallaoro's second feature film, starring Charlotte Rampling, world premiered in the Official Competition of the 74th Venice Film Festival where Ms. Rampling won the Coppa Volpi for best actress. Hannah went on to receive many prestigious international awards and recognitions including a César nomination for best foreign film. His most recent film, Monica, starring Trace Lysette, Patricia Clarkson, Adriana Barraza and Emily Browning world premiered in the Official Competition of the 79th Venice Film Festival and went on to win numerous international prizes. Pallaoro has served on the juries of prominent film festivals including Venice, Chicago, and Black Nights - Tallinn. He lives between Los Angeles and New York City.
---
Share this page on