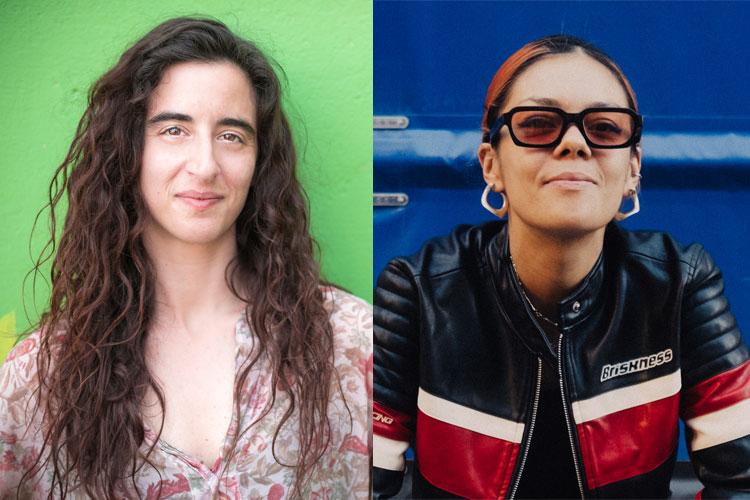 The winners of the calls for new choreographies
The two selected young artists are Luna Cenere and Andrea Peña. The projects will go on stage at the Biennale Danza 2023.
The calls for new choreographies
Two young artists, Luna Cenere and Andrea Peña, are the winners of the calls for new choreographies for Italian and international artists under the age of 35. The calls, the second edition for Italy and the first for foreign countries, are part of the multi-year project of the Dance Department of La Biennale di Venezia, directed by Wayne McGregor, to support the new generations of artists.
Dancer, choreographer and performer Luna Cenere, born in 1987, who conceives the body as a landscape, an element of complex architectural compositions in space, wins the call with her project Vanishing Place. Inspired by the images of artists such as Ren Hang, Evelyn Bencicova, AdeY, "Luna Cenere – writes McGregor – continues her research on the body, posture, object and gesture, often in startling dialogue with one another. Vanishing Place, her new 'installation' dance work, pushes this conversation into fresh and surprising territory, probing the very nature of what it is to dance and indeed what dances of the future might become. It is minimal, questioning work and as such offers a potent contrast to the more kinetically driven experiences we offer in the Biennale Danza".
Co-produced by La Biennale di Venezia together with Körper – National Production Center, CID – Centro internazionale della Danza, Hessishes Staatbnallet and with the support of MIC and the Cultural Institute of Köln, Vanishing Place will involve five performers - Ilaria Quaglia, Marina Bertoni, Francesca La Stella, Luca Zanni, Davide Tagliavini – to music by composer Renato Grieco.
Andrea Peña, a Colombian choreographer immigrated to Canada, together with the multidisciplinary company founded in 2014 in Montréal Andrea Peña & Artists (AP&A), wins the call with Bogota. A project that intends to explore the concepts of death and resurrection, states the choreographer "through my Colombian heritage coloured by the historical nuances of this colonized country, as a source of resilience that is deconstructed from queer, post-industrial and post-human lens". "A radical and innovative proposal – says McGregor – that convinces in its brave and raw approach to new movement exploration and evolving hybrid forms. This is high-quality, risk-taking and experimental work that we are thrilled to nurture at Biennale Danza 2023".
Co-produced by La Biennale di Venezia with Danse Danse and L'Agora de la danse, Bogota will be the second large-scale work conceived by the company, which will involve the dancers Francis Richard, Erin O'Loughlin, Jean Benoît Labrecque, Frédérique Rodier, Jontae McCrory, Nicholas Bellefleur, Charlie Prince; the set designer Jonathan Saucier; the composer, electronic musician and 3D sound designer Debbie Doe; the rehearsal director and researcher Helen Simard; the costume designer Polina Boltova; the film director Bobby Leon.
Vanishing Place by Luna Cenere and Bogota by Andrea Pena & Artists will have their world premiere at the 17th International Festival of Contemporary Dance of La Biennale di Venezia in July 2023.
Biographical Notes
Luna Cenere (Naples, 1987). Dancer, choreographer, performer. In 2009, she earned her diploma in contemporary dance at the Ente di Promozione Nazionale Movimento Danza in Naples and from the start took part in many projects around the territory. She later graduated from SEAD (Salzburg Experimental Academy of Dance). In 2014 she moved to Belgium and continued her training through international festivals, including the Festival Deltebre Danza, Impulstanz, La Biennale di Venezia (Biennale College 2015), studying with masters such as David Zambrano, Grancesco Scavetta, Martin Kilvady, Josef Frucek, Linda Kapetanea, Matej Kejzar, among others. She has participated in the creations of Anton Lacky (Anton Lacky Company) and has worked with Simone Forti (2014); she then joined the Compagnia Virgilio Sieni for La Mer and Il Cantico dei Cantici (2015). In 2017 she was selected as an AEROWAVES TWENTY18 artist and later won the "Best Choreography Award" at the Solocoreografico Festival and Award with Kokoro, a work produced by the Compagnia Korper with the support of the Compagnia Virgilio Sieni, the Marosi Dans Fest and the ex-Asilo Filangieri of Naples, and selected for the NID Platform 2019. It was followed by: in 2018 Twin, previewed at the Festival FOG/Triennale di Milano and selected by the ANTICORPI XL network; Pneumatika (work in progress), which made its debut at the Teatri Associati di Napoli, at the Festival "La Democrazia del Corpo" in Florence and at the Festival NAOcrea in Milan; in 2019 Natural Gravitation – tributo a Isadora Duncan, a commission and production of the Festival di Ravello and the Compagnia Körper; in 2021 Zoé , a production of the Compagnia Körper and the Festival Oriente Occidente, a show selected for the NID Platform 2020; in 2022 Shoes On, a production of the Compagnia Körper. She is supported by the Residence XL action for the year 2019 and is an associated artist of the Centro Coreografico Körper and the Festival Oriente Occidente for the two-year period 2019/2020. She won the Positano Léonide Massine Special Award for the dancers of the year (2019) and won the Premio Danza&Danza 2020 as "emerging choreographer" for her show Genealogia_Time Specific.  She worked on Mario Martone's film Capri Revolution (2017) under the dance direction of Raffaella Giordano.
Andrea Peña & Artists (AP&A) is a multidisciplinary company of thirty-year-old artists that merges the universes of choreography and design. Founded in 2014 in Montreal, Quebec in the territory of Tiohti:áke, the company merges the body and materiality in performative, digital and sculptural works to create living arts universes. AP&A's multifaceted practice explores the peripheries of social imaginaries, as futuring hybrid narratives that nurture the collision of different fields, disciplines and individuals through AP&A's collaborating artists.
Andrea Peña, born in 1990 in Bogota, Colombia created AP&A after a career as performer with BalletBC and Les Ballets Jazz de Montreal, now recognized in Canada and internationally for her creations as critical, alternative and spatial encounters that break with our notions of a sensitive humanity. With a Masters in industrial design from Concordia University, Andrea Peña's work imagines cross-disciplinary approaches that challenge the choreographic practice as a source of collective experimentation and knowledge. As a bi-cultural artist, Andrea Peña is known for her complex layered systems that engage in deep encounters between the physical body and a highly conceptual research approach.
The company's most recent works include: 6.58: Manifesto (2021), which won the Banff Arts Centre's Clifford E. Lee Award and opened the 2022 internationally renowned Tanzmessethe; Untitled I (2018) and Untitled I + III (2019) which won the prix Hong Kong International Choreography. AP&A has been presented by the National Arts Center (2021), Musée d'Art Contemporain (2021), Arsenal Art Contemporain (2016), Usine C (2019), Agora de la Danse (2021), Tanz Bremen (2022), tanzmesse (2022), Cinars, New Italian Dance Platform (2022), Festival Trajectoires (2022), Theatre Freiburg (2021), Tokyo Performing Arts Meeting (2020), the Canadian Center for Architecture (2019), Attakkalari India Biennial (2018), MilanoOltre Festival (2022), Festival Quartiers Danses (2022), Hong Kong International Choreography Festival (2018), Festival International de Danza de la Ciudad de Mexico (2017), Prisma Festival Panama (2016), AADK Spain (2017), and IONION Arts Center Greece (2016) among others. Andrea's work has been commissioned by the Phi Center, Laval Symphony Orchestra, Ballet Edmonton, the 375e Anniversary of Montreal, Pro Arte Danse, École de danse contemporaine de Montréal, Transformation, Springboard Program.
---
Share this page on