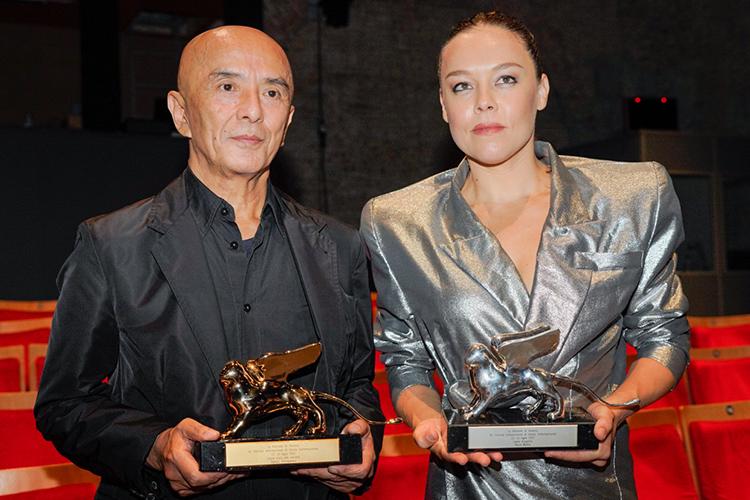 The 2022 Lion Awards for dance
The Golden Lion for Lifetime Achievement goes to choreographer and dancer Saburo Teshigawara; the Silver Lion goes to bailaora and choreographer Rocío Molina.
The awards
Saburo Teshigawara, the Japanese choreographer and dancer, painter, sculptor and designer who created a new aesthetic with his highly personal quality of movement, is the Golden Lion for Lifetime Achievement in Dance 2022. The Silver Lion has been awarded to the Spanish bailaora and choreographer Rocío Molina, the young radical of international flamenco, a tradition she is recreating with a searing contemporary perspective.
The Lions for Biennale Danza 2022 were approved by the Board of Directors of La Biennale di Venezia, on the recommendation of the director of the Dance department Wayne McGregor, and will be awarded on Saturday 23 July at 12 noon, Teatro Piccolo Arsenale.
The 16th International Festival of Contemporary Dance titled Boundary-less will take place in Venice from 22 to 31 July 2022.
Saburo Teshigawara
"Brave, singular, humane and thrilling, Saburo Teshigawara has inspired, challenged and agitated many generations of dance makers", writes Wayne McGregor, in his motivations for the award. He continues: "Teshigawara's keenly engineered sculptural sensibilities, powerful sense of choreographic form and his individualistic dance language blend to create a unique world that is his alone. His practice spans a broad and ever-increasing gamut of disciplines from live theatrical performance to visual arts, films/videos as well as designing scenography, lighting, and costumes for all his performances. It is his ability to construct whole artistic eco-systems that sets him apart from most of his peers as well as his insatiable courage to unlearn. Teshigawara, understands the power of the body in constant flux and is determined to expand the potential of choreography beyond its traditional limits. His pioneering spirit, his immense skill and his fluency of medium allows for work that crosses boundaries and slips between genres".
Trained in classical ballet and in the plastic arts, Saburo Teshigawara has represented a radical presence in the European context since his first appearance, in 1986, at the Rencontres Chorégraphiques Internationales de Bagnolet. Four years later with Karas (the company he founded with Kei Miyata), his name would resound around the world, contended by the great classical-modern companies and the major dance institutions, collecting awards and honours, including a Bessie Award (The New York Dance and Performance Awards) in 2007.
The author of astonishing performances in which he was buried up to his neck in sand  (Life in the Earth, 1985), walked on broken glass (Glass Tooth, 2006), and who previously appeared at Biennale Danza with his electrifying solo Bones in Pages (2004), where he seemed to sculpt light and air with his movements, Teshigawara returns to Venice with a work of capital importance which will have its world premiere at the 16th International Festival of Contemporary Dance (22 > 31 July 2022) - Petrouchka, a reinvention of the work by the Ballets Russes, a milestone in the history of Western ballet.
Rocío Molina
Appearing at Biennale Danza for the first time, on the other hand, is the Silver Lion Rocío Molina, an artist who has been invited to theatres and festivals around the world – from Avignon to the Barbican Centre in London, to the City Center in New York, the Esplanade in Singapore, Tanz Im August in Berlin and the Stanislavsky Theatre in Moscow. In Venice on July 27th, at the Teatro alle Tese, she will present the world premiere performance of a new work: Carnación, "a battle between her volcanic body and five live musicians", in the words of director Wayne McGregor, who writes, in his award statement: "Molina's avant-garde, extravagant and powerfully raw choreographies fuse traditional flamenco with modern dance styles and impulsos – improvisations that characterise her unique dance language. Indeed, Molina has coined her own artistic language based on a recalibrated traditional flamenco style which respects its essence but embraces the genuinely new. Radically free, Molina combines in her works: technical virtuosity, contemporary research, and conceptual risk. Unafraid to forge alliances with other disciplines and artists, her choreographies are unique scenic events based on ideas and cultural forms ranging from cinema to literature, including philosophy and painting. …Molina weaves a 21st Century dialogue with the past to reinvent a fresh future for the form – speaking directly to the now in honest and evocative terms. She seems to tear though the classical 'rule' book to construct her own volumes, inspiring and moving us to look and feel anew".
Working with the leading figures of flamenco such as María Pagés, Miguel Poveda, Antonio Canales, Israel Galván, and of the contemporary arts such as Carlos Marquerie, Mateo Feijóo or Jean Paul Goude, Rocío Molina – concludes McGregor – "can't help but be boundary-less – in ideas, partnerships and impressively in her dancing itself. Morphing between the feral, the sensuous, the upright, the parallel, the violent, the tender – in an astonishing explosion of physical and creative energy. Rocío Molina is a force to be reckoned with, in art and in life".  
The Lions of previous editions
In the past the Golden Lion for Lifetime Achievement in Dance has been awarded to Merce Cunningham (1995), Carolyn Carlson (2006), Pina Bausch (2007), Jirí Kylián (2008), William Forsythe (2010), Sylvie Guillem (2012), Steve Paxton (2014), Anne Teresa De Keersmaeker (2015); Maguy Marin (2016); Lucinda Childs (2017); Meg Stuart (2018), Alessandro Sciarroni (2019), La Ribot (2020), and Germaine Acogny (2021).
The Silver Lion, dedicated to promising young artists in dance, or to the institutions that have distinguished themselves for cultivating new talents, has been awarded to Anne Teresa De Keersmaeker's Performing Arts Research and Training Studios (2010), to Michele Di Stefano (2014), to Dana Michel (2017), Marlene Monteiro Freitas (2018), Steven Michel and Théo Mercier (2019), Claudia Castellucci (2020), and Oona Doherty (2021).
Biographical notes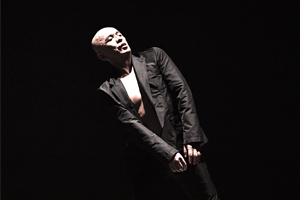 Saburo Teshigawara (Tokyo, 1953) is acknowledged as one of the greatest contemporary choreographers at the international level. A complete and multifaceted artist – painter, designer and author of films and installations – he began his career in 1981, in his native Tokyo, after studying plastic arts and classic ballet. In 1985, he formed KARAS with Kei Miyata and started to choreograph for himself as well as other artists and international companies such as the Ballet National de l'Opéra de Paris. For Teshigawara, dance is the central element in a greater visual and sensory experience. From 2006 to 2013, he taught at St. Paul's (Rikkyo) University in Japan, and since 2014 he is a professor at Tama Art University in the department of Scenography Design, Theatre and Dance. In 2004, he was selected as the mentor of dance for The Rolex Mentor and Protégé Arts Initiative.
Since 2013, he has established his own private creative space "KARAS APPARATUS" in the Ogikubo district in Tokyo. His works have won numerous awards and honours in Japan and abroad, including a Bessie Award in 2007. In 2017 he was made Chevalier de l'Ordre des Arts et des Lettres by the French Ministry of Culture. Through his projects, Teshigawara continues to encourage and inspire young dancers.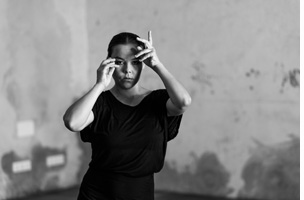 Rocío Molina (Malaga, 1984) started to dance at the early age of three years old. At seven, she was outlining her first choreographies. At seventeen, she graduated with honours at the Royal Dance Conservatory in Madrid and became part of the cast of professional companies with international tours. At the age of twenty-two, she premiered Entre paredes, her first work, which was followed by many more self-creations, all of which have in common a curious and transgressive perspective of flamenco that departs from the beaten path: El Eterno Retorno (2006) Turquesa como el limón (2006), Almario (2007), Por el decir de la gente (2007), Oro viejo (2008), Cuando las piedras vuelen (2009), Vinática (2010), Danzaora y vinática (2011), Afectos (2012) and Bosque Ardora (2014), Caída del Cielo (2016), Grito Pelao (2018), Inicio (Uno) (2020), Al fondo Riela (Lo otro del Uno) (2020) and Vuelta a Uno (2021), the last three productions being part of Trilogía sobre la guitarra.
She has been an associate of the Chaillot National Theater in Paris since 2014.
She has received many awards, including the Spanish National Award for Dance, Best Dancer Award at the Seville Bienal, the Gold Medal awarded by the Province of Malaga, the Max Award in 2015 and in 2017, the Dance National British Award in 2016.
---
Share this page on