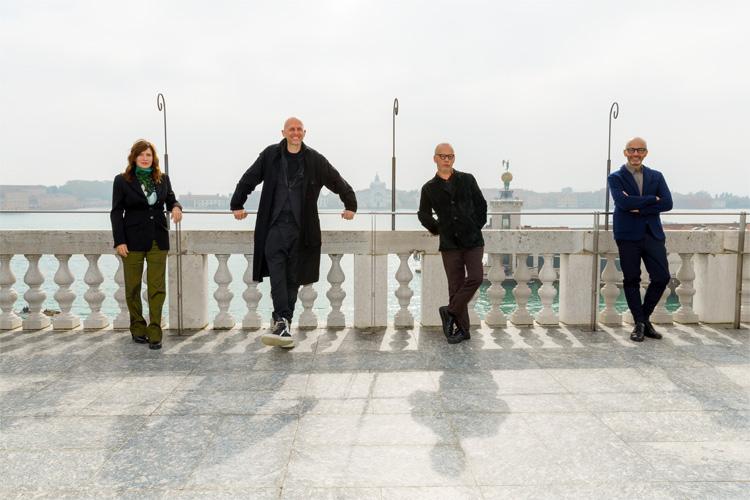 Artistic Directors appointed for the four-year term 2021-2024
Alberto Barbera for Cinema, Wayne McGregor for Dance, Lucia Ronchetti for Music, and ricci/forte for Theatre.
Appointment by the Biennale Board
La Biennale di Venezia announces that the Board of Directors has appointed the Artistic Directors for the Cinema, Dance, Music and Theatre Departments for the four-year term 2021-2024.
The following appointments have been approved:
Alberto Barbera was confirmed as the Director of the Cinema Department
Wayne McGregor was appointed as the Director of the Dance Department
Lucia Ronchetti was appointed as the Director of the Music Department
ricci/forte (Stefano Ricci and Gianni Forte) were appointed as the Directors of the Theatre Department
The Board of Directors of La Biennale has thanked and expressed its most sincere gratitude to Marie Chouinard, Ivan Fedele and Antonio Latella for their great commitment and the excellent results they achieved during their four-year terms as Directors respectively of the Dance, Music and Theatre Departments.
With regard to the Directors of the Architecture and Visual Arts Departments, these positions are currently held, respectively, by Hashim Sarkis for the next 17th International Architecture Exhibition (22 May > 21 November 2021) and by Cecilia Alemani for the 59th International Art Exhibition (23 April > 27 November 2022).
In 2021, the opening of the Biennale Architettura will be followed by the Biennale Teatro (2 > 11 July), the Biennale Danza (23 July > 1 August), the 78thVenice International Film Festival (1 > 11 September), and the Biennale Musica (17 > 26 September).
Biographical Notes
Alberto Barbera
Born in Biella in 1950, after graduating in Modern Literature with a thesis on Film History and Criticism from the University of Torino, he began his collaboration with the A.I.A.C.E. (the Italian association of Friends of Art-House Films), for which he served as president from 1977 to 1989. From 1980 to 1983 he was the film critic for the daily newspaper La Gazzetta del Popolo, and since 1982 he is a member of the Journalists Guild. He has collaborated with many dailies and magazines (Città, La Stampa, Essai, Altro Cinema, Bianco & Nero, Cineforum), television and radio programs as CinemaScoop (RAI 3), La lampada di Aladino (RAI - DSE), Hollywood Party (Radio3 RAI). In 1985, he co-directed a documentary, Cineasti del Nord-Ovest (Filmmakers from the North-West) for RAI 3.
In 1982 he began his collaboration with the Festival Internazionale Cinema Giovani (now the Torino Film Festival). From 1989 to 1998, he served as Director of the same festival. In 2000, he was awarded the title of "Chevalier des Arts et des Lettres", the important cultural acknowledgment of the French Republic. From 2002 to 2006 he served as co-director of RING! Festival of Film Criticism in Alessandria. In 2002, he became a consultant for the Museo Nazionale del Cinema in Turin. From June 2004 until December 2016, he was its Director.
Since 2012, he has again served as the Director for the Venice International Film Festival. In 2019, he was listed by Variety as one of the 500 most influential people in the world film industry. Since 2020 he has been a member of the Academy of Motion Pictures Arts and Sciences.
Wayne McGregor
Wayne McGregor CBE (Commander of the Order of the British Empire) is a British choreographer and director. He is Artistic Director of Studio Wayne McGregor, a creative nexus that pushes the frontiers of physical intelligence through dance, design and technology. Wayne's work is rooted in dance, yet encompasses a variety of genres including technology, visual art, film, opera and education, as well as Company Wayne McGregor, his own touring company of dancers.
Wayne McGregor is Resident Choreographer at The Royal Ballet, the first and only choreographer from a contemporary dance background to be invited into the role. There he has created 18 works that reconfigure the classical language, from Chroma, winner of the Olivier Award for Best New Dance Production, to Woolf Works, based on the life and writings of Virginia Woolf. He has works in the repertories of companies around the world, including Ballet de l'Opéra national de Paris, Alvin Ailey American Dance Theater, New York City Ballet, Bolshoi Ballet, Royal Danish Ballet and San Francisco Ballet. He has choreographed for theatre (Old Vic, National Theatre, Royal Court), opera (La Scala/Royal Opera House Dido and Aeneas, Acis and Galatea), film (Harry Potter and the Goblet of Fire, Sing, Mary Queen of Scots), music videos (Radiohead, The Chemical Brothers), fashion (Nick Knight for SHOWstudio, Soma for COS, Gareth Pugh at London Fashion Week), campaigns (Selfridges, Boots No 7) and TV.
Wayne McGregor is Professor of Choreography at Trinity Laban Conservatoire of Music and Dance. McGregor's work has earned him a multitude of awards including two Time Out Awards, two Olivier Awards, a prix Benois de la Danse and two Golden Mask awards.
Wayne McGregor has a First class honours degree from Leeds University, an Honorary Doctor of Science from Plymouth University, an Honorary Doctor of Letters from University of Leeds, Honorary Doctorates from UAL and University of Chester (2019) and is part of the Circle of Cultural Fellows at King's College London. In 2017 he was awarded an Honorary Fellowship of the British Science Association.
Lucia Ronchetti
Born in Rome in 1963, she studied Composition and Electronic Music at the Conservatorio Santa Cecilia in Rome, and graduated in Music History from the Università La Sapienza in Rome. Starting in 1994, in Paris, she studied with Gérard Grisey, attended the Annual Cursus at Ircam, and earned her Ph.D in musicology at the École Pratique des Hautes Études en Sorbonne, under the supervision of Prof. François Lesure. In 2005, she was a Visiting Scholar and Fulbright Fellow at Columbia University in New York, invited by Tristan Murail.
In 2021 the Oper Frankfurt will produce her new opera Inferno. The chamber opera Pinocchios Abenteuer will be presented by the Staatsoper Unter den Linden in Berlin and in a new production at the Oper Frankfurt. A new opera will make its debut at the Deutsche Oper am Rhein in the theatres of Düsseldorf, Duisburg and Dortmund in late 2021.
In 2020, the Ensemble Vocale Sequenza 9.3, directed by Catherine Simonpietri, carried out the creation of Sangu di rosa, a Commande de l'Etat by the French Ministry of Culture, broadcast live from the studios of Radio France and as part of the Défilé Dior in the Jardin des Tuileries. The Ensemble Modern presented a portrait of Lucia Ronchetti in the series "Happy New Ears" in the theatre of the Oper Frankfurt. Her most recent choral work Inedia prodigiosa was produced by Romaeuropa with the choruses of the Accademia Nazionale di Santa Cecilia and at the Nouvelle Philharmonie in Paris.
In 2020-21 Lucia Ronchetti will teach composition at the Ferienkurse in Darmstadt and will be a guest Professor of composition at the Hochschule für Musik und Darstellende Kunst Frankfurt.
Stefano Ricci and Gianni Forte
Authors and directors, Stefano Ricci and Gianni Forte trained at the Accademia Nazionale d'Arte Drammatica Silvio d'Amico with Luca Ronconi, and at New York University with Edward Albee.
The eponymous ensemble was founded in 2005 and made its debut in 2006 with Troia's Discount. The following year marked the debut of the first of 7 episodes in the Wunderkammer Soap project (based on Christopher Marlowe) which concluded in 2011 at the Romaeuropa Festival: a lucid and fierce look at the contemporary world that found its form in an oneiric language that would bring them to the attention of the national and international scene. It was followed by Ploutos (inspired by Aristophanes, winner of the Critics' award for best dramaturgy at the 2008 Biennale Teatro), Macadamia Nut Brittle, Abbastarduna (directed by David Bobée), Pinter's Anatomy, Some Disordered Christmas Interior Geometries, Grimmless, Imitationofdeath, 100% Furioso at the NET Festival in Moscow, Still Life, Darling (ipotesi per un'Orestea), and TroiloVSCressida (from Shakespeare). La ramificazione del pidocchio and PPP Ultimo inventario prima di liquidazione, both about the poetic universe of Pier Paolo Pasolini, and Easy To Remember (a tribute to Russian poet Marina Cvetaeva) are among their latest works. Still Life won an Oscar as Best Foreign-Language Show in 2017 at the Mercosur International Theatre Festival in Cordoba in Argentina.
In 2015 their encounter with the world of lyric opera: they wrote the libretto for A Christmas Eve, and directed its debut at Spoleto. They then directed Puccini's Turandot at the Macerata Opera Festival (Premio Abbiati 2018), Bluebeard's Castle by Bartók and Die glückliche Hand by Schoenberg at the Teatro Massimo in Palermo, and finally Verdi's Nabucco at the Teatro Regio in Parma.
This year they conceived, wrote, hosted and directed Hic Sunt Leones, a television programme in five episodes for Rai3 television.
---
Share this page on