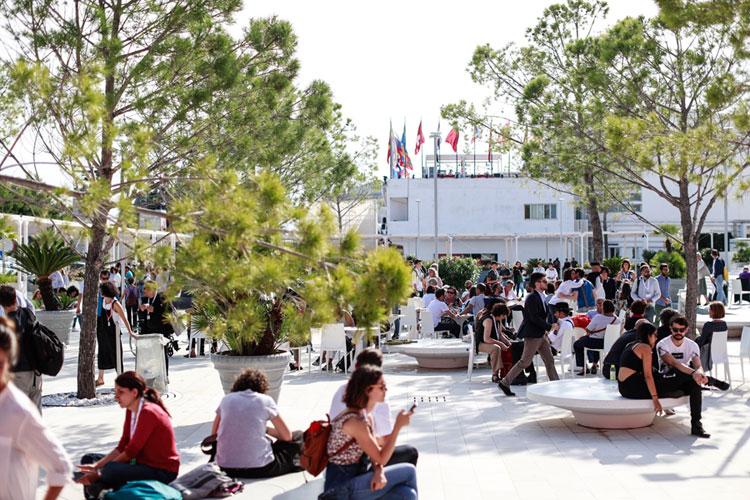 The Hollywood Foreign Press Association (HFPA) Award
For three award-winning filmmakers from the Orizzonti section with a programme-in-residence.
Special prize to three filmmakers
Following its debut in last year's 2018 edition, the Hollywood Foreign Press Association (HFPA) of Los Angeles confirms for the 76th Venice Film Festival the special prize to three filmmakers (directors, producers), winners in the Orizzonti section of the awards for Best Film, Best Director and Special Jury Prize.
In January 2020, they will participate in Los Angeles in a three-week programme-in-residence that includes master classes and workshops, in partnership with Film Independent. The selected filmmakers will be individually guided by tutors to perfect their skills, and will participate in screenings and educational events organized by Film Independent.
The 76th Venice Film Festival will be held on the Lido from August 28th to September 7th 2019, directed by Alberto Barbera and organized by La Biennale chaired by Paolo Baratta.
The President of the Biennale di Venezia, Paolo Baratta, has stated: "We highly appreciate the initiative of the Hollywood Foreign Press Association, it's an example of an effective promotion policy to the advantage of new talents."
For the last edition, the three filmmakers who won the prizes awarded by the jury chaired by Athina Tsangari at the 75th Venice Film Festival in 2018, participated in the programme-in-residence held in Los Angeles from January 2nd to 23rd 2019: Phuttiphong Aroonpheng (Thailand), director of Kraben Rahu (Orizzonti Award for Best Film); Emir Baigazin (Kazakhstan), Orizzonti Award for Best Director for the film Ozen (The River); Mahmut Fazıl Coşkun (Turkey), director of Anons (The Announcement), Special Orizzonti Jury Prize.
The HFPA, founded in 1943, gathers the Hollywood entertainment journalists, representing the world media from 56 countries. The HFPA organizes the annual Golden Globe® Awards.
Film Independent is the non-profit artistic organization that organizes the Film Independent Spirit Awards and the Los Angeles Film Festival.
Collateral awards of the 76th Venice Film Festival
The following is the complete list of the collateral awards of the 76th Venice Film Festival:
HFPA Award (Hollywood Foreign Press Association)
Casa Wabi - Mantarraya Award (Fundación Casa Wabi – Mantarraya Production)
Prize of the International Critics [FIPRESCI Award] (FIPRESCI - International Federation of Film Critics)
SIGNIS (SIGNIS International [World Catholic Association for Communication])
Leoncino d'Oro Award (Agiscuola)
Francesco Pasinetti Award (Sindacato Nazionale Giornalisti Cinematografici Italiani)
Brian Award (UAAR - Unione degli Atei e degli Agnostici Razionalisti)
Queer Lion Award (Associazione di Promozione Sociale Queer Lion)
Arca Cinemagiovani - Best Film (Arca CinemaGiovani)
CICT - UNESCO "Enrico Fulchignoni" Award (Conseil International du Cinema et de la Télèvision [CICT-UNESCO])
FEDIC Award (Federazione Italiana dei Cineclub)
Fondazione Mimmo Rotella Award (Fondazione Mimmo Rotella / Trapobana)
Lanterna Magica Award (Associazione Nazionale C.G.S.)
Gillo Pontecorvo Award (Istituto Internazionale per il cinema e l'audiovisivo dei paesi latini)
Smithers Foundation Award (International Council of Film and Television at UNESCO [IFTC-UNESCO], and the Observatory on Cultural Communication at U.N. [OCCAM])
Interfilm Award for Promoting Interreligious Dialogue (International Interchurch Film Organisation)
Green Drop Award (Green Cross Italia)
Premio Soundtrack Stars (Free Event and Sindacato Nazionale Giornalisti Cinematografici Italiani)
Audience Award (Settimana Internazionale della Critica)
Premio Circolo del Cinema - 34. Settimana Internazionale della Critica (Settimana Internazionale della Critica)
Mario Serandrei - Hotel Saturnia Award (Settimana Internazionale della Critica)
Award for Best Short Film SIC@SIC 2018 (Settimana Internazionale della Critica)
Award for Best Director SIC@SIC 2018 (Settimana Internazionale della Critica)
Award for Best Artistic Contribution SIC@SIC 2018 (Settimana Internazionale della Critica)
Gran Premio Settimana Internazionale della Critica (Settimana Internazionale della Critica)
Label Europa Cinema Award (Giornate degli Autori)
Fanheart3 Award (Associazione Fanheart3)
Filming Italy Best Movie Award (Filming Italy Award,  Sindacato Nazionale Critici Cinematografici Italiani, Best Movie)
BNP Paribas People's Choice Award (Giornate degli Autori)
Giornate degli Autori [GDA Award] (Giornate degli Autori)
Human Rights Nights Award (Associazione Human Rights Nights)
Social Criticism Award "Sorriso diverso Venezia 2018" (Ass. studentesca "L'università cerca lavoro "[UCL])
NuovoImaie Talent Award (NUOVOIMAIE - artists' rights, in collaboration with the Sindacato Nazionale Giornalisti Cinematografici Italiani and the Sindacato Nazionale Critici Cinematografici Italiani)
Sfera 1932 Award (Consorzio Venezia e il suo Lido with Seguso Vetri d'Arte - Murano dal 1397)
UNIMED Award (UNIMED - Unione delle Università del Mediterraneo)
La Pellicola d'Oro Award (Associazione Culturale S.A.S. and Associazione poliprofessionale di categoria ART. 9)
Lizzani Award (ANAC - Associazione Nazionale Autori Cinematografici)
Edipo Re Award (Università degli Studi di Padova and ResInt – Rete dell'Economia Sociale Internazionale)

 
---
Share this page on