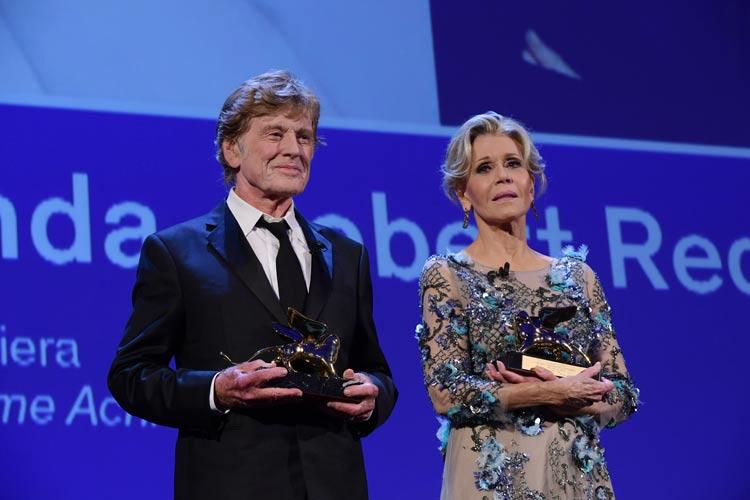 Jane Fonda and Robert Redford Golden Lions in Venice
Awards Ceremony on Friday 1st September at the Palazzo del Cinema, 10:15 pm.
Awards Ceremony on Friday 1st September at the Palazzo del Cinema, 10:15 pm.
The Awards and Alberto Barbera's comment
Jane Fonda and Robert Redford are the recipients of the Golden Lions for Lifetime Achievement of the 74th Venice Film Festival 2017. The decision was made by the Board of Directors of the Biennale di Venezia chaired by Paolo Baratta, upon recommendation of the Director of the Venice Film Festival, Alberto Barbera.
The ceremony to award the Golden Lions for Lifetime Achievement will take place on Friday September 1st in the Sala Grande of the Palazzo del Cinema (Lido di Venezia) before the Out of Competition screening of the Netflix original film, Our Souls at Night by Ritesh Batra, starring Jane Fonda and Robert Redford. Our Souls at Night is produced by Mr. Redford and his company Wildwood Enterprises, Inc., by Finola Dwyer of Wildgaze Films, and by Erin Simms - Producer. Based on the novel written by Kent Haruf and adapted for the screen by Scott Neustadter and Michael H. Weber (The Fault in Our Stars), the Netflix original film, Our Souls at Night is set in Colorado and begins when Addie Moore (Jane Fonda) pays an unexpected visit to a neighbor, Louis Waters (Robert Redford). Her husband died years ago, as did his wife, and in such a small town they'd been neighbors for decades, but had little contact. The film will launch globally on Netflix later this year.
Commenting on these acknowledgments, Director Alberto Barbera stated: "Few Hollywood legends have demonstrated such determination and courage over the course of their professional career as Jane Fonda. Her life has been marked by intense passion in her pursuit of freedom from every type of conformism, with a touching and vulnerable generosity. At times a political and social activist, a sex symbol, a writer, a feminist icon, a producer, and a prophet of physical fitness, but above all an extraordinarily successful and talented actress, Jane Fonda is one of the great protagonists of contemporary International cinema. This Golden Lion for Lifetime Achievement is a due tribute to the personal commitment and brilliant qualities of an actress who has brought unforgettable, controversial, and heterogeneous characters to life, demonstrating an unceasing ability to reinvent herself, all the while remaining true to herself, to her values, and to her indisputable artistic talent."
Says Festival Director Alberto Barbera: "Actor, director, producer, environmentalist, founder and soul of that brilliant experiment in film called Sundance - whether in front or behind the camera, advocating for the cause of independent cinema or the cause of our planet, Robert Redford has led us through almost five decades of compelling filmmaking and advocacy with a combination of rigor, intelligence and grace that is virtually unsurpassed. A slightly reluctant star, since very early in his career Redford has used his onscreen talent and success to make films about issues he cared about and to pave the way for other independent filmmakers like him. A thoughtful, instinctive actor with a keen sense of detail, as an Academy Award-winning director and producer, Redford has proven himself a masterful storyteller. His commitment to characters and story match his commitment and passion for the complex beauty and values of our ever evolving world."
JANE FONDA
Jane Fonda was born in New York City in 1937, the daughter of Henry Fonda and Frances Seymour Fonda. She attended the Emma Willard School in Troy, New York, and Vassar College. In her early twenties, Fonda studied with renowned acting coach Lee Strasberg and became a member of the Actors Studio in New York.
Fonda, is a two-time Academy Award® winner (Best Actress in 1971 for Klute and in 1978 for Coming Home), a three-time Golden Globe® winner, and was the 2014 recipient of the AFI Life Achievement Award. Along with starring roles in dozens of highly acclaimed productions, Fonda also took on responsibilities as a film and television producer. Her credits include Coming Home, The China Syndrome, Nine to Five, Rollover, On Golden Pond, The Morning After and The Dollmaker.
In 2007 Fonda received an Honorary Palme d'Or from the Cannes Film Festival, one of only three people ever to be granted this honor until then. In 2009 she received a Tony Award nomination for her role in Moisés Kaufman's 33 Variations, on Broadway. 
Fonda revolutionized the fitness industry with the release of Jane Fonda's Workout in 1982.  She followed with the production of 23 home exercise videos, 13 audio recordings, and seven bestselling books – selling 17 million copies altogether. The original Jane Fonda's Workout video remains the top grossing home video of all time.
In 2011, Fonda appeared in Et si on vivait tous ensemble, a French comedy, followed by Peace, Love & Misunderstanding, co-starring Catherine Keener. She appeared as Nancy Reagan in Lee Daniels's The Butler in 2013, and with Olivia Wilde and Sam Rockwell in Better Living Through Chemistry. In 2014, she starred in director Shawn Levy's This is Where I Leave You, with Tina Fey and Jason Bateman.
For three seasons Fonda appeared as media mogul Leona Lansing in an Emmy nominated performance in Aaron Sorkin's The Newsroom, on HBO. Most recently, she appeared in Youth, written and directed by Paolo Sorrentino (director and co-writer of Italy's Academy Award® winning Best Foreign Language Film The Great Beauty). She received a Golden Globe nomination for her performance.
Fonda also stars in Netflix's hit series, Grace and Frankie, which premiered its third season in March 2017.
ROBERT REDFORD
Robert Redford is an ardent conservationist and environmentalist, a man who stands for social responsibility and political involvement, and an artist and businessman who is a staunch supporter of uncompromised creative expression.
Redford landed his first Broadway starring role in Sunday in New York, followed by Little Moon of Alban and Neil Simon's Barefoot in the Park, directed by Mike Nichols. His first movie role was in War Hunt. He reprised the role of Paul Bratter in the film version of Barefoot in the Park, for which he received praise from critics and audiences. In 1969, Redford and Paul Newman teamed to star in Butch Cassidy and the Sundance Kid. Directed by George Roy Hill, the film became an instant classic and firmly established Redford as one of the industry's top leading men. He, Newman and Hill later reunited for The Sting, which won seven Oscars®, including Best Picture, and brought Redford his Best Actor nomination.
He has since built a distinguished acting career, starring in such notable films as Jeremiah Johnson, The Way We Were, The Great Gatsby, Three Days of the Condor, The Great Waldo Pepper, Brubaker, A Bridge Too Far, The Natural, Out of Africa, Legal Eagles, Sneakers, Indecent Proposal, Up Close and Personal, Spy Game, The Last Castle, The Clearing, An Unfinished Life, All is Lost, A Walk in the Woods, Truth and Disney's Pete's Dragon. Redford can currently be seen in the romantic sci-fi film The Discovery, where he co-stars alongside Jason Segal and Rooney Mara. He will soon be seen again in Netflix's Our Souls at Night, where he reunites with co-star Jane Fonda, slated to release later this year. He is currently in production for The Old Man and the Gun, alongside Sissy Spacek, Danny Glover and Casey Affleck.
Redford has starred in several films produced by his own Wildwood Enterprises, including Downhill Racer, The Candidate, The Electric Horseman and All the President's Men, which earned seven Oscar® nominations including Best Picture.
Redford won a Directors Guild of America Award, a Golden Globe Award and the Academy Award® for Best Director for his feature film directorial debut Ordinary People. He went on to direct and produce The Milagro Beanfield War and A River Runs Through It, for which he received a Best Director Golden Globe nomination; and earned dual Oscar® nominations for Best Picture and Best Director and a Golden Globe nomination for Best Director for Quiz Show. He earned two Golden Globe nominations (Best Picture and Best Director) for The Horse Whisperer. Other films as director and producer include The Legend of Bagger Vance, Lions for Lambs, The Conspirator and The Company You Keep.
A large part of Redford's life is his Sundance Institute, which he founded in 1981, and is dedicated to the support and development of emerging screenwriters and directors of vision, and to the national and international exhibition of new independent cinema. He has received the Screen Actors Guild's Lifetime Achievement Award, an Honorary Academy Award®, the Kennedy Center Honors, the Legion d'honneur medal (France's highest recognition), and was given the Presidential Medal of Freedom by President Barack Obama, the highest award given to a civilian in the United States. Robert Redford has been a noted environmentalist and activist since the early 1970s and has served for 40 years as a Trustee for the Natural Resources Defense Council.
---
Share this page on