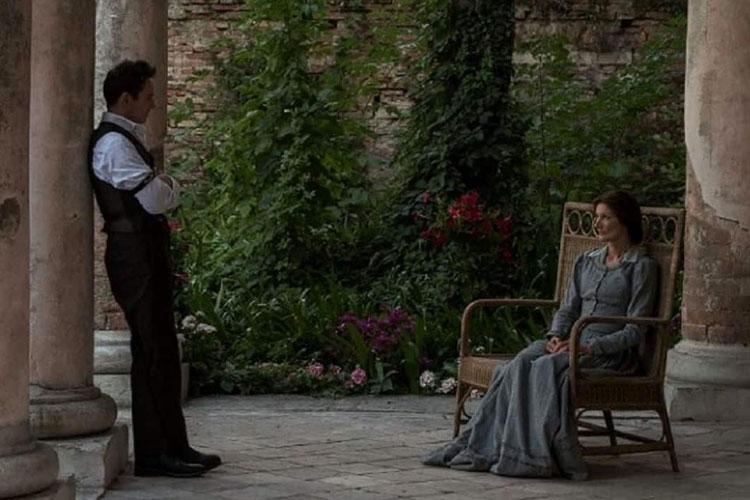 A tribute to Vanessa Redgrave: The Aspern Papers by Julien Landais
Special screening by invitation only Thursday 30 August in the Sala Casinò (11:30 am).
The film stars Vanessa Redgrave, Jonathan Rhys Meyers and Joely Richardson.
A tribute to Vanessa Redgrave
On the occasion of the Golden Lion for Lifetime Achievement award of the 2018 Venice Film Festival to Vanessa Redgrave, a special screening of the film The Aspern Papers, directed by Julien Landais, by invitation only, will be held on Thursday August 30that 11:30 am in the Sala Casinò. In addition to Vanessa Redgrave, the film stars Jonathan Rhys Meyers and Joely Richardson.
Julien Landais directed The Aspern Papers from a script he wrote with Jean Pavans and Hannah Bhuiya, which is based on Pavans' adaptation of the novella by Henry James. Poppy Delevingne, Jon Kortajarena and Lois Robbins co-star alongside Morgane Polanski, Barbara Meier, Alice Aufray, and Nicolas Hau.
The 75th Venice International Film Festival will be held from August 29th to September 8th on the Lido di Venezia, directed by Alberto Barbera and organized by the Biennale chaired by Paolo Baratta.
The Aspern Papers
The Aspern Papers is a story of obsession, grandeur lost, and dreams of Byronic adventures. Set in Venice in the late 19th century, it centres on Morton Vint (Jonathan Rhys Meyers), an ambitious editor who is fascinated by the romantic poet Jeffrey Aspern (Jon Kortajarena) and by his icon's short and wildly romantic life. Having travelled from America to Venice, he is determined to get his hands on the letters Aspern wrote to his beautiful lover and muse, Juliana Bordereau (Vanessa Redgrave). Now the ferocious guardian of their secrets Juliana lives in a Venetian palazzo with her niece (Joely Richardson) who she seems to control and Morton tries to manipulate. But when the ambitious adventurer trifles with Miss Tina's affections she learns to see through his scheme.
Gabriela Bacher produced for Film House Germany's Summerstorm Entertainment, alongside Julien Landais for Princeps Films. The executive producers include: James Ivory, who won an Academy Award® for best screenplay for Call Me by Your Name, and supported Landais during development; Charles S. Cohen of Cohen Media Group; Charles-Henri de Lobkowicz; François Sarkozy; Christian Angermayer and Klemens Hallmannof Film House Germany; Matthew Helderman, Luke Taylor, and Patrick Depeters of BondIt Media Capital; and Bastien Sirodot, Adrian Politowski and Gilles Waterkeyn of Umedia, who co-produced and handled post production in Brussels.  Bruno Wang serves as co-executive producer.
Cohen Media will release the film in the U.S., while ARRI Media is handling international sales. The film was shot in Venice in the summer of 2017 with Mestiere Cinema providing the production services.
---
Share this page on