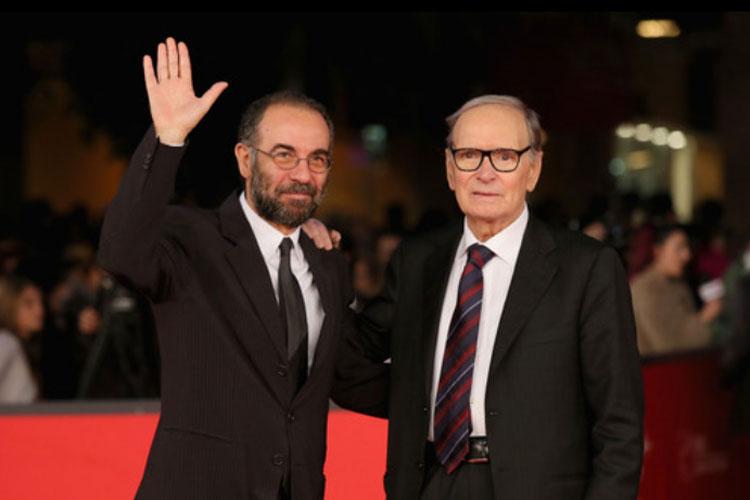 Ennio by Giuseppe Tornatore screens Out of Competition at the 78th Festival
The documentary is a comprehensive portrait of Ennio Morricone. Premiere on 10th September at 6 pm.
Ennio by Giuseppe Tornatore
La Biennale di Venezia is pleased to announce that the line-up of the 78th Venice International Film Festival 2021 will include, Out of Competition, Ennio by Giuseppe Tornatore, a comprehensive portrait of Ennio Morricone, well-known and beloved all over the world, among the most influential and prolific musicians of the twentieth century, the winner of two Academy Awards® and composer of over 500 unforgettable movie soundtracks.
The documentary tells his story in a long interview with the Maestro by Giuseppe Tornatore, and with comments by artists and directors such as Bernardo Bertolucci, Giuliano Montaldo, Marco Bellocchio, Dario Argento, the Taviani brothers, Carlo Verdone, Barry Levinson, Roland Joffé, Oliver Stone, Quentin Tarantino, Bruce Springsteen, Nicola Piovani, Hans Zimmer and Pat Metheny, and through music and archive footage.
Ennio is also an investigation that seeks to reveal Morricone's lesser-known aspects, such as his passion for chess, which may have mysterious connections to his music. And the realistic origin of some of his musical intuitions, like the howl of a coyote that inspired the theme of The Good, The Bad and the Ugly, or the rhythmic banging of hands on tin cans by striking workers protesting in the streets of Rome, which inspired the magnificent theme of According to Pereira. A gift for invention that is confirmed in his constant love for absolute music, and his talent for ceaseless experimentation.
"I worked with Ennio Morricone for thirty years," states Giuseppe Tornatore. "I made almost all my films with him, not to mention the documentaries, commercials and projects that we tried unsuccessfully to put together. During this time, our friendship was increasingly consolidated. Thus, film after film, as my understanding of his character as a man and an artist grew ever deeper, I always wondered what type of documentary I could make about him. And today my dream has come true. I wanted to make Ennio to tell Morricone's story to the audiences around the world who love his music. My intention was not just to have him tell me his life story and talk about his magical relationship with music, but also to search archives around the world for repertory interviews and other footage relative to the countless past collaborations between Morricone and the most important filmmakers of his career. I structured Ennio as an audio-visual novel that relied on clips from films for which he composed the music, repertory images and concerts, to introduce the spectator to the formidable existential and artistic career of one of the most beloved musicians of the twentieth century".
Ennio
Subject, screenplay, direction by Giuseppe Tornatore, music by Ennio Morricone, cinematography Fabio Zamarion, Giancarlo Leggeri, editing Massimo Quaglia and Annalisa Schillaci, sound Gilberto Martinelli, Fabio Venturi. A co-production Italy-Belgium-China-Japan, produced by Gianni Russo and Gabriele Costa for piano B Produzioni Srl. International distribution Block 2 Distribution. Italian distribution Lucky Red.
The 78th Venice International Film Festival of La Biennale di Venezia will take place on the Lido from September 1st to 11th 2021, directed by Alberto Barbera.
---
Share this page on