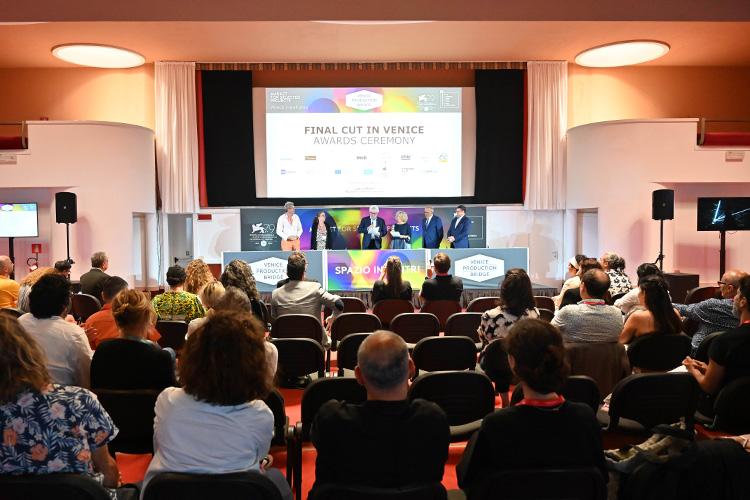 Final Cut in Venice: the call for the 11th edition is now open
The workshop breeding talents and awards that supports films from Africa and the Middle East.
Final Cut in Venice
Launching today 15 March on the website of La Biennale di Venezia is the call for the 11th edition of the Final Cut in Venice workshop, which will take place from September 3rd to 5th 2023 as part of the Venice Production Bridge of the 80th Venice International Film Festival (30 August – 9 September 2023).
Since 2013, Final Cut in Venice has provided concrete assistance to complete quality films from Africa, as well as Jordan, Iraq, Lebanon, Palestine and Syria breeding talents and awards.
To participate in the 11th Final Cut in Venice, fill in the pre-selection online entry form available on the website www.labiennale.org, and send the materials to the email address finalcut@labiennale.org on or before June 19th 2023.
The 11th edition of Final Cut in Venice will consist of a three-day workshop (September 3rd th to 5th 2023) on the Lido di Venezia during the 80th Venice Film Festival, in which up to 6 working copies of selected films-in-progress will be presented to producers, buyers, distributors and film festival programmers. There will be opportunities for networking, encounters and meetings in which directors and producers will be able to engage with the participants in the workshop. Individual meetings between the teams of the selected films and the professionals will be organized on September 5th 2023.
The workshop also includes screenings of material of the selected films in the presence of the directors and producers. Only Industry pass holders will be allowed to attend the screenings: producers, distributors, operators, buyers, festival programmers, representatives of the institutions and others invited in advance by the Festival management.
Notes
The Venice Production Bridge is co-financed by the European Commission's MEDIA Fund.
For the second year in a row, the FCV workshop will benefit of the additional support of the Red Sea International Film Festival within our supporters.
The 80th Venice International Film Festival, directed by Alberto Barbera and organized by La Biennale di Venezia, will be held on the Lido from August 30th to September 9th 2023.
---
Share this page on