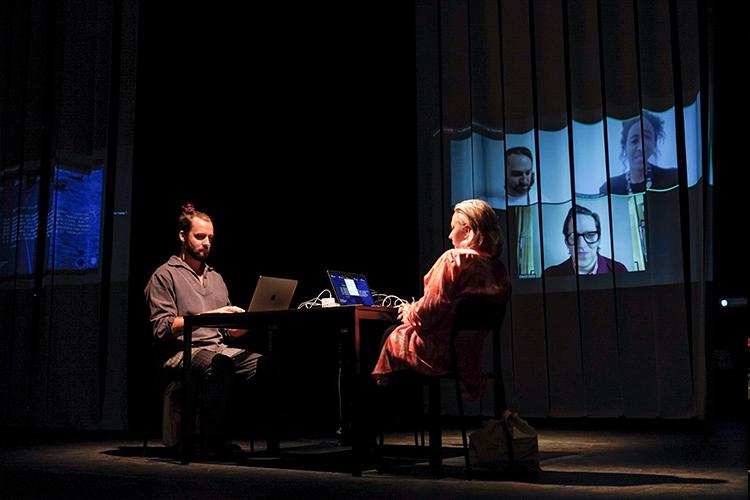 Meetings on Architecture: RELAY, a global conversation-relay lasting 24 hours
Friday 16 and Saturday 17 July, Teatro Piccolo Arsenale.
RELAY
La Biennale di Venezia presents the RELAY performance, to be held on July 16th and 17th 2021 at the Teatro Piccolo Arsenale, as part of the Meetings on Architecture – Expanded Programme of the 17th International Architecture Exhibition titled How will we live together?, curated by Hashim Sarkis.
RELAY is a global conversation-relay lasting 24 hours, conceived and conducted by Adam Kaasa, Thandi Loewenson and David Burns of the Fiction Feeling Frame research collective at the School of Architecture, Royal College of Art in London.
"How can we speak to one other? How can we speak together?": these are the questions raised by RELAY, in an experiment designed to activate conversations and connectedness, to create closeness and intimacy. The project involves over 50 architects, artists, curators and designers in a unique debate live online from every time zone across the world. It will start in Venice at 12 noon (12:00 CET; UTC + 2), passing the 'conversational baton' westward moving around the globe.
Inspired by performances such as Artangel's Long Player Assembly (2020) and Occupy Wall Street's 'people's microphone' (2011), RELAY has been made possible by the support of the School of Architecture at the Royal College of Art and WePresent.
RELAY will be streamed live on relay.fff.industries and screened in several satellite sites: from Accra, from the African Futures Institute to the Nubuke Foundation, from Filet Space in London to the Frontyard in Sydney.
Further details are available on the RELAY website relay.fff.industries.
The RELAY performance on July 16th and 17th will be open to the public free of charge, with reservation required while seats last. Admission to the Biennale Architettura 2021 is not included.
Meetings On Architecture
Expanded Programme
The Meetings on Architecture Expanded Programme of the Biennale Architettura 2021 aims to foster a debate around the primary themes addressed by the Biennale in live-streamed meetings, organized in collaboration with other Entities and Institutions as well.
---
Share this page on