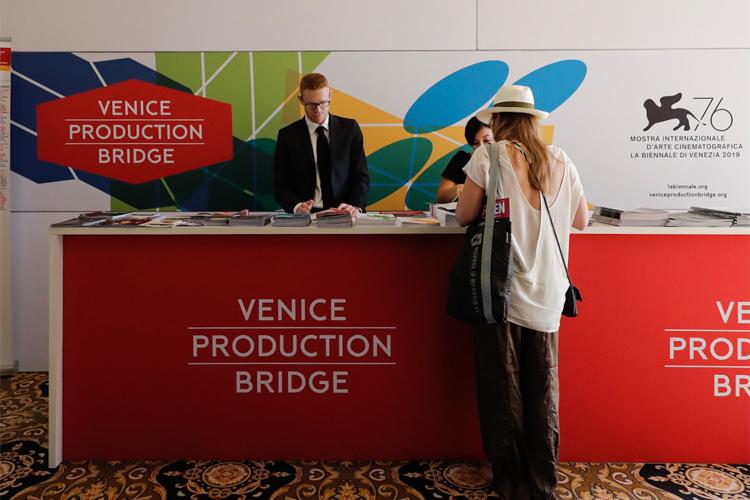 Numbers of the 4th Venice Production Bridge
The Venice Production Bridge was held from 29th August to 3rd September 2019, as part of the 76th Venice Film Festival.
The figures
The 4th Venice Production Bridge - the Festival film market's evolution into a specialized meeting point for completing projects - was held from August 29 to September 3, 2019 as part of the 76th Venice International Film Festival.
Here are the figures of the 2019 VENICE PRODUCTION BRIDGE:
INDUSTRY DELEGATES as of 3 September 2019
REGISTERED:
Industry Gold 1.087 (941 in 2018)
Industry Trade 685 (653 in 2018)
Industry Professional 900 (859 in 2018)
Total: 2.672 (2.453 in 2018)
This edition of the Venice Production Bridge has shown a 8,92% increase in accreditations compared to the figures of 2018 at the same time.
VENICE GAP-FINANCING MARKET (30 August - 1 September):
270 projects were submitted to the pre-selection of the Venice Gap Financing Market. Out of these, 40 projects were selected, divided in 28 Fiction/Doc and 12 VR Immersive Story projects.
40 Fiction/ Documentary and VR Immersive Story projects, plus 8 Biennale College VR and 3 Biennale College Cinema  projects (40 + 6 in 2018) were presented across 3 days and 965 one-to-one meetings have been organized,  an increase in meetings of 13,53 % compared to 850 in 2018.
The Venice Gap-Financing Market has been supported by the European Commission -Creative Europe and its MEDIA programme.
BOOK ADAPTATION RIGHTS MARKET (30 August- 1 September):
25 publishers (19 in 2018) attended the market,  313 one-to-one meetings were organized for them,  of which 164 were pre-booked online through the VPB Website and 149 were booked on site during the 3 days, compared to 214 in 2018, an increase of 46,26%.
FINAL CUT IN VENICE (31 August - 2 September):
The Venice Production Bridge has organized the 7th edition of the workshop programme, Final Cut in Venice ( August 31st to September 2nd).
74 projects were submitted; out of these, 6 projects were selected.
On the 31st of August and 1st of September, the 6 works-in-progress were presented, followed by Q&A, while on the 2nd of September 38 one-to-one meetings were organized between the project teams and financiers, compared to 28 one-to-one meetings in 2018
NOTABLE VPB DECISION MAKERS
The VPB this year welcomed a substantial number of key Industry players and decision makers in order to cover all the initiatives. The professionals that attended the one-to-one meetings of the Venice Gap-Financing Market, the Book Adaptation Rights Market, Final Cut in Venice and the VPB market screenings were producers, distributors, financiers, institutions, broadcasters, sales agents, VR experts from companies such as Amazon Studios, Netflix, Studio Canal, Orange,  Wild Bunch, Oculus, The Match Factory, MK2, Protagonist Pictures, Celluloid Dreams, Curzon Artificial Eye, Samsung, UGC, BBC Studios Digital, Ryot, Pyramide, Dogwoof, LevelK,  Picturehouse UK, Haut et Court, Wide, Doc & Film International, National Filmboard of Canada, as well as by representatives from major festivals and markets, such as Cannes, Quinzaine des réalisateurs, Sundance, Berlinale, IFP, SXSW, IFFR - CineMart, CPH:Dox, Istanbul, Tribeca, Macao, American Documentary Film Festival, amongst many others. 
EUROPEAN FILM FORUM (August 31)
European stories go global: promoting European audiovisual works beyond Europe.
In association with the EU's Creative Europe MEDIA programme, La Biennale di Venezia organized the 5th edition of the European Film Forum ( 31 August 2019) with the attendance of key industry leaders from all over the world.
Seizing the opportunity of celebrating the 76th  anniversary of the Venice International Film Festival, this event focused on how to ensure that European works attract larger audiences in key third markets, including Asia and the Americas.
The event was opened by Paolo Baratta, President of La Biennale di Venezia, followed by a Keynote by Roberto Viola (Director General, Directorate-General of Communication, Networks, Content and Technology, European Commission) and gathered guest speakers such as Daniela Elstner (Executive Director, UniFrance), Massimiliano Smeriglio MEP (Member of the Culture and Education Committee of the European Parliament)  and Mario Turetta (Director-General for Cinema and Audiovisual, Italian Ministry of Cultural Heritage and Activities – MIBAC) ...
PANELS AND EVENTS HELD IN THE VPB VENUES (HOTEL DES BAINS, VR ISLAND, HOTEL EXCELSIOR)
A total of 43 panels and events compared to 36 in 2018, with an increase of 19,44 %
VPB MARKET SCREENINGS ORGANIZED
A total of 38 compared to 37 in 2018.
DIGITAL VIDEO LIBRARY
This year 66 titles have been submitted to the Digital Video Library on the VPB website through Festival Scope Pro (56 in 2018) with an increase of 17,85%.
The titles were selected from the following sections of the 76th Venice International Film Festival:
1 Venezia 76,  4 Out of Competition, 21  Orizzonti, 2 Sconfini, 3 Venezia Classici, 2  Biennale College Cinema, 1 Final Cut in Venice, 11 VPB Market Screenings for titles not in the Official Selection, 11 Venice International Critics Week, 10  Giornate degli Autori.
STANDS OPERATING IN THE VPB EXHIBITION AREAS:
EURIMAGES
MARIFILMAS
CG LUX
VPB WEBSITE:
From 25th July to 3rd September:
1.394  Industry registered delegates had access to the restricted areas of the  website of which 572 have actively used the VGFM1to1, BARM1to1 and the Industry Guide.
Overall the website had 3.510 unique users (2.328 in 2018, increase of 50,77% ), 7.702 sessions (5.542 in 2018, increase of 38,97%) , with 64.055  page views (40.346 in 2018, increase of 58,76%).
---
Share this page on