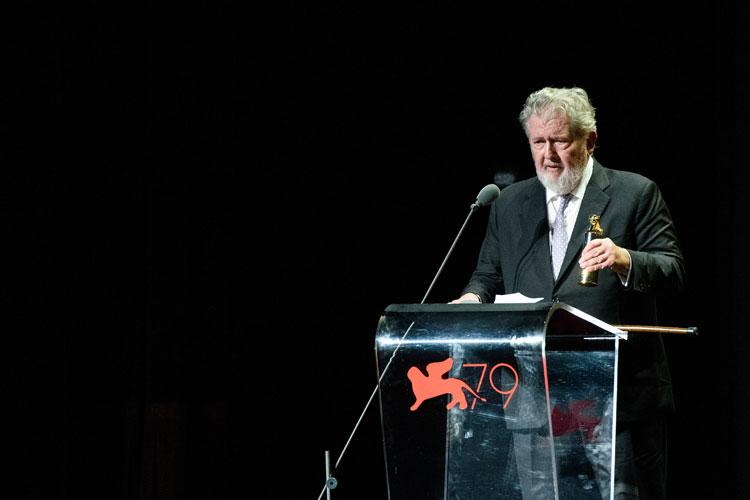 Walter Hill to receive the Cartier Glory to the Filmmaker 2022 Award
The award ceremony will take place on 6th September at 9:45 pm in the Palazzo del Cinema, before the screening Out of Competition of his new film, Dead For A Dollar.
Cartier Glory to the Filmmaker Award
La Biennale di Venezia and Cartier are pleased to announce that the legendary American director, writer and producer Walter Hill (The Warriors, 48 Hrs., Last Man Standing) is the recipient of the Cartier Glory to the Filmmaker Award of the 79th Venice International Film Festival (August 31st – September 10th, 2022), dedicated to a personality who has made a particularly original contribution to the contemporary film industry.
The award ceremony for Walter Hill will take place on Tuesday September 6th 2022 in the Sala Grande (Palazzo del Cinema) at 9.45 pm, before the screening Out of Competition of his new film, Dead For A Dollar (USA, Canada, 114') with Christoph Waltz, Willem Dafoe, Rachel Brosnahan, and Benjamin Bratt.
The 79th Venice International Film Festival of La Biennale di Venezia will be held on the Lido from August 31st to September 10th, 2022, directed by Alberto Barbera.
Statements
In accepting, Walter Hill has declared: "In the film world, one knows it's a great honor to be invited for a special screening at the Venice Film Festival. With my new film Dead For A Dollar, this is the fourth time that I've been so fortunate, and now this award makes me yet more grateful. My thanks to Alberto Barbera, Giulia D'Agnolo Vallan, Cartier and the entire film community that has given me so much support and encouragement over the years. Thank you all, you've made an old man happy."
Welcoming this announcement, the Director of the Venice Film Festival Alberto Barbera has stated: "Both inside and outside of tradition, Walter Hill constantly redraws the contours of the genres that form the horizons of his cinema - if nothing else, in order to transcend conventions in his nonstop search for a constructive relationship with the legacy of the American legend, inherited from classic cinema, and, on the other hand, for authentic modernity in ethics and form. Whether it be westerns, thrillers, horror, war films, or detective movies, Hill never refrains from making them an opportunity to create formal and narrative geometries that aim to recount modern times through genre stereotypes and to propose an aesthetic point of view that disregards and goes beyond the traditional demarcation line between good and evil. An auteur in the full sense of the term, Walter Hill nevertheless has no problem recognizing himself as a specialist in action movies, whose violence is subjugated to various degrees of stylization, and his search for new visual effects is conducted through constant experimentation on how to use the various possibilities offered by the film language."
"For the second edition of the Cartier Glory to the Filmmaker Award, Cartier is proud to join the Venice Film Festival in paying tribute to Walter Hill's outstanding work, talent and particularly original contribution to the contemporary film industry", has declared Arnaud Carrez, Chief Marketing Officer of Cartier. "Walter Hill has enriched the world of cinema with his productions since the 70s and has unequivocally become a mainstay in contemporary artistic creation".
Laudatio to Walter Hill
by Christoph Waltz
A "laudatio" like this usually begins along the lines of: He started as Woody Allen's assistant and subsequently wrote Alien – Frankly, I find it strange to talk about someone as if he weren't there. It feels patronizing, officious - especially while he's sitting right in front of me and is in fact a close friend. If he deserves encomium he deserves to be addressed head on. Head on, Walter, one of your specialties, isn't it? And who would dare to patronize you anyway? Actually I'd like to witness that.
Well, then, if you allow me, from me to you, Walter, not a list of your innumerable and extraordinary achievements, as if they weren't well known, but the genesis of my affection for you. Personally, senza gloria.
In the beginning – the beginning of this delayed friendship I should add – I saw some of your movies without knowing that they were yours – sorry, it was the other end of the world and Hollywood was not simply far away, it was unreachable. For me, I mean, and in more than one sense. You were, it goes without saying, unquestionably there, constituting the epicenter. I admit that back then I didn't really demand to know the names of the writers of the movies I liked: The Getaway, Alien. And I also confess that I liked other movies too without knowing their writers but they are not being celebrated here. Then from the late seventies onwards, around the time of The Driver I should think it would have been extremely difficult not to know the writer/director of The Warriors, 48 Hours, Long Riders, Geronimo. I voraciously devoured them - in German. I apologize retrospectively. But in whatever language these movies came to me - they gripped and held me as something I wanted to be part of and couldn't. I was an actor then, if you catch my drift.
Since even you didn't exactly create all your films within six days, to ride the metaphor a bit, time passed while you were busy and Hollywood got within reach. No, not for you, you were there the whole time, reliably installed.
I first met you as a bar keeper. That in itself doesn't sound remarkable except you were the bar keeper. It was your own bar, Hildy had invited me to your house. Thank you Hildy. You were tending your bar and I noticed an unexpected commitment to the cause, a concentrated exactitude, evidently vast experience. And of course it was the conversation, the master bar tenders discrete craft, that established the class, dimension and allure.
When you lean back, look at a slightly elevated point in the distance, draw a breath and say, to use just one example of many: "John Huston always said..." it is unmistakable that yes, indeed, John Huston said that – to you. In person. He said it to you and you tell me. The very definition of tradition and for me the difference between an anecdote and a lesson. Despite its heydays evidently over you've become my tangible connection to the legendary Hollywood, the city upon a hill, the claim to cinematic exceptionalism, for whatever that may be worth, the incarnation of the myth I had fantasized about. Forget about degrees of separation. Well, anyway, as the man said – tradition is tending the flame, not worshipping the ashes. I see you as a keeper of the flame. And I watched you sweep up some ashes.
Because finally, after too many years of my hopefully dignified veneration and your meticulously tended bar and other business you invited me to work with you. By then I had thoroughly understood that hyperbole is not one of your predilections. So I took your invitation as a solid promise: of the vast knowledge and keen interest of the historian you quite literally are; of the consequently diligently structured narrative; of the expertise and experience of the master practitioner – writer, director, producer – and critic; of an unconditional commitment to improvement – an almost disturbing mixture of merciless challenge and paternal patience, maybe paternal challenge and merciless patience. I don't know I guess what I try to get across is that it wasn't always easy. And all of the above balanced on an objective self criticism that transcends professionalism and should be taught as an indispensable discipline. When you talk about art that's where you start. While the clueless clutter the opening credits you hold the fort.
It's supposed to be a "laudatio" but that sounds like roughly enough for the purpose. Suffice it to say: You always keep your promises.
Glory to the bartender!
Dead For A Dollar
1897. Dead For A Dollar follows veteran bounty hunter Max Borlund (Christoph Waltz) deep into Mexico where he encounters professional gambler and outlaw Joe Cribbens (Willem Dafoe) – a sworn enemy who Max sent to prison years before. Borlund is on a mission to find and return Rachel Kidd (Rachel Brosnahan), the hostage wife of a wealthy Santa Fe businessman. Discovering that Mrs. Kidd has actually fled from an abusive marriage, Max is ultimately faced with a choice: finish the dishonest job he's been hired to accomplish or stand aside while ruthless mercenary outlaws and his long-time rival close in… Max and his partner Alonzo Poe (Warren Burke) have nothing to gain if they resist -- nothing save honor.
Myriad Pictures handled all sales for DEAD FOR A DOLLAR outside of North America. Universal Pictures Content Group has key international rights, including United Kingdom, Latin America, Scandinavia, Benelux, Japan, Australia/New Zealand, and Italy. Splendid has rights in Germany, SND in France, and A Contracorriente in Spain. Quiver Distribution will release the film in the US and Canada this fall.
Walter Hill – Biographical notes
During the course of his notable career, Walter Hill has been a writer, director and producer on projects ranging from classic westerns to action-packed thrillers and noir dramas, all marked with his unique visceral style. A veteran director of over twenty feature films, he has also made a successful foray into television, receiving both the Emmy and DGA Awards in 2005 for the pilot of the groundbreaking neo-western Deadwood. His overall work ranges from intimate character studies to full-blown blockbusters, and he has been critically praised for being equally adept at both.
Hill's career began in the early 1970s with screenplay credits for The Getaway starring Steve McQueen and Ali MacGraw, and The Drowning Pool starring Paul Newman and Joanne Woodward. In 1975, he made his directorial debut with Hard Times, a Depression-era street fighting drama starring Charles Bronson and James Coburn. From there, Hill chose a succession of projects that found both cult and mainstream audiences.
In 1979, Hill co-produced the science fiction blockbuster Alien, starring Sigourney Weaver, and served as producer or executive producer on the three sequels of the legendary film series. Among his other credits, Hill directed the smash hits 48 Hrs. and Another 48 Hrs., both starring Eddie Murphy and Nick Nolte. With these films and others such as The Warriors, Southern Comfort (starring Keith Carradine and Powers Boothe), Last Man Standing (Bruce Willis, Bruce Dern and Christopher Walken), and Johnny Handsome (Mickey Rourke and Morgan Freeman), he became known as one of the foremost action filmmakers in Hollywood.
Hill began his exploration of the American western in 1980 when he directed the Cannes Film Festival Palme d'Or nominee The Long Riders starring David and Keith Carradine, James and Stacy Keach, Randy and Dennis Quaid, Chris and Nicholas Guest. This film marked the beginning of Hill's western trilogy, which continued with Geronimo starring Jason Patric, Wes Studi and Gene Hackman, and ended in 1995 with Wild Bill, which starred Jeff Bridges, Ellen Barkin and John Hurt.
Other film credits for Hill include Streets of Fire starring Michael Paré, Diane Lane and Willem Dafoe; Brewster's Millions starring Richard Pryor and John Candy; The Driver starring Ryan O'Neal, Bruce Dern and Isabelle Adjani; Extreme Prejudice starring Nick Nolte, Powers Boothe and Rip Torn; Bullet to the Head starring Sylvester Stallone and The Assignment starring Michelle Rodriguez, Sigourney Weaver, Tony Shalhoub and Anthony LaPaglia. Hill also directed the acclaimed Emmy Award-winning television movie, Broken Trail, receiving the DGA Award for his work and his second Emmy.
For his worldwide contributions to film culture, Hill has received retrospectives at the British Film Institute (1991), The Torino Film Festival (2005), Cinematheque in Paris (2005), and The Pacific Film Archives at the University of California (Berkeley, 2007). He was also honored with film retrospectives by the American Cinematheque (2006), San Sebastian Film Festival (2011), and the Munich Film Festival (2014). Walter Hill was born and raised in Long Beach, California.
Cartier
From 2021, Cartier partners with La Biennale di Venezia to become Main Sponsor of the Venice International Film Festival and jointly contribute to supporting contemporary film creation. As part of this collaboration, and from that year onwards, Venice International Film Festival and Cartier will pay tribute to outstanding filmmakers through the Cartier Glory to the Filmmaker Award, dedicated to a personality who has made a particularly original contribution to the contemporary film industry. The award ceremony will take place in Lido di Venezia and it will be a unique occasion to celebrate talent, creativity, and emotion. Art and culture have always been intimately linked to the history of Cartier. This collaboration with one of the most renowned international cultural events builds on the Maison's long-lasting commitments to preserve cultural heritage and support contemporary artistic creation.
Universal Pictures Content Group
Headquartered in London, Universal Pictures Content Group is a repertoire centre acquiring and producing multi-genre entertainment for distribution across theatrical, home entertainment, television and digital platforms on a worldwide basis. Universal Pictures Content Group is a unit of Universal Filmed Entertainment Group (UFEG). UFEG produces, acquires, markets and distributes filmed entertainment worldwide in various media formats for theatrical, home entertainment, television and other distribution platforms, as well as consumer products, interactive gaming and live entertainment. The global division includes Universal Pictures, Focus Features, Universal Pictures Home Entertainment, Universal Brand Development, Fandango and DreamWorks Animation Film and Television. UFEG is part of NBCUniversal, one of the world's leading media and entertainment companies in the development, production and marketing of entertainment, news and information to a global audience. NBCUniversal owns and operates a valuable portfolio of news and entertainment networks, a premier motion picture company, significant television production operations, a leading television stations group, world-renowned theme parks and a suite of leading Internet-based businesses. NBCUniversal is a subsidiary of Comcast Corporation.
Myriad Pictures
MYRIAD PICTURES is a leading independent entertainment company specializing in production, financing, and worldwide distribution of feature films and television content. Since 1998, MYRIAD has been distributing its vast library and diverse slate of feature films to audiences around the world. The upcoming slate includes Walter Hill's DEAD FOR A DOLLAR starring Christoph Waltz, Willem Dafoe, and Rachel Brosnahan; HELLO STRANGER, starring Sam Worthington, Jordana Brewster, and Simu Liu; and Livia de Paolis's THE LOST GIRLS starring Joely Richardson, Vanessa Redgrave, and Iain Glen. MYRIAD PICTURES was founded by Kirk D'Amico and is based in Los Angeles. For more information visit: web MyriadPictures / Twitter.
Quiver Distribution
Quiver Distribution is a global film production, acquisition and distribution company focused on developing and distributing high-quality, talent-driven films. Founded by entertainment industry veterans Berry Meyerowitz and Jeff Sackman, Quiver Distribution focuses on curating a highly selective film slate from both established and emerging talent, allowing for distinctly tailored campaigns and a filmmaker first approach.
In 2020, Quiver acquired Kew Media Distribution's library of 1,000 titles. The company produced and will release Walter Hill's western Dead for a Dollar with Christoph Waltz, Willem Dafoe, and Rachel Brosnahan, which will have its world premiere at Venice Film Festival next month, and Neil LaBute's Out of the Blue with Diane Kruger, Ray Nicholson, Hank Azaria, and Chase Sui Wonders. Their most recent theatrical release is Mayim Bialik's directorial debut As They Made Us, starring Dianna Agron, Simon Helberg, Dustin Hoffman, and Candice Bergen.
---
Share this page on