Chris Smith - Jim & Andy: The Great Beyond - The story of Jim Carrey and Andy Kaufman with a very special, contractually obligated mention of Tony Clifton
Usa, Canada / 90'
language English
cast Jim Carrey
editor Barry Poltermann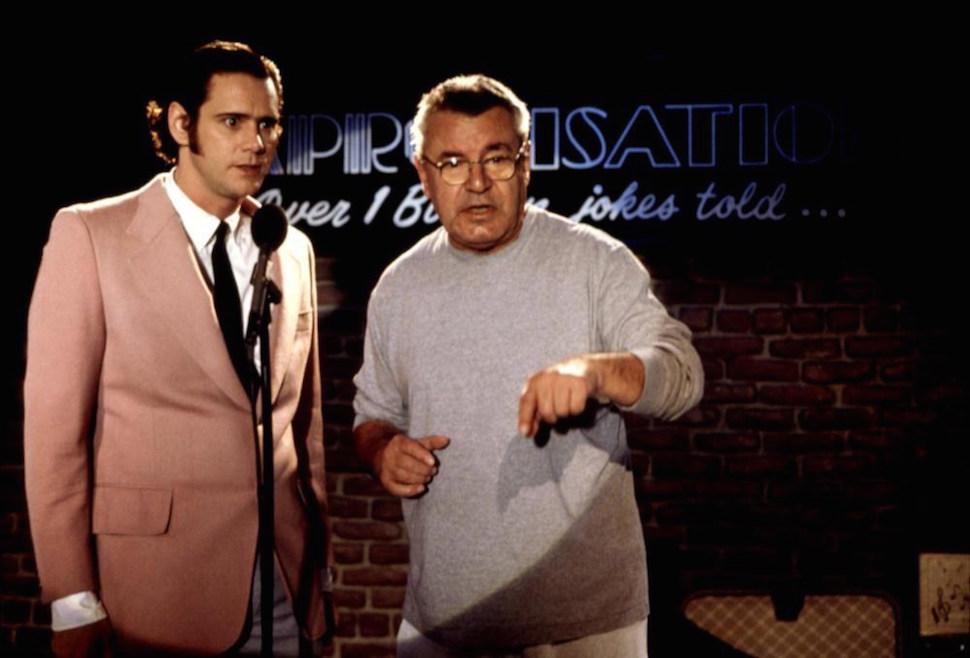 SYNOPSIS
No one really knew what was real and not real half the time. I didn't know what was real and not real, you just went with Andy and Tony and where ever their whim took you and the emotions often times were very real." (Jim Carrey). In 1999 Milos Forman cast Jim Carrey to play cult comedian Andy Kaufman in his biopic Man on the Moon. What followed was an intensely bizarre and emotional film production. Surrounded by Kaufman's friends and family on set, Carrey thoroughly "became" Andy and, alternately, Tony Clifton, Kaufman's obnoxious lounge singer alter ego. Much like Kaufman's comedy, Carrey's acting took on a performance art quality during the film. He never broke character on set, the cast and the crew referred to him as either 'Andy' or 'Tony' depending on who he was embodying (he had created complete and separate identities for each). Jim Carrey earned critical acclaim and a Golden Globe for the performance, but many of the production's most Kaufmanesque moments played out behind the scenes, thankfully captured on video by Andy's former girlfriend, Lynne Margulies and former writing partner, Bob Zmuda. In Jim & Andy: the Great Beyond - the story of Jim Carrey & Andy Kaufman with a very special, contractually obligated mention of Tony Clifton, Carrey looks back at the resulting footage 18 years later, reflecting on how he and Andy came up in oddly parallel universes, his experience channeling Andy and Tony and more broadly the spiritual journey of his career.
DIRECTOR'S STATEMENT
I've spent most of my career exploring outsiders, people on the fringes—so when I was approached to make a documentary about when Jim Carrey played Andy Kaufman, it felt like a departure from my previous work. What struck me in making this film was how the idea of outsider is relative— that regardless of your perceived success, everyone wrestles with the concept of identity in terms of defining themselves and their place in the world.